I'm a freelance pixel artist/spriter.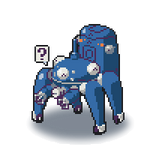 If you are interested in my work/services, you can contact me at:
Email: metarro <æ> gmail.com
Fares and payment methods will be set according to the work i'm being hired. I will absolutely
NOT ACCEPT
payment methods such as "
a share of the profits
". I usually ask for 50% first and 50% once the job is done.
While I do support indie devs accomplish their projects sometimes -because I know how hard it is to deal with a budget- I will certainly not tolerate any dumb shit shenanigans: either you can afford it, or you cant.
Have a good day.