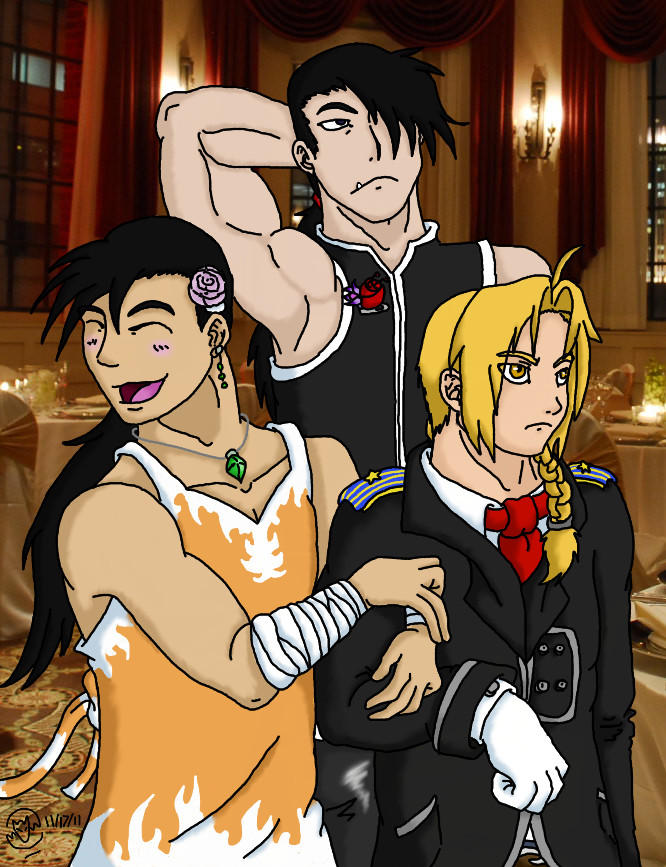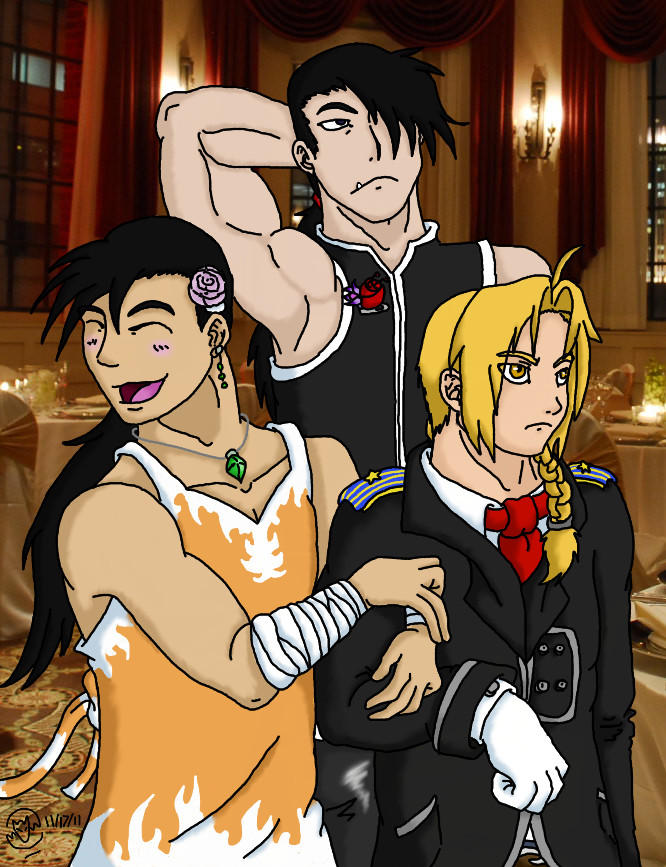 Watch
A drawing I did as a part of my final for my college art class.

In the original sketch Greelin's and Ed's faces came out like SHIIIIIIIIIIT! But that was because I had to draw it in class and I had no references to use…so their bodies are also a little…bleh…. I CAN'T DRAW HANDS!

Anyway, when I got home I pulled out my FMA mangas and redrew their faces. Only Ling came out nicely so I didn't have to re-draw anything on him.

Sooo the little story I have along with this is that Mustang sends Ed to this party as an 'undercover agent' and he could only enter with a date so Ling dressed up as a girl. They also take along Ling's 'son' Greelin (who got his own physical body after he Ling, and Greed were split) and Ling ends up just having a grand o' time! Greelin looks bored xD

Ling Yao, Edward Elric, Greedling/Linggreed/greelin/greeling © Hiromu Arakawa

*sees Greedling and blushes*~~~~~~~~~~~~~~~~ I'd like to dance with him but.......
Reply

Oooo, I really like this! Ed's outfit is great, the coloring is splendid, the anatomy is awesome, the pecs are nice and neat, the arm muscles are all in the right place, and almost every line is straight! I'm jealous, I'll be honest. Where's the background from?
Reply

I don't think it's that great.

I do think it's good for having nothing to look off of though.
And to be honost I just looked up 'fancy party rooms' on google images xD
Reply

I love how you drew LinGreed, he's cute!

Reply

........


Reply