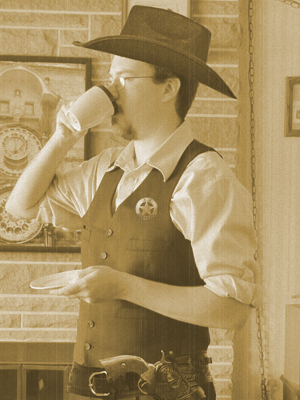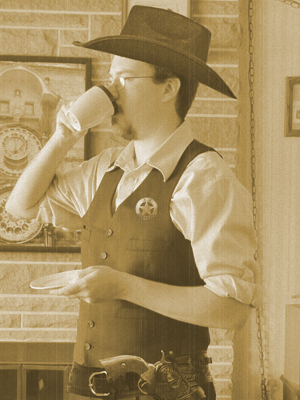 Watch
So, this is from the same set of photos that The Mentalist pic is from. I did this after a friend took another photo and done the same since we're both into Red Dead Redemption pretty hard right now. So I photochopped on a hat, badge, and after tireless searching on Google, a gunbelt and holster. Added FX and sepia tones, etc. to give it the look of an old picture.

**EDIT** Went in and fixed sepia tone as it looked more b&w before.

I think deep down inside, we're all asking the same question: Who would win in a duel, Cowboy Carl or Cowboy Curtis?
Reply

I hate to say it, but it'd be Cowboy Curtis. He'd shoot me in slow-mo-Matrix style and tie me up with his neon rope. Plus, with his recent CSI training, he'd know how to dispose of my body to where nobody could find me.

Would I look manly as hell as this was goin down?

FUCK YES!
Reply