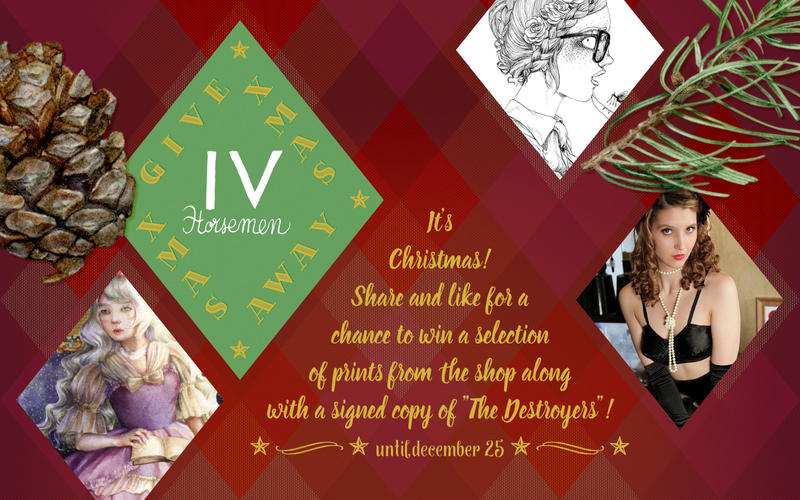 I have a little piece of news for you today! Last year, I grouped with other artists to form a collective whose goal is to support each other. Artistic circles have always been around and I've certainly made many discoveries going through friends of talented people. We even opened an
etsy shop
this summer, and have already fulfilled our dream of having our art purchased together by people who thus certainly saved on shipping!
For Christmas we are having a giveaway and anyone is welcome to enter! The principle is simple: share our giveaway. To keep track of everything you share, we would like you to record your shares in
our Rafflecopter widget
, available on
our facebook page
, or from eller
my blog post
or
François's
. Rafflecopter is a perfect tool for giveaways. You log in using an email or facebook and then you can claim entries in the giveaway wherever it is appropriate. For instance, if you shared
our giveaway post on Facebook
, you click on "Share our giveaway on Facebook" and copypaste the URL of the post in the field where it says to do so. Quite simple. If you don't do this step, you *might* still be counted in the giveaway but I cannot vouch for us seeing your entries or even having the time to enter manually all those that didn't bother. So…
WHAT ARE THE PRIZES? might be the question on your lips.
I offered one of my prints, up to you to choose, yet thinking maybe that's your chance to get your hands on one of my 'gilded' prints (example 1, example 2) upon which I use the very same ink and spend the same amount of time than on the original watercolors. Indeed each of them represent 2 days of work with either silver or gold ink.

My pal François is offering his comic book "Les Destructeurs" with a drawing inside. This book is really something, I guarantee! Auto-edited with extremely high standards: fake leather cover with gold gildings, two editions (french and english)… and the story is pretty badass, about a woman who feels targeted by obscure and evil phenomenons, and not without good reasons. It would seem she is the key to the end of the world so she flees to Scotland in hope of a peaceful retreat. Sadly, her enemies are personifications of the faults of this universe and who can escape this sort of crap?


Nella Fragola is offering a few prints from her collection, currently not available through the etsy store!
And that's all for now, although we'd like to expand our range of prizes so we'll see.