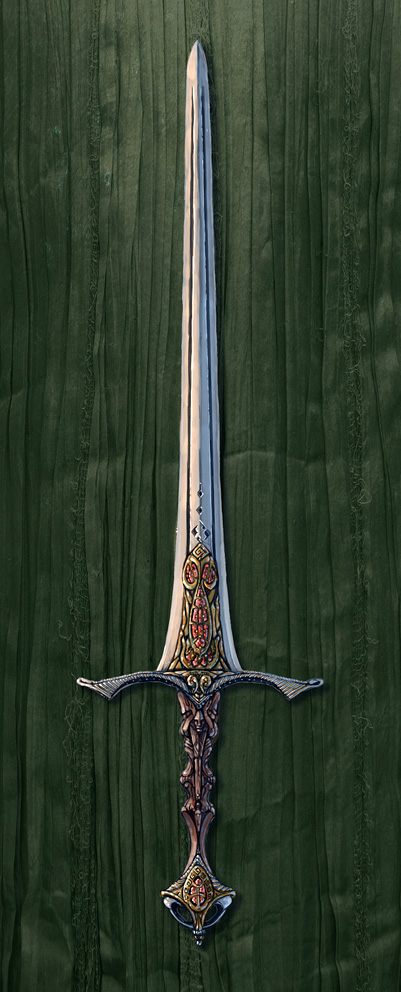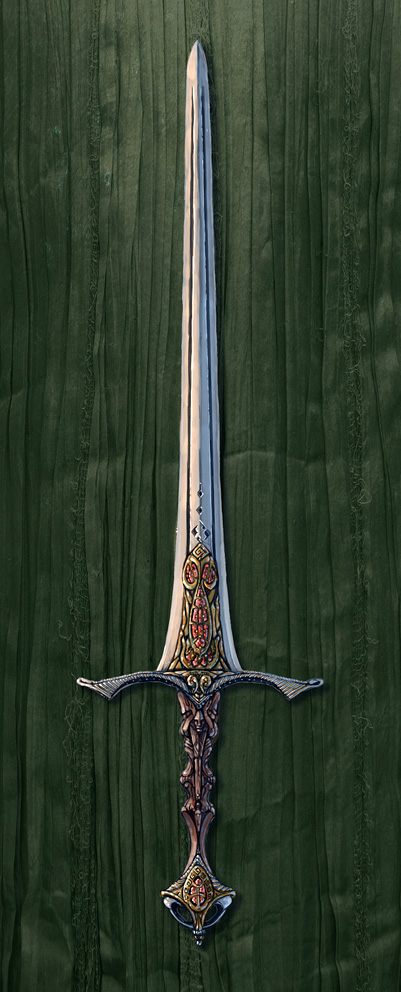 Watch
Another one of the sword designs for the portfolio.
This time it's supposed to be a "neutral" sword.
This time the proportions are a bit more conventional. The blade is still pretty heavy though

The decorations are slightly inspired by a quite famous Warhammer sword. If you think you know which one that is, give it a shot in the comments. There is a cool prize in it.

(looking at the original sword again, there isn't much resemblance so this one might be quite hard.

)
The ornaments are cast bronze and are inlaid in the blade. Small pieces of red garnet were inset into that bronze. (in a very germanic fashion)
The handguard has bits of copper wire beaten into the metal to make these decorative strips.
The handle is made of hard wood and carved to look slightly anthropomorphic.
And I'm not sure if it reads that way, but the bulb of the pommel is hollow.

nice dude it would look really cool in 3d
Reply

parádní, naprosto parádní

jako živej.. spíš ale k prohlížení než k boji, kolik je tam detailů...

Reply

Reply

Reply

nice work

Reply

Nice design.
Considering how many named swords the WH world posesses, surely naming it would already be difficult without you having redesigned it?

That said, it can probably be narrowed down. Definately isn't a Lizardman sword (not blocky enough), a Chaos sword (not spikey enough) or a Nehekharan sword (as I believe they are generally scimitars). I'd hazard a guess that it's either a High Elf sword (just has an Elvish vibe about it) or a Vampire Counts sword (due to the skeletal figure on the hilt). If it's Elvish, then I'm guess the Sord of Khaine? If Vampire Counts, then Vlad von Carstien's sword (looks a bit like the sword he's holding in the pic of him on p58 of the most recent Army Book)?
Reply


gosh, I don't know THAT much about Warhammer! I've seen some illustrations and read a few books!
And really, the similarity is in the color scheme. The blade shape is somewhat similar too.
Hmm, this wasn't a good idea

Reply

At least WH doesn't have as many named swords as Middle-earth. Hell, some Middle-earth swords even have multiple names (although not suprising considering most characters also have multiple names

). To be honest, I don't think most of the WH swords are
named
, but a lot of the characters do have iconic swords.
Was I close with my guesses?
Reply

I don't think the sword has a name.
Reply

Hmm, could make identifying it dificult. Any chance of a clue (e.g. which faction does it's owner belong to?)?
Reply

It's probably impossible to guess, I apologize.

It was Felix's sword. (that guy who travels with Gotrek)
Reply

Ah right. I suppose it's mainly down to interpritation - I myself imagined the pommel being shaped like a dragon's head (dont think the books actually describe it exactly other than it had a dragon design). Now that you've said it was Felix's I can see a dragon's snout in the ornament that overplasp the blade.

A very nice subtle touch (if that was what you were going for).
Reply

I was much less clever.

I just thought: "well, neutral sword, which sword that I have seen, looks neutral?" And I thought of Felix's sword, because while it's supposed to be some kind of dragon(?) slayer sword, therefore it should be good, it always looked a bit mean to me. The metal is kind of dark, the bronze fittings are quite massive and brutal looking...
[link]
- here for instance.
I liked the idea of putting red gems in there. Magical swords having some kind of red gems in the hilt are such a fantasy classic!

But I didn't want to just stick some huge gems in there, that's a bit silly and one of the reasons why fantasy swords often look goofy. So I looked at real swords and noticed a great (and difficult) way of insetting small pieces of gems in the metal.
Patrick Bárta - a brilliant swordmaker - wrote an article about making one of his swords and mentioned how difficult it was (with no experience, because nobody has done it before in the 20th century and documented the process) to put the stones in there and not crack them.
Here, some examples of that:
[link]
[link]
He also does that metal wire inlay thing, which is called "tausie" in czech and I don't know the term in english. :/
[link]
(images are quite huge, but the swords are beautiful and it's worth it.

)
Reply
(1 Reply)


Awesome design though.
Reply