It's been an over a year since my last journal update and I have been busy.
I have added an ID, travelled around the world and attended my first art exhibition, increased my training in martial arts and painted where I could. I have even spent some time pencil drawing it improve my artistic eye but none of them are good enough to post yet

. I am also starting to amass a large number of unfinished paintings which is not like me; I usually finish what I start. So little time and so much to do.
I would like to thank all the people who have commented, faved and featured my work. Thanks everyone.

I would also like to give a special thank you to the wonderful Floriaiglenoir



who has generously created the best birthday present

for me for such a long time -This amazing piece of art.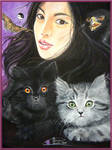 Thank you so much dear Flori

Clubs I belong to