The following is my opinion and response to OP's post on tumblr. I felt the need to post it here because I feel strongly about it.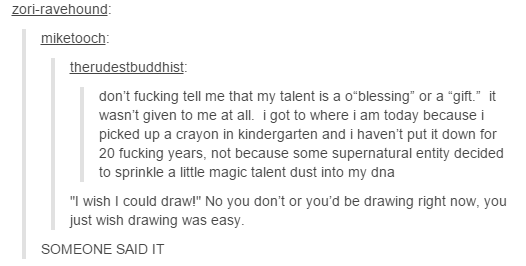 I actually don't agree with OP on this, but others have their opinions and that's totally fine. However,personally, i'd like to think that being able to draw was a blessing/gift from God because there are people who really can't draw no matter how hard they try. Just like i can't do certain things like singing or being crafty like my mom and making things even though I try. Yeah I've been drawing since I was a kid and it was something I always did and worked hard at, but that doesn't mean that I would (personally) take God out of that. I'm just happy that drawing is the one thing i'm good at and that God gave me the ability to do that and everything that comes with it. It makes me happy that God thought of me. My dad has never been supportive of me and my sister with our "talent" to draw. ( We ain't good but I think it's a wonderful gift we have). He has always told me I would never get anywhere with it and i have always been upset and discouraging to myself with my art (like any artist). I would cry because of my dad and how negative he was toward me with my art, and when that would happen I would pray to God to help me get better with drawing, so that I would learn how to do things properly. For Him to help me stop being lazy and to motivate me. It works. It keeps me going. I decided to use my gift that He has given me back to him by (currently) drawing a Christian comic/manga. I don't know where i'm going with the story yet, but it's something I wanna do as a way of saying thank you. I'm not good with comics, but I'll learn and work hard at it with God's help. I can't do it on my own. I have respect for OP's opinion, so please don't think I don't or that i'm being rude

I just felt like throwing my 2 cents in and how I felt about the process of getting better at drawing and receiving that talent/gift from my God.
P.S. Those words are compliments from others. Why should a person be so negative towards someone who is complimenting you? I get really happy and even more motivated when I am told that i'm blessed or that I have talent because they see something in me….that my dad doesn't.