DISCOUNT MODE ON GOING UNTIL NEW YEAR!
IMPORTANT NOTE REGARDING PAST REQUESTS
: SINCE THE REQUESTS HAVE BEEN HALTED DUE TO REASONS, IF YOU HAVE A REQUEST IN THE PREVIOUS JOURNAL PLEASE CONTACT ME, YOUR WILL STILL RECEIVE YOUR REQUEST FOR FREE IF YOU REMIND ME.
So, I've decided to start commission. I'm very new to this process here, so I hope I'll be able to make satisfactory work. If there are any suggestions you'd like to make or complaints you'd like to voice, please feel free to. The shop and its rules will be updated over time but for now this is what we've got.
General Information & Rules
To give an idea of my usual range I mostly draw human characters, mostly females and Touhou characters (usually with designs inspired by the modern setting), with a few Dragonball fanart throw into the mix here and there, so if that's the type of thing you're looking for then I may be able to fill in. I can consider other types of commissions as well, but generally the listed types might be ones you might get stronger results in. Refer to the example drawings!
When it comes to the size of each commission, I haven't decided to more strictly separate certain amounts to a certain price yet, but also do keep in mind that I generally handle works of the scale shown below. Pushing beyond that might get a little bit more pricey.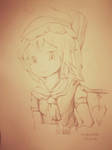 Also to lay down certain rules and off-limits ; You might want to look somewhere else for fetish/NSFW art, hate/political/art relating to drama are obviously no gos and that kind of stuff. I also need to emphasize that I'll "consider" a commission before accepting it, so I might reject your request even if it isn't NSFW/offensive (please do not take it personally if I do, there are some things I feel like aren't within my skill range or simply don't have the passion to do justice for). Also I have slots too so I'm not free all the time!
Prices and Potatoes
CURRENTLY DISCOUNT MODE!
Prices are as follows!


3USD for each character/detailed object (refer to the cube in the second example picture of a "detailed object")

2USD for traditional art, 4USD for digitally colored art
2USD for more detailed backgrounds
1USD for original design/redesign
Add it up and there we have it! We can discuss prices as we go, too.
Contact/Payment Info
Contact me regarding your comission on dA, Discord (MergedPotato#2088) or my Twitter (
@

MergedPotato
), heck even my reddit (u/overlibertyshead) if you feel like using that for some reason. Send me the details regarding the purpose/use of your commission, details and specifics, how often/how do you want me to contact you during WIP stages and how much public information you want to be revealed while it's being worked on, do you want to see thumbnails/sketches first, the amount of time you need/want the piece completed etc etc. If I decide to take it on then we can discuss it further from there.
When it comes to payment I'll take payment AFTER the work is done, and I use paypal.
Slots and pachinko machines

1.[CURRENTLY OPEN!]
2.[CURRENTLY OPEN!]





last updated 3/9/2018