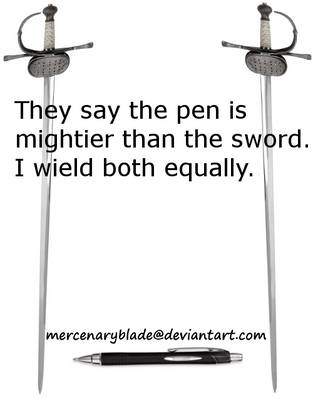 I pissed a villain off!

I'm more of a writer than an artists, and something of a photographer, I love looking at other peoples drawings so many of them have such inpressive skills.
I have many interests, mostly I like writing whenever I have the spare time and oft times I find myself wishing I could draw my characters as well as write about them.
I'm a fan of many kinds of art and I jut got sick of not being able to comment on all the brillant pieces of art on this site, so I made an account. I have gotten more involved with his site recently because I love sharing my stories and getting feedback, I live for it! Nah, not that much but it does make my day.
I am now an official author, having sold my first short story: Comes a Hunter featured in this collection
www.amazon.com/Bardic-Tales-Sa…
If you ever read it give me some feedback!
Want to ask my OC's a question? Check it out!

Ask my characters anything!! (Updated)UPDATED TO INCLUDE: Halla
So I've seen a lot of Deviants do this before and thought I'd give it a go, especially now that I've introduced a lot of my characters to all of you. Basically you post a question addressed to one or more of my characters and they have to answer you. I thought this would be a fun thing and maybe soe of your questions would get my creative juices going. Maybe you'll ask something I never thought of?
Anyways just have fun with this the questions can range from serious like: "What was your greatest challenge?"
Mundane: "How old are you?"
Or silly: "What color underwear do you wear?"
Be warned they will respond in character, so if you ask someone from a medieval fantasy what their favorite videogame is they won't know what you're talking about.


There has got to be something you've always wondered, so let's introduce our people:
Red: The Daedalian (Anthro Jackal alien) hunting guide. She's a
I need all the help and support I can get so if you see something you like: comment, fave or watch. I hope you can find something you like.
Me on SoFurry
mercenaryblade.sofurry.com/
Favourite Movies
Star Wars, Indianna Jones, Key Largo, Ironman, Lion King a bunch of other movies.
Favourite TV Shows
I watch a lot of TV
Favourite Bands / Musical Artists
I listen to all kinds of music
Favourite Books
Treasure Island, The Destroyermen series, The Sharpes novels, various other books ranging from adventure, scifi, fantasy and historical fiction.
Favourite Writers
Louis Lamour, Robert A Heinlein, Robert Louis Stevenson, H. Rider Haggard, Sir Arthur Conan Doyle.
Favourite Games
KOTOR, StarFox, Halo, a bunch of others
Other Interests
Writing, gaming, fencing, shooting targets, history and theatre