During Inktober, I have been asked several times if I draw commissions. Yes, I do.

My commission info needed an update anyway, so here you are.
Rules and General Information

I'm usually open to almost anything, but there are a few exceptions: nudity (that means 100% nudity), porn, extreme violence and very complex backgrounds. It's okay to discuss in some cases, but I reserve the right to say no.

I do draw slash, but nothing too graphic. See above.

Original characters? Yes! Please provide references and – in case the character is not yours – permission from the creator.

Payment is via PayPal. All prices below are in Euros.

You will get every commission as a high resolution scan/file. If it's a traditional media piece, I can additionally send you the original. Shipping means an extra charge.
Prices
Pencil Sketch
with simple background: 5€
with detailed background: 7€
additional character: +3€

Examples:


Colored Pencils
with simple background: 20€
with detailed background: 30€
additional character: +5€


Copic Markers
with simple background: 30€
with detailed background: 40€
additional character: +7€

Examples:
additional character: +10€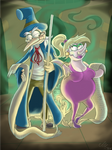 Process

If you want to commission me, send me a note with a description of what you would like (which medium, character(s), reference(s) if necessary, …) and I will tell you the price.

You will then get a rough sketch of your commission. If you want me to change something, you can tell me now. If you approve, I will ask for your payment.

The finished picture will be sent to you digitally and – if you have asked for the original – by mail. Usually, I'll also upload the finished work on deviantArt. If you don't want that, just tell me.
That's it.

Don't hesitate to ask questions if you have any.