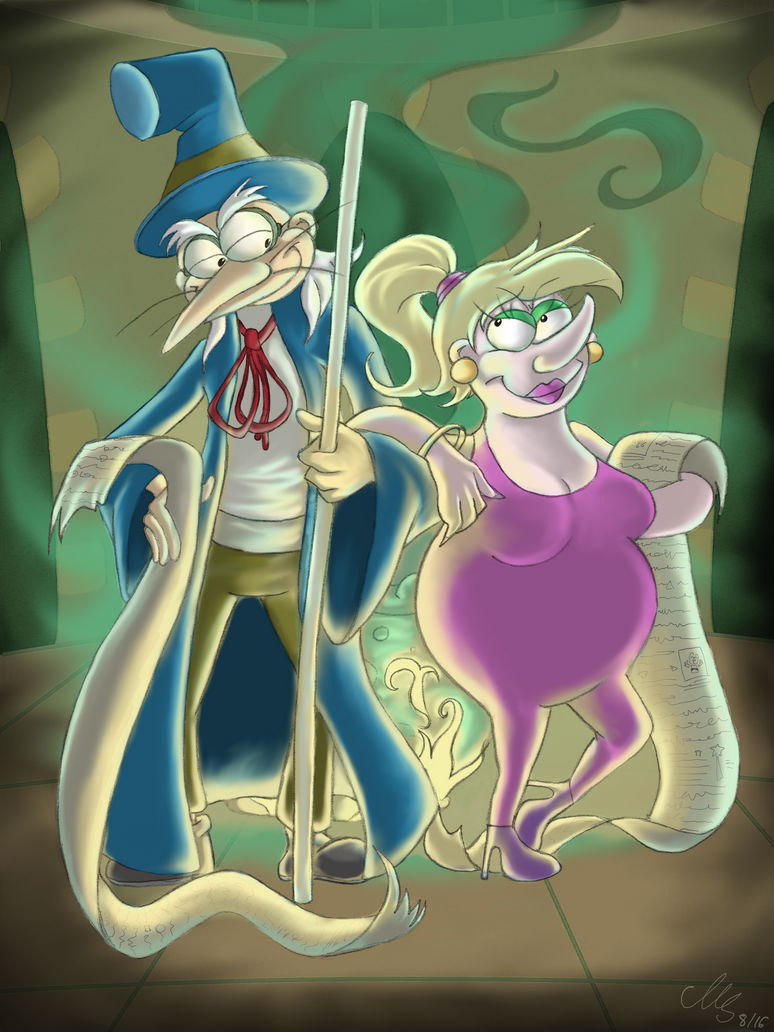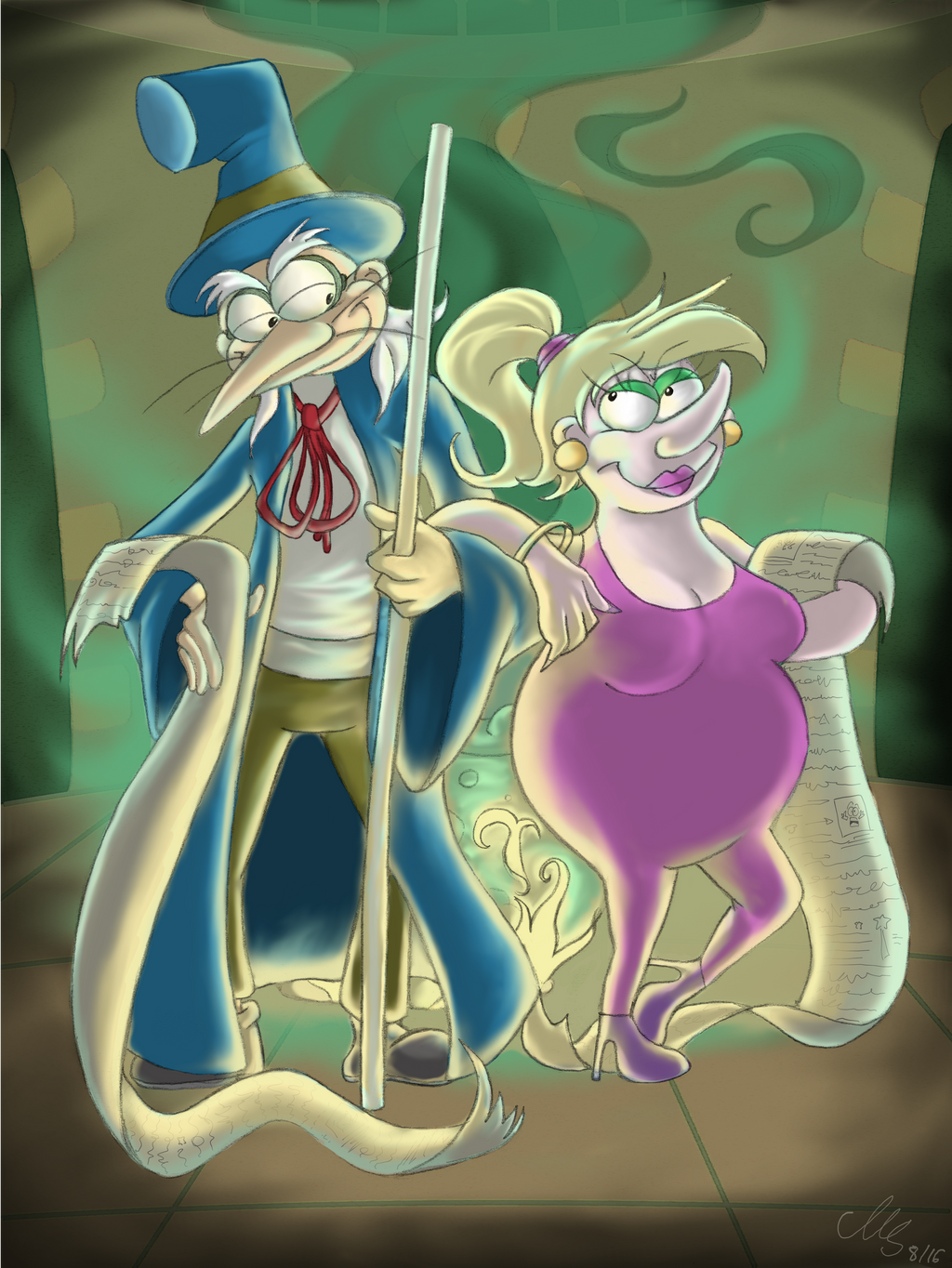 By the power hale and hearty,
Of an earthquake on a roll ...

I proudly present to you the series that brought my muse back!
Now you might ask yourself: What
is
this? Well, these two are the main protagonists of an animated series called "Wunschpunsch", which first aired in the early 2000s and was - as far as I know - most popular in Europe. It's based on a book by Michael Ende (yes, the author who wrote "The Neverending Story") of the same name.
The scene depicted above shows Bubonic Preposteror (Beelzebub Irrwitzer in German), an evil wizard, and his aunt Tyrannia Vampirella (German: Tyrannja Vamperl), a witch, ready to brew up the Wunschpunsch, a potent potion that grants them whatever they wish for. This scene recurs in every episode, for the spell they cast on the city they live in has to last for seven hours without interruption so its effects become permanent. They always fail, however, since their pets, Maurizio the cat and Jacob the raven (secret spies of the Animal Council), manage to reverse the spell in the nick of time.
If you're interested, all English episodes can be found on Youtube.
When I first watched the series as a teenager, I enjoyed it an awful lot. It differs quite a bit from the book, but it has its own unique charm. Now that I started watching the episodes again a few weeks ago, it brought back so many fond memories. And, most importantly, my inspiration.

Thus you might see more of this in the future.
Bubonic/Beelzebub and Tyrannia/Tyrannja belong to Michael Ende.

My beautiful childhood's one of best cartoon! I love this artwork!


Reply

I grew up with the Dutch version of the cartoon. Unfortunately, I can only seem to find the first episode of it in Dutch, as of now.
Reply

I'm glad you remember the series.

Same here, I have a hard time searching for the German episodes. Admittedly, I recorded them when they were first aired - but digitizing them takes an awful lot of time.

Reply

So wie in "
Der satanarchäolügenialkohöllische Wunschpunsch"? Die Serie habe ich nie gesehen, aber das Bild sieht fantastisch aus, besonders wegen der weichen Schattierung. Bin auf mehr gespannt!

Reply

Ganz genau.

Dies ist übrigens auch die Serie, die ich meinte. Sie hat meine lang verschollene Motivation wieder hervorgelockt.
Danke für dein Kompliment! "Der Wunschpunsch" lief zum ersten Mal 2001/2002 im Kika. Ich kam damals durch Zufall drauf und bin seitdem Fan.

Die Serie wandelt zwar einige Punkte des Buches ab (z.B. Aussehen der Charaktere, die Zauberer wissen nichts vom Doppelleben ihrer Haustiere und sind auch nicht besonders kompetent, ...), aber ich finde, sie funktioniert trotzdem sehr gut. Und mir gefällt der Humor: popkulturelle Referenzen, Wortspiele, doppeldeutige Witze - und nicht zuletzt Unmengen an Alliterationen. Da kann sich sogar Darkwing noch eine Scheibe von abschneiden.

Reply

I've seen pretty much every episode in English and I love it!

Its so cute and the theme song is so catchy.
Reply

-_- Aaand now I'm hooked on watching these. Thanks. XD
Seriously it is a pretty fun show, and the intro's really catchy!
Reply

Haha! Awesome!

You're so welcome. xD
I'm glad you like it.
Reply

I kinda feel sorry for Bubonic and his aunt. It seems that without Maledict breathing down their necks they don't really care about cursing the city.
Reply

Same here, absolutely. I think they'd even be fine without any magical powers, as long as they can live self-determined lives - seeing that they often refrain from using them. They'd probably be more productive without Maggot's constant nagging anyway.
Reply

Yay noch ein Wunschpunsch fan, und fantastische Zeichnung!


Jedenfalls, ich liebe es wie du die beiden gezeichnet hast, insbesondere Irrwitzer
! M
it diesen so ganz von sich selbst ausdruck.


Wie wars diese wunderschöne Zeichnung in die Wunschpunsch gruppe einzureichen
? ach ja, und willkommen zur der Wunschpunsch gruppe
!
Reply

Danke schön!

Ich liebe die Serie, seit ich sie das erste Mal sah - da war es höchste Zeit, mal etwas dazu zu zeichnen.
Und danke auch fürs Willkommenheißen! Ich werd das Bild gleich einreichen.
Reply

Kein problem
! Ah, ich liebe die Serie auch - sehr, sehr, sehr viel sogar. Jedesmal wenn ich sie mir re-angucke bekomme ich sehr besessen, und versunken in die Serie sogar wenn's schon das 3 oder 4 mal ist das ich sie mir re-angucke.

Ich kenne sie auch seit meiner Kindheit. Damals, in 2013, wahr ich bei YouTube und ihrgendwie hab ich mich erinnert an Wunschpunsch, dann tippte ich das in YouTube's suchliste und dann dachte ich mir das intro anzuschauen, und hab es dann getan und es gefiel mir sehr. Dann sofort nach das intro entschied ich mir die ganze Serie anzuschauen, auf MyVideo, in Deutsch hab es dann auch getan. Und dann
fängt
die sucht an.

Reply

So ähnlich ist es bei mir auch. Als ich letztens wieder anfing, die Serie zu sehen, habe ich einige meiner Lieblingsepisoden gleich mehrmals geschaut. Ich weiß also, was du mit Sucht meinst.

Tja, so kann es manchmal gehen. Ich habe den Wunschpunsch in all den Jahren nicht vergessen, aber meine Interessen waren andere. Und nun hat mich die Serie aus einem langen Art Block herausgeholt. Dafür lieb ich sie nun noch mehr!

Reply

Ooh, this looks good!

I now have a new series to watch for the upcoming holidays...
Reply