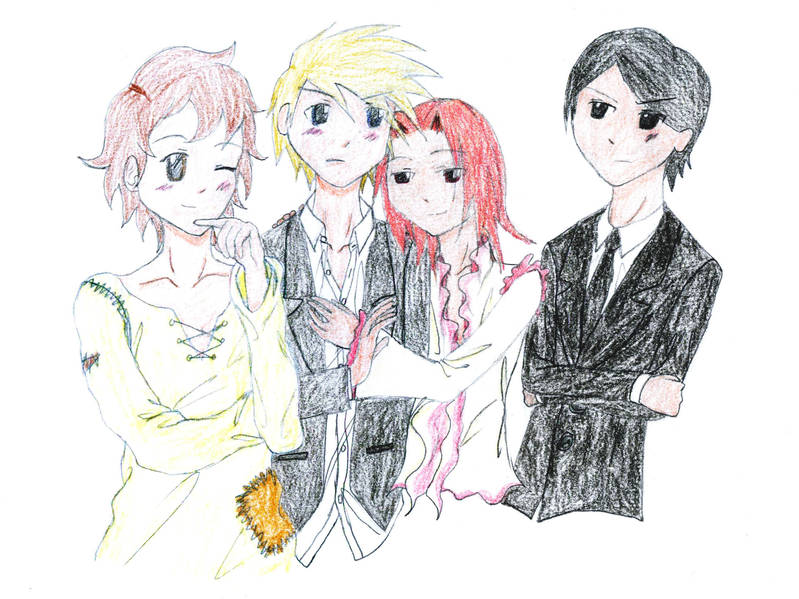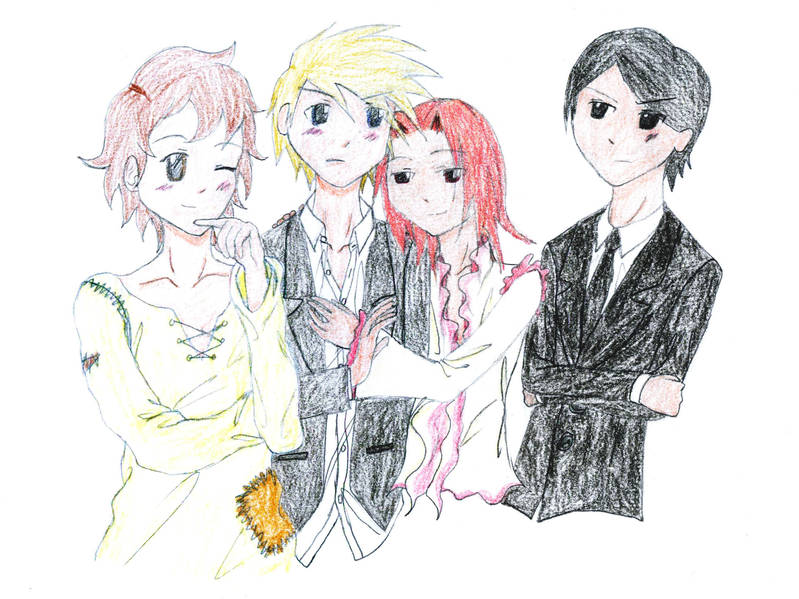 Watch
Here are ~
Runawynd
's characters from her story,
The Diviners of Runawynd
(also
here on her FictionPress.
) From left to right, that's Torrin, Garrick, Keiran, and Sylas. I won't spoil any of her wonderful writing here, so if you wanna learn more about these awesome characters, go read her story! Go, I say!
Took about 3~4 hours to draw, about an hour to color with colored pencils.
Hope you like it, ~
Runawynd
! Keep up the fantastic writing, dear!

Wow! That's so nice

I loved it! So cool!
I wish I could read it, but you know my lack of vocabulary =/
You know what I was thinking? I had a english grammar when I was young, Every year I used to study it all over again, but lately I totally forgot it, to learn new languages, but, I still need to study english a lot! So, I'll study it again. As my Japanese books too --'
And I was thinking about learning lots of words everyday! I want to do that in every anguage I'm studying (and I decided to stop it, at my 5 favorite ones, and once I master them, one day in the future, maybe learn others...)
=]
So niiiiiiiiiiice!
I learn a lot with you too

Thank you!
Reply

This is sooooo cute!

I love how it all turned out - they look GORGEOUS!

And for whatever reason, I absolutely love the blushies on them~ You did a great job with the coloring, too! Keep up the good work!

Reply

Thank you so much, dear! I love your original story, and just had to draw something to support it!

Reply

You are such a good artist! It's a mystery to me why you don't draw more...

You totally got their personalities down, it's beautiful.

I love how you drew Garrick, he makes me smile.

Torrin is so cute it kinda scares me. But that's just how he is I suppose, so job well done!

I'm glad you posted it!


<-In a bouncy mood.
Reply

What I think is really neat about this picture is the fact that you can see exactly one full hand on each of the diviners. Hands are very expressive, and I can easily tell what their individual personalities are just by glancing at their hands (which you've drawn with great aplomb).

And the HAIR!! All the hairs and beauteous!

Thank you for uploading!
Reply

The hands gave me great trouble, especially Torrin's and Garrick's.
But I'm glad you've found them so expressive! Thank-yee very much for the kind compliment!

Reply