206 Favourites
18 Comments
5K Views
Ninth and final sketch from saturday/sunday's
stream!
The final sketch from the stream was commissioned by

, who asked for
a continuation to the Scott Age Regression Set, which you may recall in the third panel had me bouncing little Scott on my lap while the laptop which seemed to cause the regression was left on a table in what looked like a library, well, it seems like this girl, called Seijun, got too curious about the laptop :v but eh, at least she isn't as upset as Scott was when he regressed.
So, this being a new addition to the set, here's the Previous Panel:
--
The Full Canvas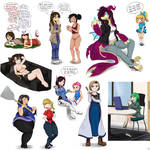 IMAGE DETAILS
Image size
3505x4926px 1.75 MB

I bet she's watching some funny video on Metube right now and don't have time to notice her change. Oh I love that this series got a continuation, I like continuetions as you may have guessed.
Nice work on the background btw, making it look just like the same location as in the last scetch. Nice continuity there.

Yeah, she seems completely oblivious to the fact she's turning into a baby .3.

I've been thinking about something. Where does all that lost mass go when people regress? Realistically it can't just vanish so their body would have to increase in density as the mass stays the same whilst their size shrinks. Hmm... it would be interesting if there was a superhero with the power to age regress and convert their mass into muscle density. Like, they could become stronger and stronger but at the cost of loosing more and more of their age.

I haven't really thought of it, I prefer the idea of the characters turning into normal babies though, so if that density had to escape somewhere it'd maybe vanish away as a volatile glowing energy.

Not sure how you convert mass into energy but sure, why not? Either way, Ive added a regressing superheroine to my ever expanding daydream/headcanon/story/multiverse thing I've been building in my head for the last few years.

Mass into turned into energy would be like an explosion, but the type of glowing energy I guess would be like some sort of radiation floating away.

Each atom of lost mass escaping the body all at once... yeah, that'd be one hell of a radioactive blast.

A large glowing explosion and then once it's done the babyfied person enveloped in their adult clothes.

Aww too cute too cute too cute too cute! >w< I'd probably be happy too XD

Yeah, though her happiness seems to come from whatever it is she's watching, I don't think she has noticed her regression at all.

Ah I see well either way she's cute and she certainly makes me feel all happy seeing how cutie and adorable and precious and baby she is XD ^^