477 Favourites
136 Comments
12K Views
Fourth sketch from saturday/sunday's
stream!
This one also commissioned by

, a pic of poor Samus Aran finding herself suddenly regressed, is it an effect of Chozo Technology? Maybe Ridley's Pirates? Maybe Phazon? Maybe the X Virus? Maybe Metroids now sapping away time instead of life force? There's no way to know o:
Whatever the case her new outfit seems to have some childish aspects, diaper included :V How indeed is she supposed to fight Ridley now? Do Chozo suits come in kid size?
--
The Full Canvas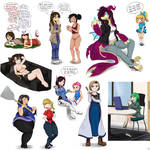 IMAGE DETAILS
Image size
3000x4500px 1.32 MB