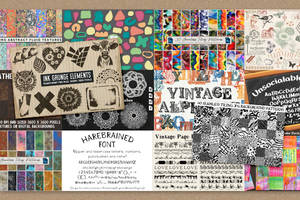 HG Designs Subscriber Area
Lots of high resolution goodies for graphic design including textures, photoshop brushes, seamless patterns and more.
---

Description
Images and text from gruesome historical anatomy manuscripts and some anatomical line drawings from the BIODIDAC project.
Historical Sources:
[link]
[link]
Modern Sources:
[link]
THIS BRUSHSET MAY NOT BE USED COMMERCIALLY. ART THAT INCLUDES ONE OF THESE BRUSHES CAN BE USED ONLY FOR NONCOMMERCIAL PURPOSES.