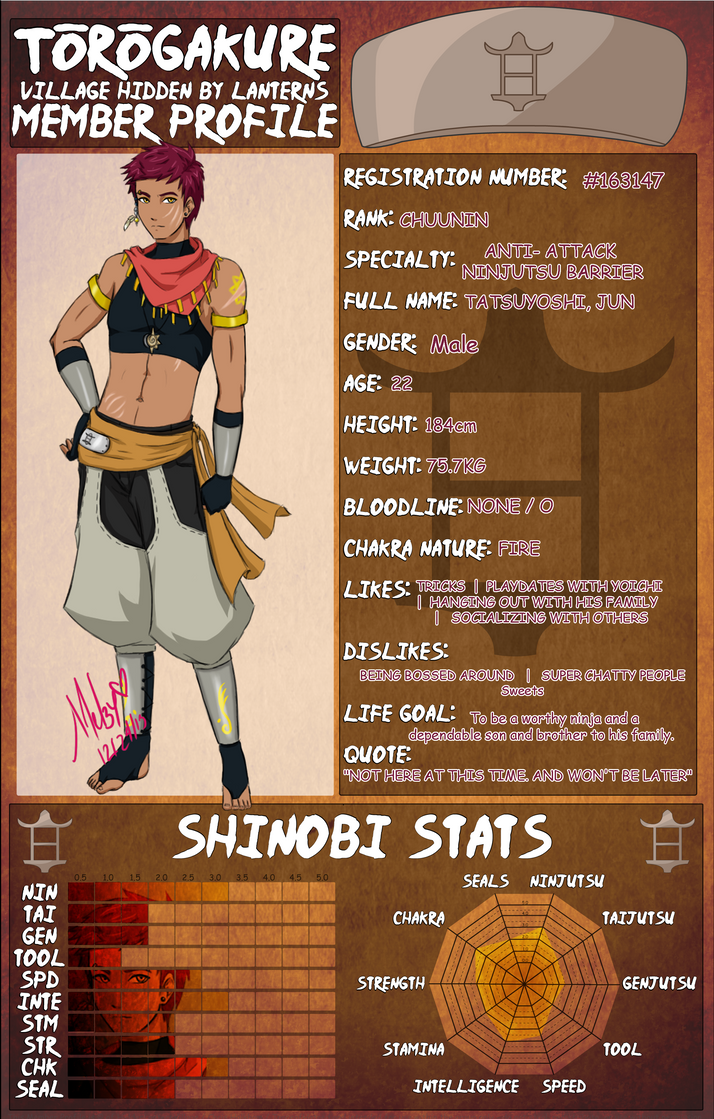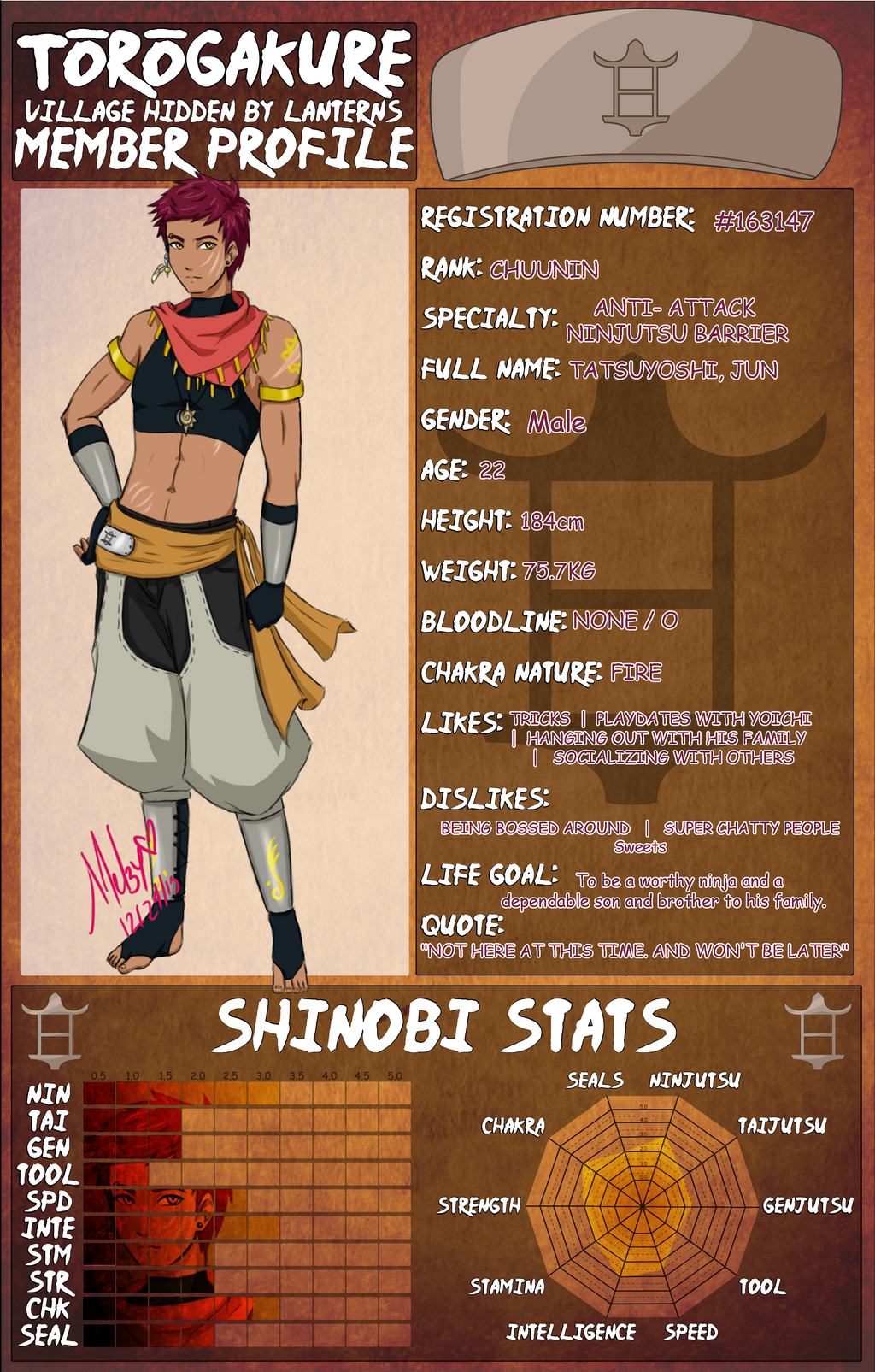 Watch
Medical Information
Registration #:163147
Official Rank: Chuunin
Full Name: Tatsuyoshi, Jun
Gender: Male
Age/DOB: May 31st
Height: 184 cm
Weight: 75.7 kg
Bloodline/Type: O
Chakra Nature: Fire
Likes, Dislikes, Inspirations and Goals
Likes:
- Getting to know people that are interesting | Socializing and interacting more with others | Still doing tricks but to entertain others than just himself or his family | Still being lazy but not as much as before | Hanging out with his sister, Fuyumi | Play dates with Yoichi ♥ | A little bit of adventure


Dislikes:
- Being bossed around | Looked down upon because of family background | People being picked on | People who talk to no end | Bears and anything that has 'bear' in it | People taking the crystal ball seriously (lol) | Sweets | Alot of attention
Inspirations:
- Family | Village Leaders | Historic Figures
Life Goals:
- To be a worthy ninja and a dependable son and brother to his family.
Events During TS
- It wasn't till half way into the first year, Jun's family received a letter from an old family friend. It's known that Jun's dad had been in and out of the picture for sometime. The contents of the letter were stating Jun's father, Yuudai had died on a ship wreck. There was an ocean storm that had forced the ship to go off course and collide rocky shore. Jun tried not to be bothered by it. He "gave up" on his father sometime ago when he had stopped writing to them. His sister, Fuyumi though still very young and had very few memories of him, felt broken and a loss inside. The mother, Akeno tried to maintain a strong front for her family, though she knew it was less likely she'd see her husband again after he left, it still tore into her deeply. Jun acted as if the death had no effect, but he became hostile and angry most of the time. He kept a distance from his friends and others. Ignored responsibilities and didn't stay at home as often.


- His anger still lasted a while to the next year. But after running into Urara on occasion and she helped him deal with the loss. It did affect him deeply, deeper than others may have thought. The feeling of abandonment but for a permanent time now got to him. Though his dad was on travels, he always expected him to appear the next morning. Urara helped Jun express his feelings instead of them bottling up more; to be more honest with himself and to others. Jun wanted to make a new start not only for his sake but for his family's too. he decided he wanted to be someone who was dependable and useful. He decided to train more and improve his body, mind and spirit. And wanting to be dependable and a good use, he looked to becoming an 'anti-attack ninjustu barrier' specialist. There weren't many people who were training to become one. After the village had been attacked, Jun thought the village would make good use of a barrier specialist.


- Jun wasn't all that a good of a ninja when he tried to put himself through hard training alone. So he looked toward one of his friends who he also felt close to other than his team, Yoichi. Yoichi helped Jun push him pass his limits and through the difficult moments. Jun knew Yoichi was going through a rough time with his family/clan. He thought maybe beating him up for his training would also try to help him exert any possible concealed anger. Through the training and time spent together their friendship grew stronger and their selves.
Changes During TS
- After finally dealing with the feelings of losing his father, Jun decided he needed to let things go and start anew so he cut off his long braid. He also tries not to be as distance as he had been before. Tries to be more social and interactive with others.
---
Yayyy After the long wait I have finally gotten Jun's TS Form accepted and the Profile Completed! c: <33
At least with Jun there's a whole lot about him <33
I'll have to go back and work on Kaito's u.u Now it's like he's the one being neglected

Gosh I cannot get over how much I love Jun's TS design ♥♥♥ *u* just *q* lol
If you are interested in interacting/becoming friends or such with Jun send a msg ;u; all is welcome <33
Pre-TS Profile Sheet