The following journal is about unveiling our big Japan expo 2016 project, a coloring book made of our illustrations !
For the foreigners who are coming and may want to come and say hi, do not hesitate. Will would be pleased to meet you ! OUr booth will be
P691 hall 6.

See you there !
Bonjour tout le monde !
Et bien voilà, ça y est, nous pouvons vous dévoiler le projet secret de Kumi pour japan expo 2016 !
Nous nous sommes tous réunis pour faire un carnet de coloriage avec nos illustrations ! Si, si ! Vous avez bien lu.

Suivez le lien pour en savoir plus, et vous trouverez toutes les informations à son propos (surtout si vous souhaitez le précommander !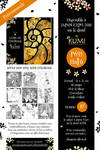 A très bientôt !
Bonjour à tous!
Cette année encore, nous serons à JAPAN EXPO avec le stand KUMI !!!!
Dans le hall 6 : KUMI 組 : P691
Avec l'équipe suivante :












N'hésitez pas à venir nous voir, nous serons heureux de pouvoir parler avec vous. En tout cas, merci pour votre soutient !


Et il reste encore deux produits à vous proposer à la vente :
Deux bâches "kakemono" en toile avec son personnage "Clange" et son fanart de Aurora.

Merci de partager son poste facebook, si le cœur vous en dit.
Cela va nous aider à financer le stand KUMI pour cette année,et améliorer le stand pour vous.
Faites-lui signe si cela vous intéresse, surtout que ce sont des modèles uniques et que nous ne savons pas si nous en referons ou non.
Elles seront à retirer sur le stand JAPAN EXPO 2016 au Stand KUMI 組 [P691] ou retirable sur Paris après si vous le souhaitez. Nous pouvons aussi faire envoi postal mais il faut prévoir des frais de port en plus.
JAPAN EXPO 2016
salon événementiel professionnel français sur la culture populaire japonaise,
qui se déroule au parc des expositions de Paris-Nord Villepinte
du 7 au 10 Juillet 2016

www.japan-expo.com/fr/