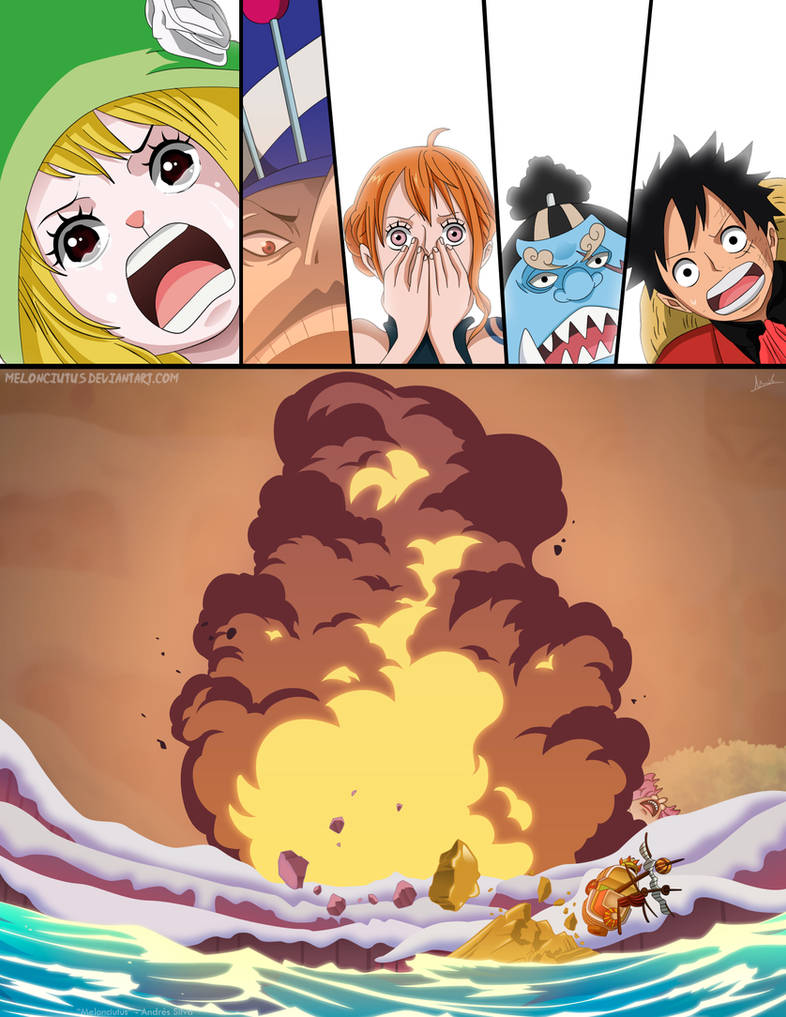 Watch
Una de las viñetas que más me ha gustado de todo este cap, quiero ver si puedo pintar otra más

espero les guste!
(C) Eiichiro Oda


Facebook:
www.facebook.com/Melonciutus-A…

Instagram: www.instagram.com/andressilvg/
Twitter: twitter.com/AndresSilva006




"Eres un buen artista? únete a nosotros, regalanos un +Watch y pasá por nuestras galerías". Somos:

Reply

Hello, your One Piece pictures. Can I have the permission to reprint them? I will note your signature and source, to ensure that no commercial!
Reply

Reply

Pobre Perospero uwu. De nuevo! me encanta los colores!!!
Reply

Tu Perospero

a ver si sobrevive, y muchas gracias!

Reply

Ojala.... Si Pell pudo sobrevivir a una bomba apunto de destruir toda Arabasta, Perospero... digo yo... no? Ademas hay personajes que han sobrevivido a cosas peores. Y Peros es muy fuerte. Lo que me hace dudar es el sacrificio de Pedro.

Como es un sacrificio, si Peros vive y Pedro quizas tambien viva, si no la muerte de Pedro seria en vano., O mueren los dos o sobrevivien los dos o Perospero vive pero luego lo mata Big Mom o Luffy... Ojala no muera.... D: DX

Que negativa soy con Perospero DX xD
Reply

Por la recompensa de Perospero y toda la importancia que le dieron en el capitulo, creo que podría sobrevivir y si fuese asi, Pedro también podría, pero no me encajaría que Pedro muriese y Perospero no jaja seria un poco fail el sacrificio creo yo

Reply

Por eso... O sobrevivien los dos... o mueren los dos... me gustaria pensar que sobreviven los dos... XDDD pero a la vez me tengo que mentalizar con la otra idea :S
Oda es malo... XDDD a matado ya, a dos miembros de la familia Charlotte y se supone que no le gusta matar personajes... XDDD Que no mate a un tercer personaje. Es que no le veria sentido a la muerte de Peros, porque Pell es muchiiiisimo más debil y sobrevivio a algo el triple de peor. Yo confio en que los dos vivan pero esten muy mal fisicamente.
Reply

No había pensado eso de ver a ambos heridos

también es otra opción jaja creo que sería la que mas me gusta xD o la mas positiva creo (al menos para mi)
Reply

Y al final de este capitulo quedo claro de que Pedro era parte del Estado Islámico. Ahora en serio buen coloreo y un final épico y triste para un buen personaje como Pedro.
Reply

Jaja ahora habrá que esperar que consecuencias trae esa explosión, si logro o no hacerle algo a Perospero
Reply

Beautiful and sad.

Reply

Genial!!

. Colorearás el Red Hawk vs Katakuri?

(porfa xD).
Reply

Gracias! lo tengo pensado, aunque ya hay muchos coloreos de esa parte que están bastante buenos la verdad xD
Reply

En serio?, busqué por todos lados y no encontré ningúno del Red Hawk vs Katakuri en especifico D:, solo de las viñetas de sus caras

. Si tienes un link por ahí de dichos coloreados, te lo agradecrería!

.
Reply