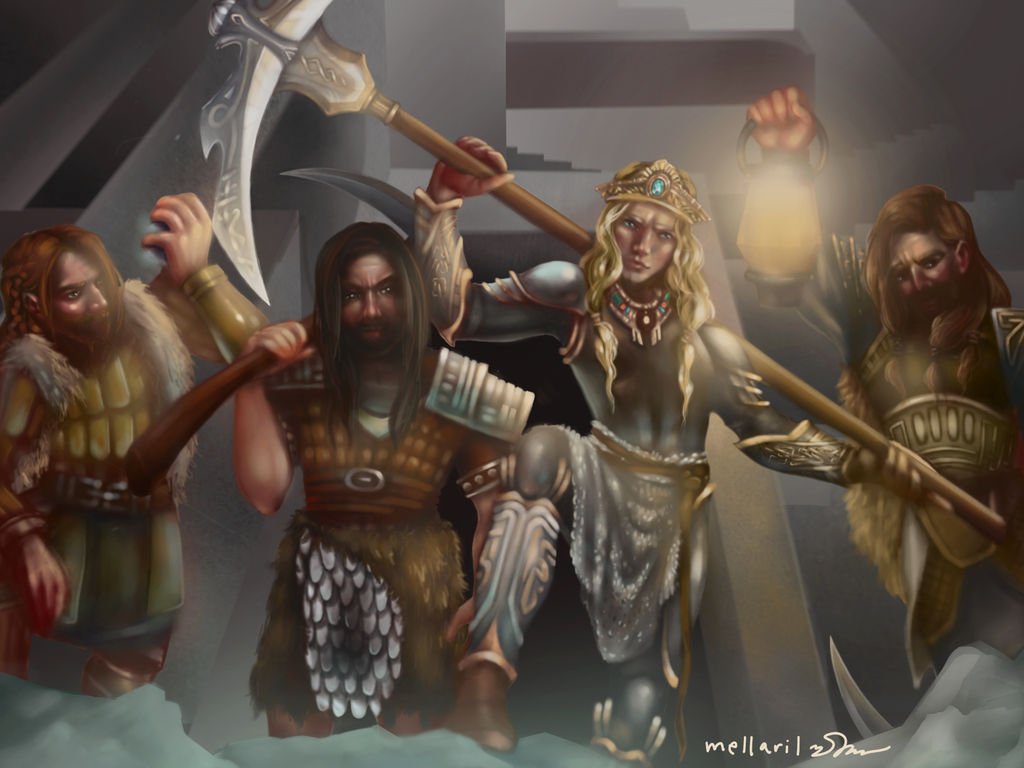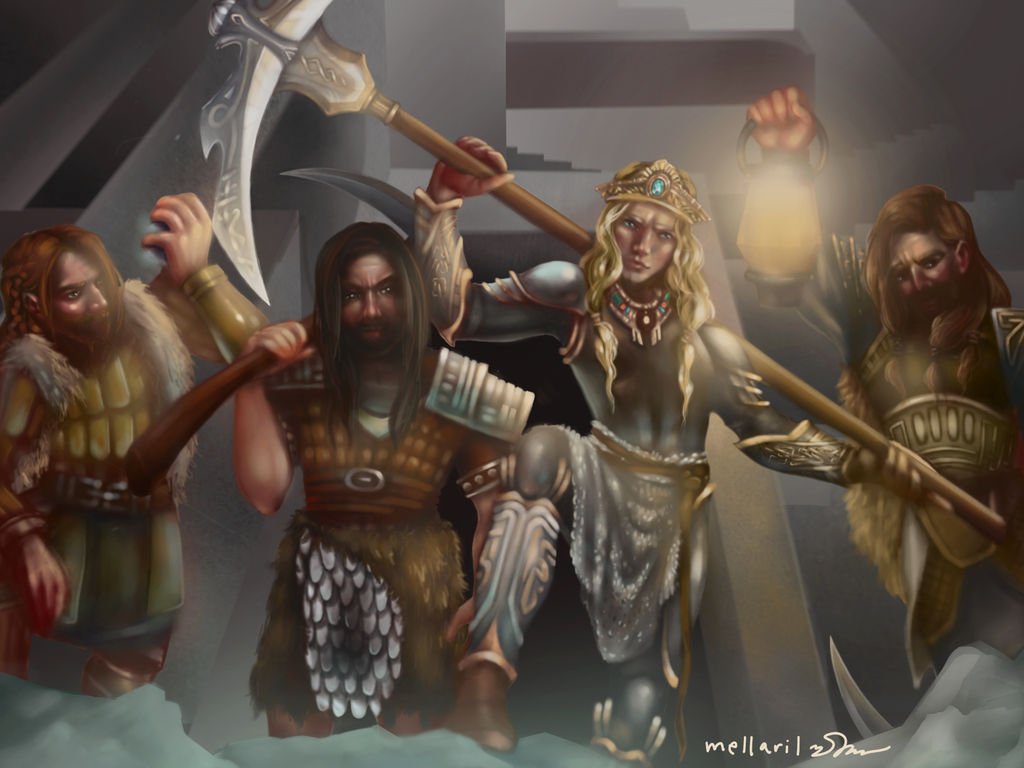 Thus Finrod came to the Caverns of Narog, and began to establish there deep halls and armouries after the fashion of the mansions of Menegroth; and that stronghold was called Nargothrond. In that labour Finrod was aided by the Dwarves of the Blue Mountains; and they were rewarded well, for Finrod had brought more treasures out of Tirion than any other of the princes of the Noldor. And in that time was made for him the Nauglamír, the Necklace of the Dwarves, most renowned of their works in the Elder Days. It was a carcanet of gold, and set therein were gems uncounted from Valinor; but it had a power within it so that it rested lightly on its wearer as a strand of flax, and whatsoever neck it clasped it sat always with grace and loveliness. There in Nargothrond Finrod made his home with many of his people, and he was named in the tongue of the Dwarves Felagund, Hewer of Caves; and that name he bore thereafter until his end. But Finrod Felagund was not the first to dwell in the caves beside the River Narog.

Tolkien, J.R.R.. The Silmarillion (pp. 107-108). Houghton Mifflin Harcourt. Kindle Edition.
Hey everyone! Yes, there has been a long absence. I started a really demanding job six months ago and since then have found it really tough to find the time to paint - this piece was mostly done on the plane between my multiple round trips across the country! So that's what I blame for all mistakes and consistencies.
This is Finrod and his dwarf-friends hewing the caverns of Nargothrond. I drew the inspiration from my very good deviantArt friends

(who's rightfully obsessed with Finrod) and

(who suggested I branch out and paint some dwarves for once). Here's the end result, and I'm so glad I took these suggestions - I learned so much from this piece about armor design and painting people with bold facial characteristics, would definitely do it again!
Merry Christmas and Happy New Year!!
Mellaril
Reply

Nice your captured it beautifully
Reply

Heyyyy, welcome back!! Omg, it turned out great!! I love the touches of texture in it, like the fur trim on Left Dwarf, the shimmer on the fine, slinky chainmail around Finrod's waist, and his hair in the lamplight. The oversized worktools look like they were fun to do. That you managed to do all this given your job is really quite amazing!!
Reply

Thanks! It was a good learning experience for sure. And we work whenever we can right?

Reply

Haha, yes! I think with your schedule it'd be pretty hard to find any time to paint, but hope to see another one from you before long!
Reply

Looks like the intro to some epic music video by a metal band

I love it.
Reply

It is wonderful to see and read something from you again, I already wondered!

I hope it will get (or already got?) better with your job, take care!
It is so cool to see your dwarves (and Finrod, of course!), and although you've done it beside all the stress/full time, you did a great job!

Reply

Thanks friend!

it's a little better now but it is very variable! Sometimes I fantasize about having picked a less demanding career... but luckily I do love what I do. Hope all is well with you!
Reply

Reply

Finrod looks ready to work
Reply