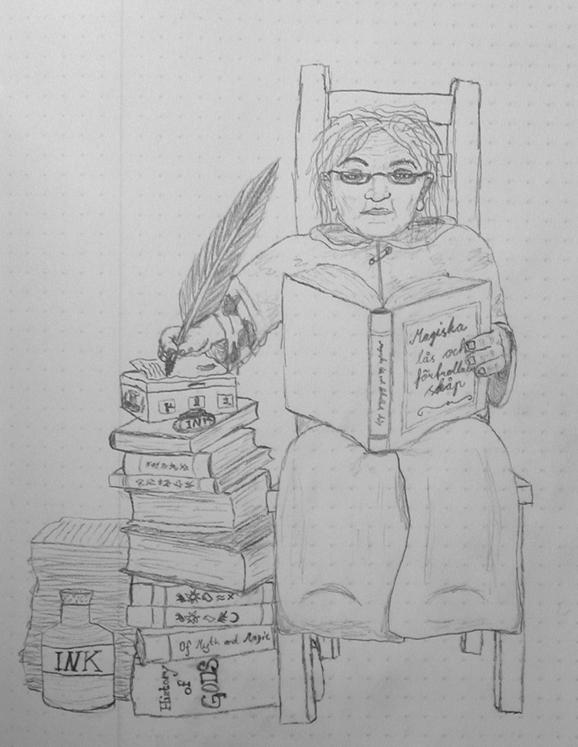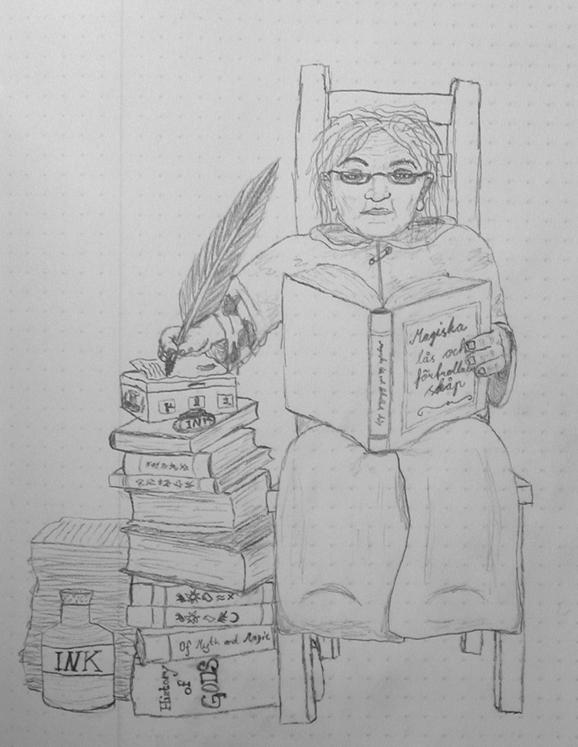 Watch
This is my friend Kiki's character Skuld. She's a female dwarf, who has chosen the path of the scholar.
It's kinda hard to draw a female dwarf.

Perhaps I'll add a colored version later on?
History of the name is the story of the nordic nornes. Skuld knows about the future. Read up!
This will be my own description of her from what I have picked up. If Kiki argues I might have to change it a bit

Name: Skuld
Race: Female Dwarf
Class: Monk
Subclass: Scholar
Kingdom: None (Adventurer)
Guild: None
Level: 4
Skuld is a bit of a careless scholar, who only really cares about knowledge. She has lost the buckles for her robe, so she closes it with a safetypin instead. Her grey robe is stained with ink from a bit of writing, of which size you can see lying beside the books.
She keeps to the small town of Cabeiri, close to Atherias major city, Whitestorm. Now and then she goes on journeys, fighting whoever may stand in her way with hard knuckles as her only weapon. Perhaps to find strange items, or books, or hidden spells, or mystic stones... To tell the future of Atheria and Cardania, and all the little islands surrounding the two continents of Merentha.

o.o Female scholar... Dwarf... *drool* Great drawing.
Reply

Cool. My first characters in RPG were dwarfs both times. I love them, even more since LOTR. I dig Terry Pratchet's description of female dwarfs, too

.
BTW, just a thought if you're going to colour it. Would it be possible to take away the dots on the paper? I know it's not easy, but perhapes you could select the bits that aren't part of the character and blur them or something. Just a thought.
Reply

Nope, doesn't work. That'd leave me with patches of dots instead of dots of dots. I tried.. Atleast, I can't do that, I don't have the patience. Though that's a major reason to why I'm coloring eala as a completely digitalized drawing, to get rid of the squares..

That is also why I might never finish her.
And btw, always copy your letters before you press send, and then always check so they've been sent, especially during system-maintenance-days
Reply

I'm learning that the hard way. Thanks for the tip.

BTW, I've got some free time. Would you mind if I had a go at cleaning thins up a bit? I've got this sudden urge to play with photoshop. I can e-mail you the result, if you give me your adress.
Reply

hm.. I'm not sure.. I'm very sensitive about my stuff. If you touch them they might not be mine anymore

Though if you do it behind my back, and never let me know, then... what I don't know might not harm me?

Reply

Well, I can give it a go. If I don't finish it, then nothing's lost. If I do, I'll send it to you, and you can use it if you like. And if you'd rather not, then you can at least look and say if you'd like to suggest anything. You're not the only person whose work I steal

.
Reply

I don't mean you'd steal it, I mean it wouldn't feel like mine once I've seen your touch on it.
Reply

Well, it's done now. I've been carefull, and done my best not to touch the important bits. So what do I do with it? Send it to you? We can meet on ICQ if you don't want to put your email on the web.
But I respect that you don't like people messing with your pictures. I won't put it on my deviant page, and I'll never try to colour it, or change the actual picture. Unless you cive me permission *evil grin*. Just have a look, ok?
Reply

thats really cool! hehe, it would be great to see it coloured
Reply