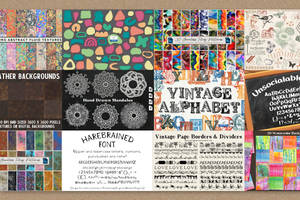 HG Designs Subscriber Area
Lots of high resolution goodies for graphic design including textures, photoshop brushes, seamless patterns and more.
---

Flourish Illustrator Brushes
Description
This is a brush set for illustrator containing various styles of flourishes to suite your design needs.
All brushes in this set are set to proportional and hue shift, so they will always look good no matter what size or color you use with them.
For an example of their use, here is one illustration I did:
[link]
Hope you can find some use for these brushes. Enjoy!
Be sure to check out my website here:
[link]
and
My portfolio of stock graphics for sale here:
[link]