Community Week
---
Have you ever had one of those times when you really feel like drawing but had no idea what to draw? Or have you ever had an artblock you've desperately wanted to get rid of? Art is super fun, but it sucks when you just can't draw when you really want to. Here are a few of mine and a few other artists' tips to get inspired, and hopefully it'll help you!

Okay let's start!
---
1. Make an OC
OCs, or original characters, are a great source of inspiration. If you have none, make one! It's super fun to design your own character, especially since it's original so you can go crazy with it! Think up a personality for your OC, as well as their hobbies and interests, and even a back story, so that they seem real. Whenever you're out of ideas to draw, you can draw your OC. If your OC is well-developed, you might even develop a loving for them and long to draw them all the time

.
2. Make Adoptables
Adoptables are OCs that you sell. Because you're not going to keep them, you don't have to over think which design you'd like the best or be happy to keep for a long time. Just get some bases and go crazy with the designs. You might even make some points from it.
Here are some of my favourite bases:
Canine:
here
and
here
;
Feline:
here
and
here
;
Dragon:
Western:
here
and
here
;
Eastern:
here
and
here
;
Anthro:
here
;
Human:
here
and
here
;
Find more bases
here.
Make sure to read the rules of the lineart before using it!
3. Sketch Things
Things? Things. Anything. Sketch your tablet. Sketch a dragon. Sketch that tree outside of your house. Sketch yourself. Sketch ice cream! SKETCH EVERYTHING! Sketch things you've never tried to draw before, and sketch things you're comfortable with.
4. Speedpaint Things
This is similar to the sketching, but may be more fun because you can add colour. Speedpaint anything, whatever you like to paint. I usually like to do landscapes, but it may be different for you. It's alright to keep your painting messy, no need to do super clean lineart or anything. Even if you have no idea what to draw, just simply put 3 to 5 blobs of different colours down, and try to make a picture out of it. It's super fun

.
5. Draw Comfortable Things
Draw things you're comfortable with drawing, or know how to draw very well. If you're good at drawing a certain animal, or just portraits, for example, draw a few and really make them look nice. For me, when I get artblocked, drawing something I'm proud of usually does the trick. If you're already good at drawing it, it's hard to mess up and easy to do well at, so you'll probably end up being proud of it

.
6. Look at Other People's Art
Seriously not in the mood for drawing? Fine then, give this job to your eyes. Browse artwork related to what you're interested in. If you draw dragons, browse dragon art. If you want to draw fan art, browse fan art for whichever game/movie/show. I usually like to look at art that I know how to execute, but just don't have the skill to. Try not to look at artists too far from your skill level; it may just make you feel terrible about your own art. Instead, aim for artists who aren't leaps ahead of you, just steps, so that you can look at the artwork and think, 'ahh, so that's how they used that brush', instead of, 'how did they do this? This is mind blowing!'
7. Watch Speedpaint Videos
Watch other artists' speedpaint videos, or even better your own. I'm not exactly sure why, but watching my own speedpaint videos always gets me inspired. I'm not sure I would recommend this, but if you'd like, you can record your speedpaintings and watch them over afterwards. It's really fun to! But if you'd get nervous from recording, then you shouldn't record, because the point of speedpainting is for it to be relaxing and free.
I don't know that many people who do speedpaint videos, (since I mostly just watch my own haha) but here are a few:
If you know other speedpaint channels, feel free to let me know!
8. Read Tutorials and Watch Tutorial Videos
Have something you want to work on? Read a tutorial on it and it may inspire you to practice drawing it. Or just view general tutorials like shading and colouring tutorials. Here are a few tutorials you might like:
Find more amazing tutorials
here
Again, if you know any great tutorials, feel free to share them with me

.
9. Paint Stock Images
I find this extremely fun, especially for landscapes. Nature has epic landscapes that are even hard to imagine, and pictures act as a good reference so it's really hard to screw up. If landscapes are not your thing though, still check out the stock image gallery, there may be one that catches your eye! Make sure to read and follow all stock rules. You can find epic stock images
here
.
10. Paint Over Collages
Make your own collages with photos and paint over it. I find this really helps because the photos give you a nice colour palette and you don't have to start with an intimidating blank canvas. It's alright to use other people's photos as long as they've been completely painted over and are not visible/recognizable in any way when you upload it. Do not copy the photos completely, use them mainly for inspiration. In fact, the result may be completely different from the subjects in the photos.
For example, in one of
FZDSCHOOL
's videos,
He started the painting with this photo collage: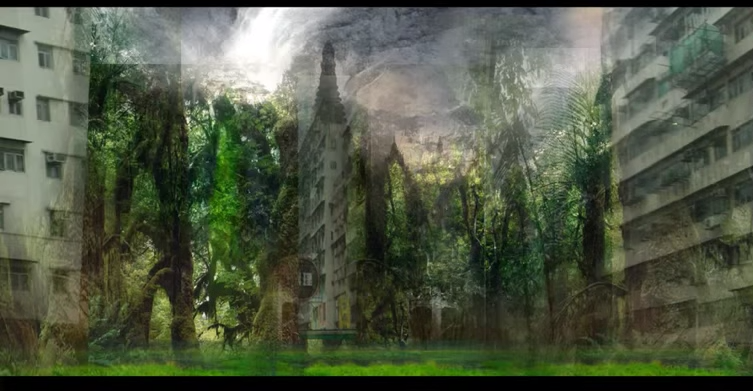 And ended up with this finished painting: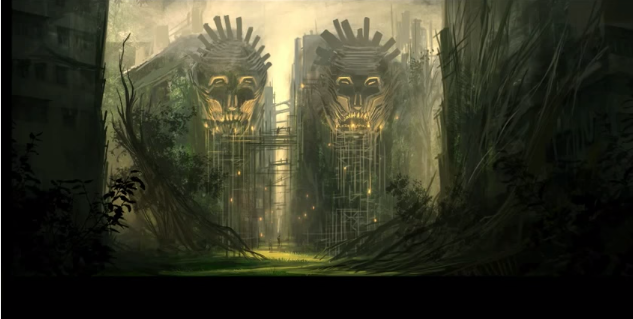 The result is pretty different from the collage, eh?
(beforeyouaskyesI'mCanadian)
However, in this case, the building on the left is not completely painted over, and if you don't plan on completely painting over the collage, you should use your own images or stock images.
11. Use Colour Palettes
Try to use colour palettes to get inspired! You can do this with photo collages or with premade colour palettes.
Here're some palettes I made: (some of these are terribly ugly and some are really nice. Try to make something nice out of all of them, though.

I'm gonna try use one of these to create a beautiful landscape.. let's see how it goes.

)
Here're some others:
When you're done, feel free to share them in the comments below.

12. Listen to Music
This one is old but gold, but music does help the creative juices get flowing.
13. Get Out
Get off the computer for just a few minutes and go out for a walk/jog! I know there's no Wi-Fi out there, but get out, relax, and you'll find out that nature can make you feel lovely. Nature is a great source for inspiration, and maybe instead of looking for pictures of it online, get out and look at it with your own eyes.
14. Exercise
Honestly don't want to get out? Then walk/jog in your house. Exercise; dance around and do squats or something. Movement helps thinking, and as a bonus, your body will thank you!
15. Read Articles on How to Get Inspired!
Still need a few ideas? Here are some handy articles on how to get inspired:
here
and
here
16. Ask Artists how they get Inspired
Not everyone have written articles on how to get inspired, but that doesn't mean they don't have any tips! I did a few interviews with some artists with amazing conceptual artwork. If you want advice from another artist, don't be afraid to ask! I'm sure none of them bite.

---
I interviewed:

AquaSixio
:

Yuuza
:

drachenmagier
:
---
How do you usually get inspired?

Mostly of my artwork are inspired form [from] my life, wish, disappointment, joy, fears... That's why it's hard for me to draw for someone, I used to refuse commission requests. The art is really an outlet for me and I dont want to see this activity becomes a job.

I get my inspiration from 2 places. I have a few concepts i repeat over and over because i always feel i haven't truly expressed them in all their glory. It's like trying to hit the center of a dart board and always missing. You're still on the dart board but never the center so i always try, try again.
The second place i get my inspiration from is other people's artworks. I browse deviantART and the collection of drawings i gathered on my computer. Watching other people's art almost always gets me inspired. Usually after 5 minutes of browsing.

I guess the reply here tends to disappoint a lot of people normally: I have no idea. I often just start with an empty paper, scribbling around till I like it. Or I walk through the city, thinking something like: "I could draw owls. Or dragons. Eh, both is fine." I guess for me it's not starting with the big ideas, it's more just letting hands and pencils work on their own and watch the results.

What advice do you have for getting rid of artblock/for artists who lose the motivation to draw?

Sometimes (quite often) I feel uninspired, and in this case, the best thing would be avoid to draw. I prefer listen to music, watch a movie or see friend, and finally, the motivation/inspiration is back, because I have something to say on the canvas

The first thing i do is browse all my collection of artworks. And this usually does the trick (it's a very vast collection). But there are cases when i still have an art block even after i look at all the drawings in my collection.

The second way i get rid of art block is by practicing something. I feel my mind is empty of any concept and instead of not drawing anything, i draw something so simple, it's impossible to get blocked while doing it. And i get to practice at the same time, so i shot 2 birds with the same stone! For example, tying [trying] to draw metal or wood, or trees etc. Or drawing animals studies from photos. I browse my tutorial folder and i usually find some very simple thing i could learn and just draw that.

It's when i don't do anything to get rid of art block that inspiration comes back much slower. There's a saying that i think holds much truth, inspiration should find you drawing.

First of all, sometimes it's really not that bad to take a break from drawing. It's why I have a part time job as custodian. It's 180° different from the creative stuff and gives my brain a break.

Another thing you can do when you want to draw but somehow can't come up with anything is to have a folder of unfinished drafts. You pick one and work on something that is already somewhat there, which makes it a lot easier to draw. Generally drawing something you really like drawing helps too, so don't feel forced to be original all the time and just draw what you want to draw the most.
Have you ever started a painting by just randomly throwing paint/blobs of colour onto the canvas? If so, which one?

When I started to draw, I process like this, more " randomly " strokes. I tried to interpret the " clouds of colors " I created to make a painting. fav.me/d8si7p. The drawing which could how this process is this one: aquasixio.deviantart.com/art/T…

Yes i have, and honestly it never turned into anything. I always (without exception) start out with a concept in mind, i can't draw as i go along.

Hah, pretty much everything in my gallery works that way! XD Not with paint, in most cases though, since I start out with pencils.
As you can see, the 3 artists gave different opinions and had different answers for all the questions. As suggested by
Yuuza
,
something you should do is try all the tips others and I have given, and make a list of what works for YOU.
---
What and Who Inspire You?
Share it with everyone in the comments below.