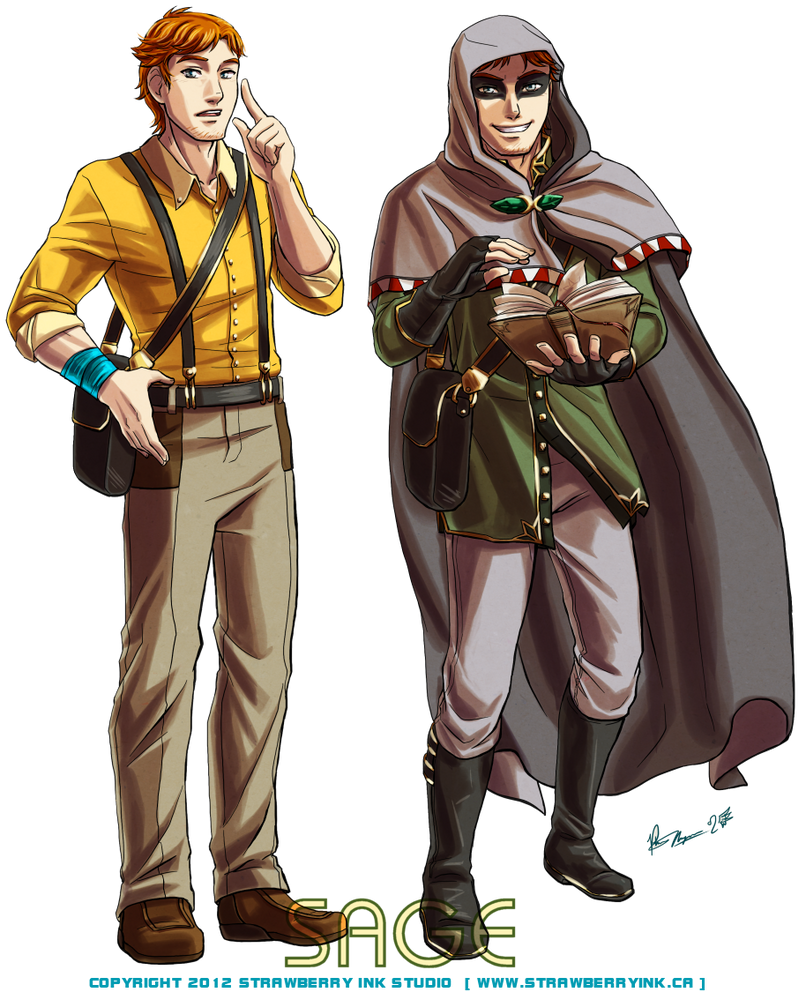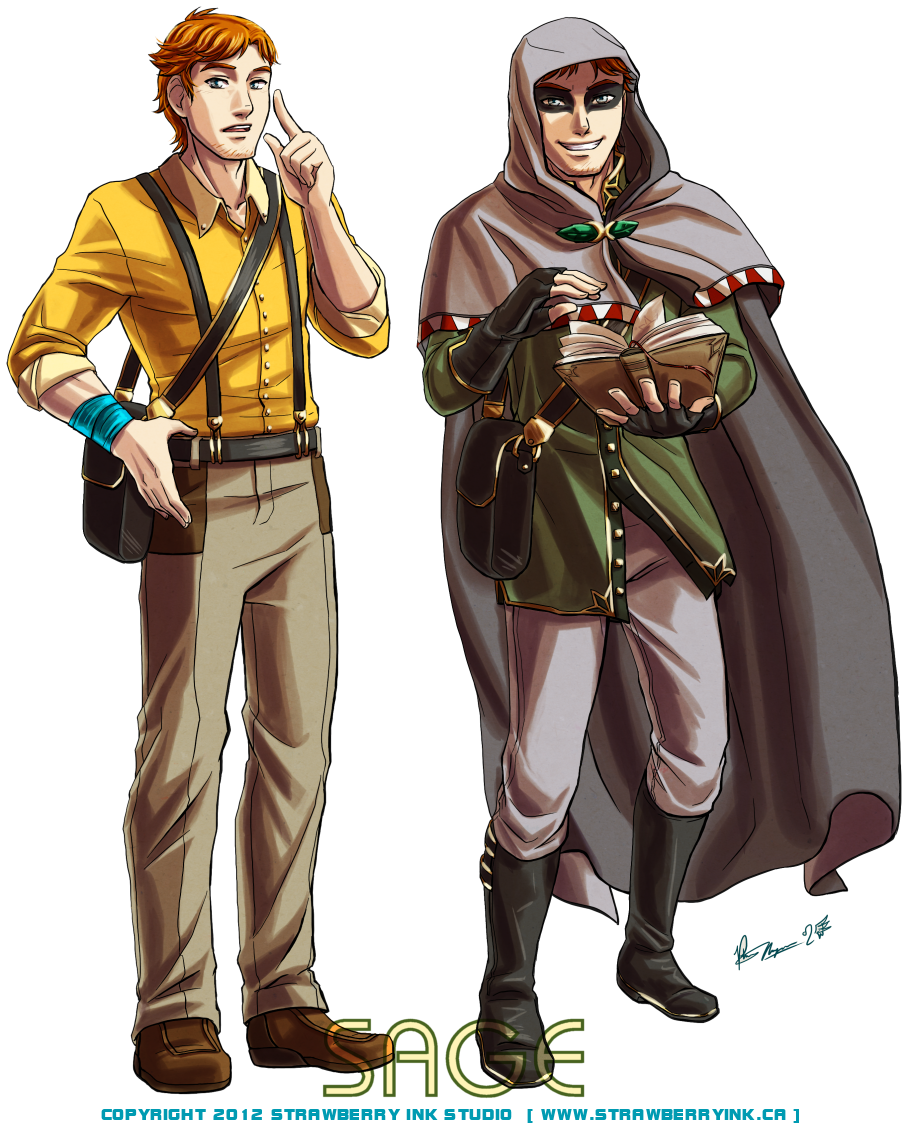 Watch
July 4, 2012
Paint Tool SAI, JASC Paint Shop Pro 7.
A character for the

group!
Ennes (aka Sage) in his civilian and hero getup!
Hah.. this colouring job I did is kinda weird, but whatever! I might redo or fix it later when every other character is done or something! XD
Anyway, Ennes is from a parallel universe, having just recently graduated from his civilian schooling (equivalent to North America's high school, I guess!). He's really interested in the mystical arts and is aiming to be a high ranking mage one day. The thing though... He's not very coordinated or good at actually channeling magic. >_> In fact, his physique suggests he'd make a better knight or guard than mage, but that's not going to stop him from pursuing his dreams -- most importantly, acquiring treasures and artifacts to take home as trophies for his accomplishments.
He's a bit of an enthusiastic nerd and tends to dress in comfortable clothing he considers reflects his sophistication... despite the fact that he's also kind of clumsy, unkempt (no time to shave properly), and all-round confused by the setup of the new universe he's been transported to.
P.S. The blue wrist wrapping is kind of there because he sprains his wrist often klutzing out while preforming spells and making exasperated gestures. >_>
His profile can be found here:

Haha...he and Mint should just switch occupational dreams. It would be better for everyone involved! XDDDD Though they will still both be clumsy either way.... >w>
Reply

Ennes: WHAAAAT?! NEVER! DX This is MY dream! She can go get her owwwwwn!
Elly: Fft.. who wants to be a wimpy little mage spending most of their life buried in dusty caverns of animal parts anyway.. u___u

They are happy in their misguided pursuits! xD
Reply

Reply

It is true! Their parents are proud but.. concerned about their futures.. XD

Ennes: It's not a cave! Its a shelf full of rare and valuable SPECIMEN!
Reply

XDDD How are they reacting to their children's strange disappearance?

DEAD ANIMAL PARTS, ENNES, DEAD ANIMAL PARTS I8<
Gosh doesn't it get stinky in there..... >w>
Reply

Well, I think they have been through enough of their kids' hijinx to expect them to not be DEAD.. >_> But nothing they can do at the moment! XD Ennes and Elly are bright kids. They will find their way back home! .. They hope. LOL

Ennes: They are in sealed jars and stuff! >:C You amateurs are the worst.
Elly: Well, sorry I am not a dead smell animal parts expert! <_<
Ennes: Oh, you will be sorry! You definitely will be! >:T
Reply

Well who seeeeaaals those jars of dead animal parts, eh? D: And doesn't it get smelly whenever you're working hocus pocus with those dead animal parts? Iiiiick~~~
Reply

Ennes: Dx They are for study! I seal some of them, but some of them are bought too.. --But that's not the point! The point is you don't know what you're talking about so just let the expert handle it. <_<
Elly: = = Some expert. Can't even explain it in an understandable manner. --becausethereisnotexplainationbesidesyoubeingacreepymage!
Ennes: D:< ..
Reply

I like the coloring style~ it gives it depth. xD
Reply

Thanks!
I just want to fix the skin a bit.. at some point. Still just looks off to me. xD
Reply

I think it looks great, though I guess you are your worst critic. xD
Reply

Yeah, everyone's their own worst critic! (unless they are a narcissist, I guess. LOL)
Reply

He has a beard ewe
( I should be back online soon! I just sent my computer to get fixed and stuff...so I'll hopefully be back up and running soon! I'm not dead yet.)
Reply

LOL Yeah.. or stubbles and stuff, since he doesn't shave properly.

Ennes: It just grows back too fast! D:< I blame genetics!

(Okay! Your poor computerrr)
Reply

i love it! a yj oc who finally didn't use a base! very fave worthy.
Reply

Thanks! Glad you think so~!
I actually find it difficult to use a base.. LOL.. I am not good at things like that.. so I always just kind of do stuff my own way.
Reply

Reply

LOL I do love gingers and raccoons! XD
I feel he's kind of a mess fashion-wise. It's cute.

Ennes: Mess? What are you implying? It's classy!
Reply

LOL. It is classy. Like, I don't see everyday guys dress like that for casual attire.

Oh, you were just making fun of hiiim~ Okay~ I get it. XD
Reply

Hahah.. well, i kind of like it. Dress shirts and suspenders are cool. xD
Reply

They're sexy... when they're the right colours. If they're the rainbow suspenders then all I gotta do is laugh. XD
Reply

I wouldn't put it past him to wear rainbow suspenders. >_>
He already likes bright colours. lol
Reply

Reply

OMG Why does he reminds me of a character from assasins creed!? So amazing!
Reply

Hahaha.. because of the hood and the use of red and white?
He looks like a mix of Assassin's Creed and Robin Hood. xD
He totally looks like a shady thief. LOL
Reply

lol, it's the faceeeee! I can't place the name on the character from Brotherhood, but the face is like, almost the same face he makes!! lol
Reply

No, no, no. I like the way you colored this! The colors fit together well

Reply

Thanks. It's ahh.. I still think it's a little weird or off, but I don't HATE it.. xD I guess I just didn't picture it coming out this way. lol
Reply