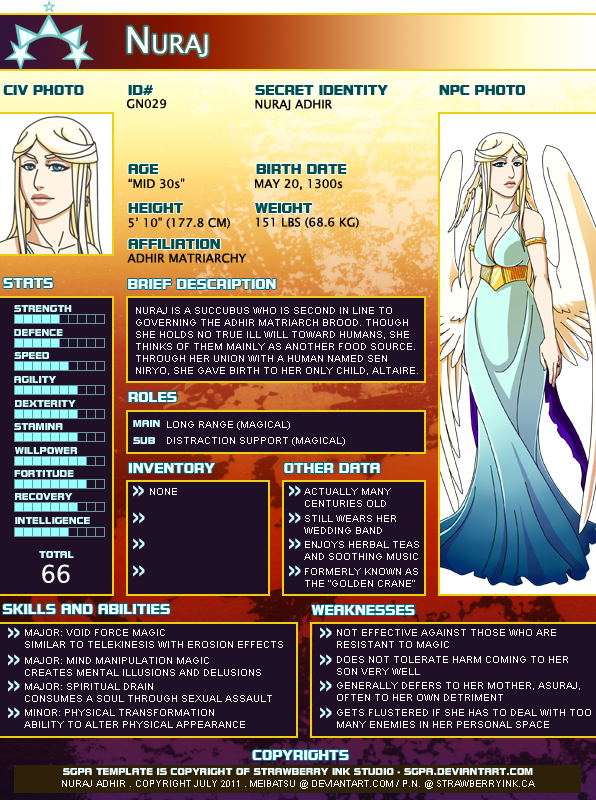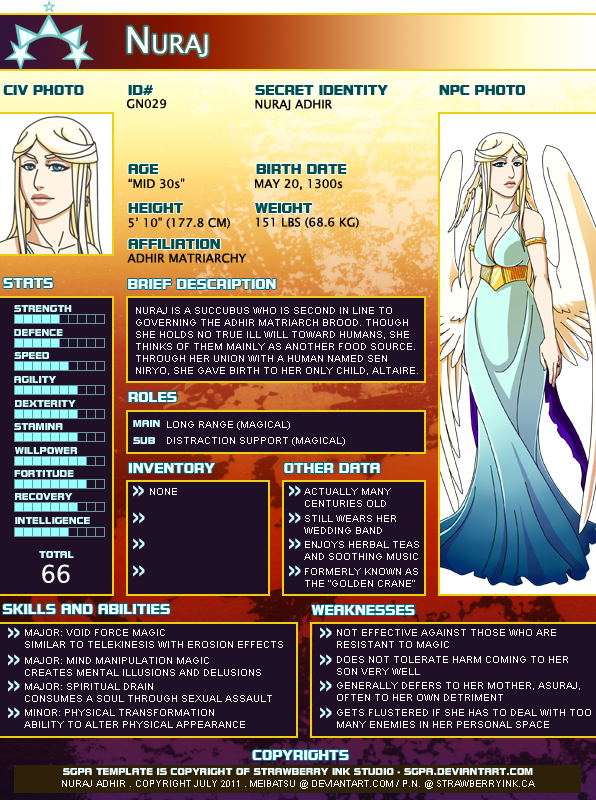 Watch
March 17, 2011.
Paint Tool SAI, Adobe Photoshop CS4.
A character for the

group!
Nuraj's Wiki page (updated with more info):
sgpa.wikia.com/wiki/Nuraj
----
BASIC STATS
Alias: Nuraj
Group / Alliance Affiliation(s): Member of the Adhir Matriarch
Secret ID: Nuraj Adhir
Nickname(s): Golden Crane (formerly)
Age: "Mid 30s" (actually a few centuries old)
Gender: Female
Nationality: Arabic-Mesopotamian (succubus)
Places Lived: Arabian Peninsula, Iraq, India, China, Korea, US
Current Residence: Currently living in Bludhaven, close to many of her brood members.
Height: 5' 10"
Weight: 151 lbs
Eye Color: royal blue
Hair Color: platinum blonde, almost white
Hair Type: straight and fine. Usually tied in a half ponytail and trailed down to her buttocks.
Skin Colour: Very pale peach.
Physical Description: Check out close up of clothing here
fav.me/d4t3vyc
Nuraj is elegant and graceful, usually wearing a neutral or unfazed expression on her face. She is also fairly tall, and often wears heels, making her appear even taller. She has what is generally considered an ideal feminine figure. She's well-endowed with an hourglass shape, which she accentuates with deep neck cuts and flowing dresses that drape well over her hips. She usually wears chandelier earrings and other gold accessories, and is always seen wearing her wedding band.
She is also able to alter her appearance in limited ways to look more impressive (glowing, wings, colour changes).
Extra artist tidbits: She has a softly curving aquiline (Roman) nose, large somewhat deep-set eyes, and pouty full lips.
Personality
Alignment: LDI - Lawful-Defensive-Impartial: The Gatekeeper
(she used to have a more initiative until she had Alt.. lol. Now just spends more time trying to keep it together)
General Personality: Nuraj comes off as elegant and somewhat elitist or cold. She does not have much tolerance for pettiness or trifles, and often would rather be left alone in quiet contemplation when not needing to handle and delegate Succubus Matriarchy matters. However, when around those she cares for and in a good mood, she is able to let more of her guard down and show warmth.
She doesn't think much of the human race and shows little remorse for using them as a source of nourishment, which frustrates her son. On the other hand, she does believe that like all food sources, humans should be treated with some minimum of respect like any other animal, and be fed on sustainably. Despite her own story of falling in love with a human and getting married and raising a family with him for a good many years, the final results of the experience has considerably sobered and soured her views on demon-human relationships.
Her relationship with her son is very tense and strained, with her often having to lecture or remind him about his heritage. Despite her often stoic nature and cold strictness toward her son, she actually cares for him very deeply and worries constantly about his well-being.
Good Traits: elegant, graceful, well-read, responsible, self-assured, loyal, good actor, diplomatic
Bad Traits: elitist, cold, passive-aggressive, often self-compromising to her detriment, easily disgusted or put off
Quirks: secretly a sucker for sap and romantic demonstrations, likes being taller than her men, soft spot for children--even human ones~!
Hopes: For her son to accept himself and be happy. To see her husband again one day.
Fears: Losing her son. Falling out of favour with her mother.
Memorable Quote(s):
- Enough.
Relationships
Mother: Asuraj Adhir
Aunt: Kamilaj Adhir
Husband: Sen Niryo (deceased)
Son: Altaire Niryo
Sister: Lamijah Adhir (deceased), Janah Adhir
Cousin: Farah Amar
Nephews: Rammey, Coman, and Jericho
Closest Friends: her sisters and cousins
Enemies: demon hunters, anyone who endangers her son
Girlfriend(s)/Boyfriend(s): none at present. She was never too interested in keeping relationships until she married. After her husband died, she resumes her disinterest. However, she is able to put on a guise of interest, warmth, and devotion if the need arises.
Battle
Power(s): Her abilities center around magic. Although she is fairly physically capable beyond the average human, she prefers to use her magical abilities first if she needs to battle.
Void Force Magic:
It acts very similar to telekinesis, as she can use it to physically manipulate the environment. However, it also has the added effect of "eating away" at objects on both a physical and metaphysical level. It's generally invisible and hard to detect since it's not a true "energy" source.
PROS: Powerful and destructive if used on a large scale. Difficult to detect and therefore avoid.
CONS: Uses up a lot of energy and overuse can start affecting the user as well (eats away at them).
Mind Manipulation Magic:
Nuraj is able to create illusions and bend the mental processes of a person in order to delude them. This is especially effective when the target has lowered their mental guard or has little willpower/fortitude. It can cause the target to fall unconscious, or if the target is asleep, can cause the target to sleepwalk and perform involuntary actions.
PROS: Distracts or incapacitates the target to make them easier to defeat or exploit.
CONS: Nuraj must keep her concentration on the target to keep prolonging the effects. More exhausting to perform on awake targets.
Spiritual Drain:
Nuraj assaults the victim spiritually and drains them of their energy. This damages a person's spirit or soul over time and can be fatal, not to mention psychologically scarring.
PROS: Recharges mana reserves. Incapacitates victim (victim usually ends up unconscious or in a coma for at least a few days).
CONS: Sexual assault required (there's a lot of complicated reasons for this, but just know that this is the only thing that works for succubi). Damages the victim. Best sources are innocent or morally upstanding victims as this is a polar opposite to general demon/succubi nature (more contrast = more power).
Physical Transformation:
Nuraj is able to change her appearance in limited ways make herself look more appealing, desirable, or impressive. Theoretically, she could also make herself uglier or less noticeable, but she usually does not take that route. She has in the past given herself glowing skin, wings, tattoos, more toned body, longer hair, and different hair, skin, and eye colours.
PROS: Look nicer and more flawless.
CONS: It's all a sham! The "glamour" can be seen through by those with more magical insight.
Weapon(s):
no weapon
Style: little wasted movements, graceful, keeps enemies at a range away from herself, incapacitates or kills the enemy as quickly as she can (doesn't bother "toying").
Strengths: She is experienced and powerful with her magic. She doesn't waste time and gets things done quickly and efficiently if she can. As she is usually high in mana, she has high stamina and her recovery from injuries is pretty fast.
Weaknesses: Most of her skills are magic-based, so she is not effective against those with high magic resistance. She prefers not to get into physical altercations and gets flustered when having to deal with many people in her personal space.
Background:
Nuraj was born many centuries ago in the Mesopotamian region, and some speculate that she was Ra's Al Ghul's contemporary. Her mother, the succubus Asuraj, is the current leader of their particular succubus brood (a collective of female demons who use sex as an energy source). The brood is called the "Adhir Matriarch".
After living for a few centuries learning to seduce men, hone her magical abilities, and living under the rule of her mother and elder sister, Nuraj became a fairly powerful demon in her own right. Despite this, she continued to serve her mother's and sister's whims until one day her sister decided to mate with an incubus, resulting in her death when her child was born. After the death of her elder sister, Nuraj became the next in line to lead the brood should Asuraj decide to step down or die.
Pressure was then put on Nuraj to produce offspring in order to continue the Adhir line. Nuraj eventually traveled to Korea and earned the trust of a demon-hunting clan near the Korean-China border partially through magical manipulation, partially through good acting, and partially through her general graceful demeanor. After implanting herself within the clan for a few years, she was able to earn the title of the "Golden Crane".
She eventually set her sights on Sen Niryo, the "Blue Wolf", a demonologist in the clan. She was able to seduce him and through their union, she became pregnant with Altaire. She and Sen soon married after Altaire's conception and Nuraj found herself and Sen deeply in love with one another. Sen willingly gave his blood to nourish Altaire and tried as hard as he could to keep Nuraj and Altaire's demon heritage hidden from the other clan members, despite growing weaker and becoming more crippled as his life source was eaten away.
Eventually the rest of his Sen's clan found out that he was harbouring demons, and while Nuraj and 8-year-old Altaire ran off, Sen stayed behind to be executed in order to salvage the last of his honour. Nuraj continued to raise him in a succubus brood in North America, bringing him victims. Nuraj grew increasingly worried as Altaire's depression from losing his father and previous life continued years into puberty, eventually leading him to trying to reject blood (turning vegetarian) and then trying to reject his new method of feeding (trying not to steal souls through sexual assault).
When Altaire ran away from home at 14, Nuraj tried desperately to track him down, fearing the worst. Even after being returned time and again, Altaire continued trying to cut off ties until Nuraj finally gave in and let Altaire do as he pleased, helping him set up a separate residence in Gotham while she remained in Bludhaven. She continues watching over Altaire from a distance and asks his cousins to check up on him once in a while for her own peace of mind.
NOTE: Though her role is somewhat limited in the SGPA as "Altaire's Mother" so far, she's a pretty powerful demon with wide connections, and is often an ambassador or representative for her brood in place of her mother.
The best way to get me to RP? Draw pictures of my OCs interacting with your OCs and I'll feel obligated to write a comment, fave, and have my character react. LOL

NEIGHFHFH!! Nooooo, I have to change her sim...!
...Or I can just pretend she's disguising herself with magic, OHOHOHO!!
But hnnnggff, why is this family so cursed with tragedy!! Nuraj.. Her sister... Sen...! xl DEATH ALL AROUND!

Nmsdh, BUT YOUR SOUL IS SO BEAUTIFUL AND ELEGANT AND NOBLE, NURAJ..! SO BEAUTIFUL! Q____Q and a soft spot for children, awwwwww!
LET HER HELP YOU, ALTAIREEE!! SHE ONLY WANTS YOUR HAPPINESS!! /sob
Family love is so endearing to me! ;__;
Reply

Hahahah~~!! Are all the colours wrong, you say?! xD
When you live a cruel demon life, cruel things happens to you! >__>

I know.. I love the bond between family.. O___O So beautiful and dutiful and loyal and jajgahga~~~
Nur: <_< Human children are like.. ducklings or kittens. It is difficult to want to harm any of those small developing creatures.
Reply

I actually changed her hair to make it look more golden less platinum blonde just recently! Also, her skin color, HMMMMMMNN!
KARMA IS A HURTFUL THING BUT STILL MAKES ME WEEP. ;___;

SO MUCH UNCONDITIONAL LOOOOVVEEE...!
they areee! Especially when they're sweet and oohhh! MOTHERLY INSTINCTS, I CAN SENSE THEM!
Reply