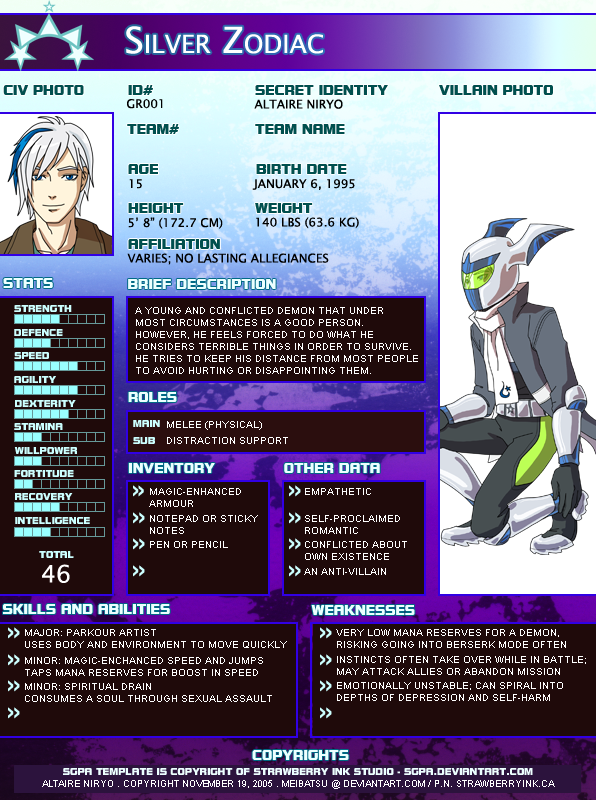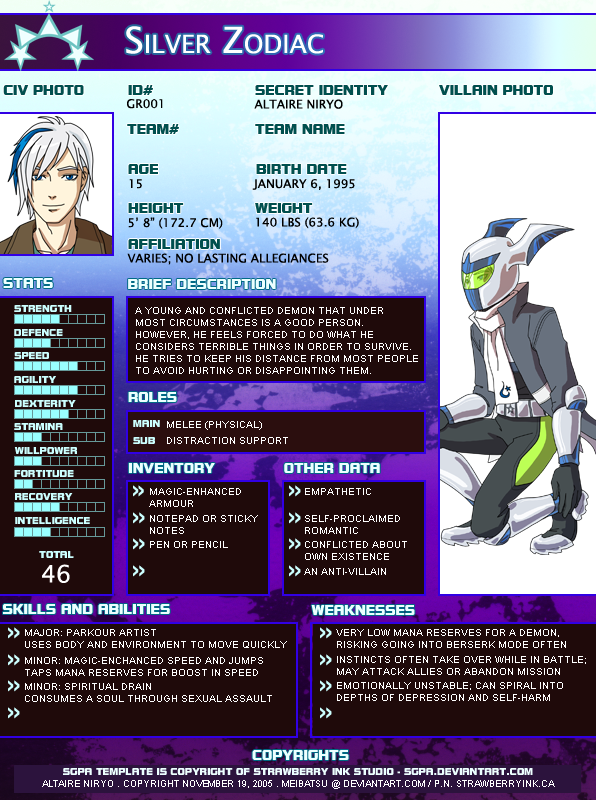 Watch
March 9, 2011.
Paint Tool SAI, Adobe Photoshop CS4.
A character for the

group!
BASIC STATS
Alias: Silver Zodiac
Group / Alliance Affiliation(s): none. Occasionally collaborates with the Super Galaxy Princess Alliance
Secret ID: Altaire Niryo (he doesn't really reveal his last name to most people, but that's what it is, for the record!)
Nickname(s): Alt, Alty, Silver
Age: 15
Gender: Male
Nationality: Mesopotamian-Korean (incubus)
Places Lived: ???, Canada, US
Current Residence: Currently living in Gotham City where crime runs rampant so he can blend in.
Height: 5' 8"
Weight: 140 lbs
Eye Color: dark blue
Hair Color: silver with royal blue streak on right side--he claims that he dyes it, but it's his natural hair colour
Hair Type: straight and fine. Usually uses hair product for that extra anime spikey-look!
Skin Colour: Very pale peach.
Physical Description: Check out civilian clothing here
fav.me/d3b8xsf
Altaire has an athletic build, but slightly on the lithe side while younger. He has very fair skin and is generally comfortable with his looks. He is left-handed. Although he hides it under his sleeves, his right arm is scarred all over from cutting.
Altaire wears a helmet as Silver Zodiac to hide his identity. He is also well-armoured with a metal chest plate, bracers, and boots. He wears a utility belt around his waist. His scarf bears his father's clan symbol.
As a civilian, he is a casual but stylish lad. He enjoys the comfort of hoodies, loafers, and pants that are not too loose. Scarves are nice accessories for him and he likes choosing from a variety of colours to suit his mood.
Personality
Alignment: LNI - Lawful-Neutral-Impartial: The Master
(tendency to go utilitarian and good, the Philanthropist)
General Personality: He comes off as mysterious but honest. He's pretty laid back and philosophical in outlook, but most people can tell there's some emotional conflict beneath that. He's a self-proclaimed romantic and idealist. He's flexible in that he will try to change his personality to the liking of his company (he will be more seductive, or open to silliness, or serious). On the other hand, he is stubborn with his beliefs and has a high tendency for independence (aka will leave and do his own thing if pressed). He tries to keep himself out of the spotlight and doesn't like a lot of attention, although he will volunteer for good causes (like maybe a lung cancer run, or a soup kitchen). A good person that does bad things: an anti-villain.
Good Traits: friendly, empathetic, has a good sense of right and wrong, will do the right thing if he can, intelligent, charming, can sing and dance well
Bad Traits: depressed, suicidal and self-harming, distrustful of himself and others, tries to keep distance from others, feels he's not fit for redemption, thinks himself a coward for not being able to end his own life, deeply conflicted, is a heartbreaker (breaks the hearts of others and himself constantly), rarely asks for help even if he needs it
Quirks: likes writing notes to himself--keeps a notepad around and lots of sticky-notes on things, likes doing things while doing things (eating while reading a recipe, washing hands while prepping to clean, watching a trailer before seeing a movie lol), weakness for sweetness (includes food and people!), can't swim well (though can float and doggy paddle)
Hopes: One day redeeming himself, as impossible as it may seem. To one day love and be loved in return without any guilt or shame. Finding a way to not have to steal souls.
Fears: dying, losing touch with morality, losing his mind or losing control completely, falling in love and ruining that person
Memorable Quote(s):
- Are you sure you're cut out to be a super hero?
- Today's not the day.
- I get by.
Relationships
Mother: Nuraj Adhir
Father: Sen Niryo (deceased)
Cousins: Rammey, Coman, and Jericho
Grandmother: Asuraj Adhir
Closest Friends: none, starts developing a friendship with Solar Cat and Fafnr as Altaire
Enemies: other succubae and incubi, demon hunters, has made enemies among many heroes and villains
Girlfriend(s)/Boyfriend(s): He had a girlfriend in his past, but that relationship ended tragically and traumatized him from forming future relationships. He now has many off-and-on ones that end rather quickly. He is bisexual, but he prefers females since he's had more than a few bad experiences with older males. He generally prefers sweet, cute girls and pretty, cute males. He believes he has a huge celebrity crush on Ezra.
Battle
Power(s): His abilities are both skill-based and magic-based. Altaire has been raised all his life to hunt down prey and evade being hunted. His demonic heritage grants him super-human abilities, though because he keeps himself near starvation spiritually, he is very limited in power.
Parkour Artist:
It's the art of using his body and the environment itself to quickly move around the environment and overcome all sorts of obstacles. There's a bunch of climbing, jumping, vaulting, running, rolling, and wall-scaling involved.
PROS: gets around urban areas quickly and efficiently. Able to evade and ambush enemies instinctively.
CONS: none that I can think of besides using up energy. There's a possibility of body injury, but that's minimal given his training.
Magic Enhanced Speed and Jumps:
Silver Zodiac can use his mana reserves to give him more speed, agility, and jumping power.
PROS: run even faster, jump very far and high that would be impossible for humans (like leap 2-3 stories easily). Enhances all fighting and evasion abilities.
CONS: drains mana reserves over time, which he needs to live. He usually won't use it for longer than 2 minutes. Let's say every 5 minutes is another victim he will need to stock up his reserves. Running low on mana will put him at risk of losing control of himself.
Spiritual Drain:
Silver Zodiac assaults the victim spiritually and drains them of their energy. This damages a person's spirit or soul over time and can be fatal, not to mention psychologically scarring. He refuses to use this ability as a "weapon", and only uses it to stave off starvation.
PROS: Recharges mana reserves. Incapacitates victim (victim usually ends up unconscious or in a coma for at least a few days).
CONS: Sexual assault required (there's a lot of complicated reasons for this, but just know that this is the only thing that works for incubi). Damages the victim. Best sources are innocent or morally upstanding victims as this is a polar opposite to general demon/incubi nature (more contrast = more power). It's hard to find quality sources, and he is very troubled by it.
OTHER MAGIC:
Side note: as a demon, he has access to all kinds of magical skills such as mind control/seduction, demonic aura blasts, flight, etc. He actually has high affinity and skill with magic. However, because he keeps his mana reserves so low due to his moral conflict over needing victims in the first place, he cannot use any of these advanced skills. Lucky for us!
Weapon(s):
no weapon
Style: fast, flexible, and evasive. It's hard to land a hit on him or keep him to one spot.
Strengths: He's fast, and he can be a team player if he's on one. Generally has a quick recovery/healing rate due to his heritage.
Weaknesses: Instincts will often get the better of him, such as attacking an ally or victim without thinking. He can't fight for a long time for fear that he will need to find more victims to recharge himself, so he will leave the battle if he can, est he risk going beserk.
Background:
Altaire's mother, Nuraj Adhir, was a succubus that seduced his father, Sen Niryo, while being disguised as a regular woman. Incubi and succubae are very similar to vampires when they are young, in that they feed off blood until they hit puberty. Altaire's mother successfully convinced his father (probably through some mind control) to let his son feed on his blood to keep Altaire alive. This kept his father constantly crippled, but it seemed like his father was glad to do it for Altaire. They otherwise lived as a family together (dysfunctional, as Nuraj had to go out seducing men for energy and Sen stayed crippled.. but still..).
Eventually the rest of his father's clan found out that he was harbouring demons, and while Altaire and his mother ran off, his father was left behind to be executed. Altaire's mother continued to raise him in a succubus brood in North America, bringing him victims. He was also trained to find his own prey and use his demonic powers to survive along with his cousins Coman, Jericho, and Rammey. This was very harsh and traumatic training for him, especially compared to the less awful first 8 years of his life.
When incubi mature and hit puberty, their metabolism changes and blood is no longer high enough in quality or dense enough in energy to nourish them. This is when their diet changes to needing spiritual energy through sexual assault. Altaire quickly grew a distaste for this, as he compared his willing father to these unwilling innocents.
At 14, sick of himself and his brethren, he left the brood and cut off ties with his family. He struggled to find willing victims, so he was forced to get many unwilling ones. His conscience weighed heavily on him, so much so that he questioned his right to exist, but he inevitably found his next victim and the cycle continued. Since that time, it had gotten easier for Altaire to find willing victims as he aged and became more attractive. He has had some success selling his body to pay for living expenses. He currently lives on his own in a condo apartment in Gotham.
While not hunting for victims or drowning in self-hatred or despair, Altaire tries to enjoy his life as a young man by going to movies, eating at restaurants, and going to arcades or amusement parks or the beach, even if it's alone. Thanks to his natural good looks and charm, he's often not alone for long.
He has had a couple of run-ins with Solar Cat and Dysta, and has ended up confusing them about what side he is really on.
Villainous Motivations:
He is forced to be a villain due to his heritage. He's an incubus, a demon that thrives on assaulting and draining victims of their spiritual energy. He doesn't enjoy the fact that he does this against people's wills, even if it's to survive. If he didn't do this though, he'd risk going insane or dying. Dying means leaving his husk behind for other demon spirits to possess and use anyway. His "family" (incubi and succubae brethren) have coerced him into many crimes in the past, so he's marked as a villain.
At moderate levels of mana/spiritual starvation, bat/dragon wings emerge from the sides of his head, and pain and hunger for spiritual energy starts. At critical levels, his pores begin sweating blood and he looks like a typical red, ugly demon. His mental state keeps deteriorating until he acts on pure instinct to survive (like a true demon).
He doesn't want to die, and he doesn't want to become a full demon and lose his moral compass, so he finds victims to momentarily quench the hunger.
The best way to get me to RP? Draw pictures of my OCs interacting with your OCs and I'll feel obligated to write a comment, fave, and have my character react. LOL