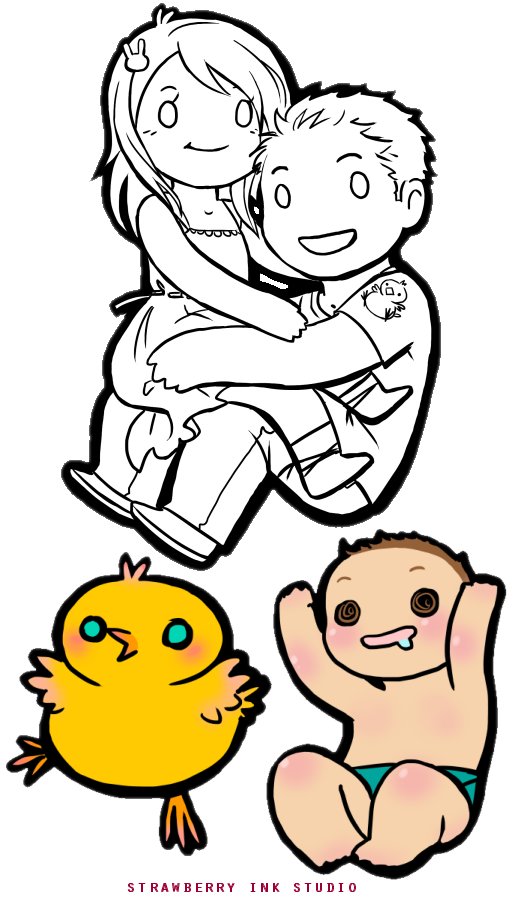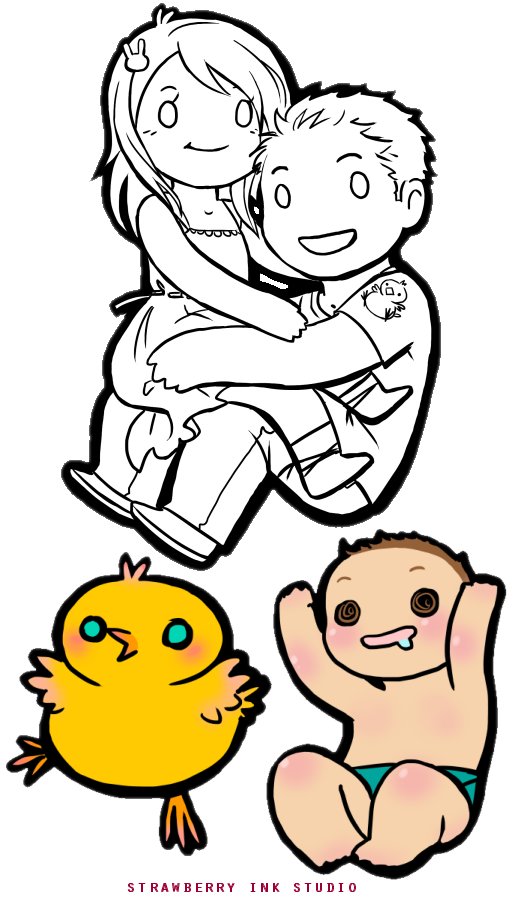 Watch
April 5, 2012.

Paint Tool SAI.

Some images I made for a baby shower! XD
Parents in chibi form and their little nugget in chicki-bunny and drooly baby forms. XD

The image of the couple was pasted onto prize bags, and the coloured images were used for the "pin the baby on the parent" game. LOL

OH NO THIS IS TOO CUUUUUTE AHHHHHHHHHHHH
I just.....want to hug the cuties. AND TAKE THEM AWAY WITH ME!
Reply

YAH!!! AND GIVE THEM BACK WHEN THEY GET ANNOYING.
BUT FIRST>>>> HUG AND LOVE!! XD
Reply

YES YES HUGS ALL AROUND AHHHHHHHH
Oh gosh I just really love babies and their itsy bitsy feet and little itty bitty hands and funny shaped heads and AHHHHHHHHHHHHH.
I don't actually know what to do when they're fussing, though. OTL
Reply

BAABBBBYYYYY!
Awww.. So merit is like a bunny and her hubby is like a chick? THEY ARE LIKE AN EASTER COMBO!
AND WHAT IS PIN THE BABY ON THE PARENT IF THE IMAGE OF THE PARENTS WERE NOT USED IN THAT. XD
Reply

BABY~~!!
Yes!! LOL That's how it is! XD
And the shower was on Easter Weekend too!! So all the themed items worked out well! Hahaha~
They had to pin them on the parent's tummy! XD (well, in Merit's case, on a plastic lid she held in front of her tummy just in case!)
Reply

OOOHHH, NICE!
AND EASTER HAS ALL THAT PAGAN FERTILITY STUFF! It works! xD
WAIT, WHAT, TO THEIR SHIRTS, RIGHT? XD djskagdks AND THEY WERE BLIND?! My tummy quivers at the thought!
Reply

Yesh~! Other people kept the eyes closed and had to try to find the tummy target as best as they could. XD
It was pretty fun. A lot of people ended up putting the baby on furniture or the person's arm instead.
Reply

Wouldn't that still hurt a lot? XD like stepping on a tack??
Reply

LMAO tacks.. wow that would have been terrible LOLLLL
Reply

SOME HARDCORE BABY SHOWER, IT SOUNDED LIKE! XD
Reply

OH we used tape because we're not crazy. LOLLLLL
Oh man.. using actual tacks and pins be too hardcore.. XD
Reply

o3o So... cute... //cuteness overload// xD
Reply