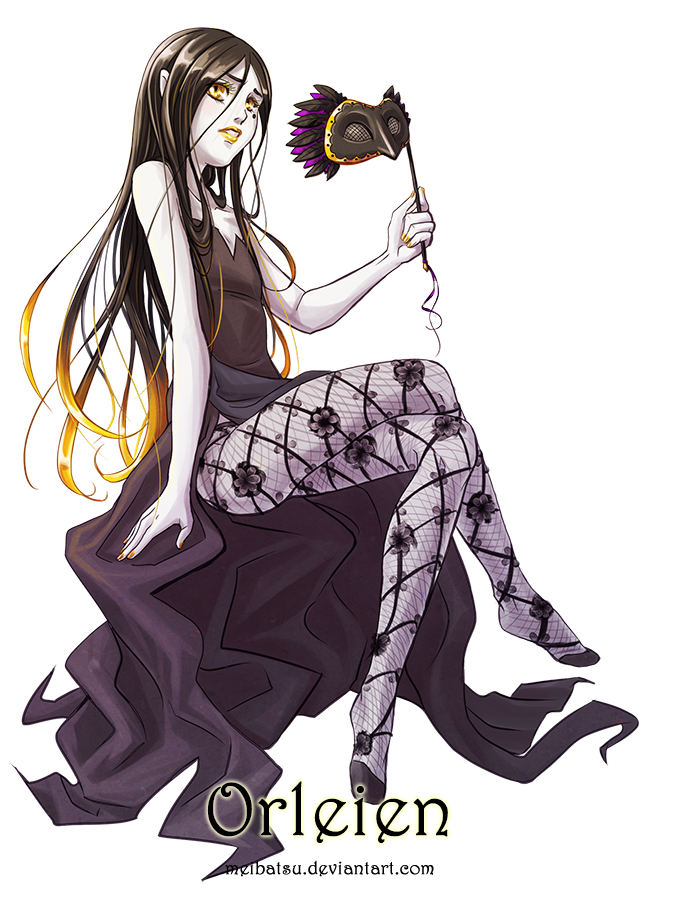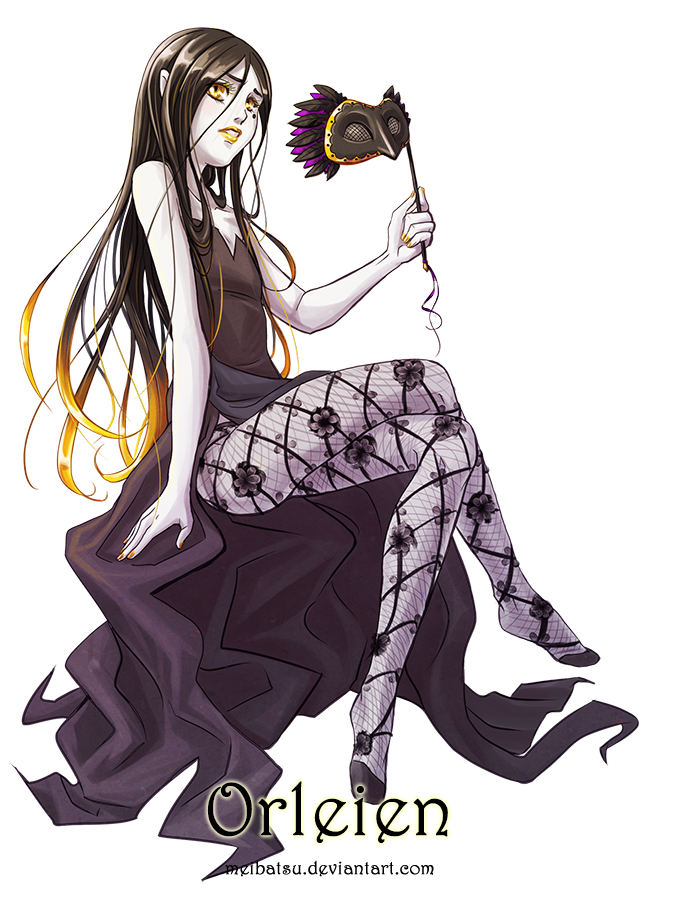 Watch
August 18, 2012.
Paint Tool SAI.
Orleien! Oh my, is she not stunning? XD Black and gold look so nice together~~ And dem flowered stockings~~
Orleien originally doesn't have any colour to her hair and she used to have pale peach skin or something, but on adapting her to #
Myriad-Saga
, I had to pick one main colour theme. I had to go look up her file since I didn't remember what I originally decided her eye colour to be and maybe I could have used that as her Krome colour theme (I was originally leaning toward purple or turquoise). Turns out it was gold! Seemed to work out very well for her! In fact, I may keep this as her colours from now on.

Just look at all those shinies in this....!! *_________* Hahaha her hair turned out awesome here, all those strange flowing around everywhere!
Reply

YES! Everything shines!! Makes me tempted to add sparkles! Haha
She reminds me of a firefly.. or maybe luminescent jellyfish.. Or maybe even a creepy lantern fish. O__O
Reply

Ahahah fireflies....they are kind of ugly-looking when up close and not lit up. >w>;;;

Jellyfish!! Jellyfish are scary because you really don't know what they're thinking although they are "transparent"~ They don't even really have a brain, right...? I've always liked the jellyfish scene in Finding Nemo. *__*

Wahahah though if Orleien were an anglerfish she'd have to be super aggressive and ABSORB MALES WHEN THEY MATE WITH HER.......haha. Well. She couuuuld..... XDDDD Mankiller??
Reply

Are they? I have never seen one up close. Only seen the romantic depictions in anime. XD

Yeah! Jellyfish are kind of like alien creatures with no brain but somehow are still alive.. @__@ Just like how mushrooms/fungi are LIKE plants, but are not plants at all! Jellyfish are kind of like.. mushrooms of the seas! OH THAT IS SO ACCURATE IN SO MANY WAYS! Haha~ They even look like mushrooms!

MAYBE SHE DOES BUT HIDES IT UNDER A PASSIVE GUISE! YOU DON'T KNOWW~~~
Reply

They are not as creepy as roaches or centipedes/millipedes!!!
Yeah, I just liek balls of light. SO MUCH CUTER. Hahah~

I don't know how jellyfish even wooork.. Q___Q
Scientists apparently made "artificial" jellyfish by growing mouse heart muscles stretched over a flower-like frame though! As the muscles contracted to an electrical current, it did the "jellyfish" movements. So weeeirdddd~

SHE PROBABLY IS
Reply

your characters are always so amazing!
Reply

Thank you~~! XD
That is very encouraging. Especially if you think so about the minor characters like her.. that must mean my ultra secret main characters are even better! (I hope.. lolol)
Reply

Reply

Thanks~! XD
She would probably look classier with shoes and jewelery,k but I never drew it on her originally so when I made this, I forgot to add anything else in. XD
Reply

Oooh the gold is a nice touch~! And I like the lace~~
Reply

Ohmagerd- she is so hert. Gold looks so super pretty!!! I love the details on the clothing. LACE o___O
Reply