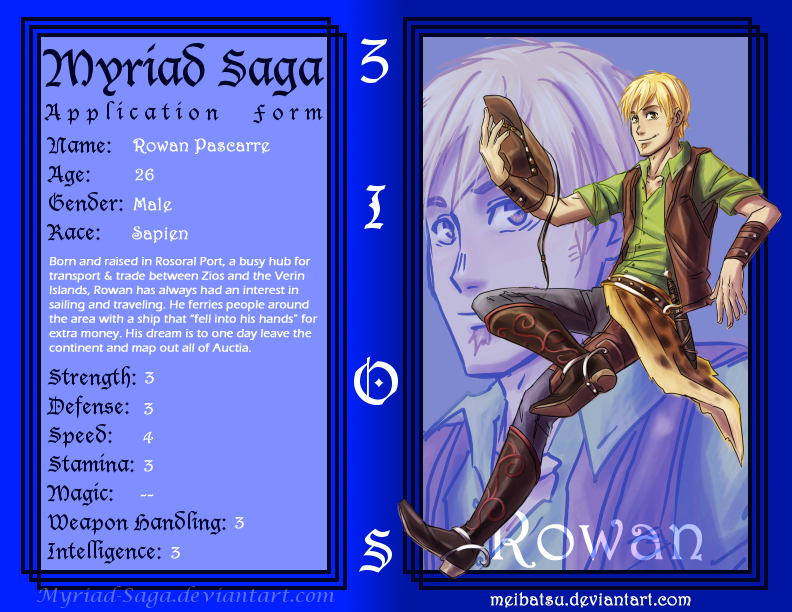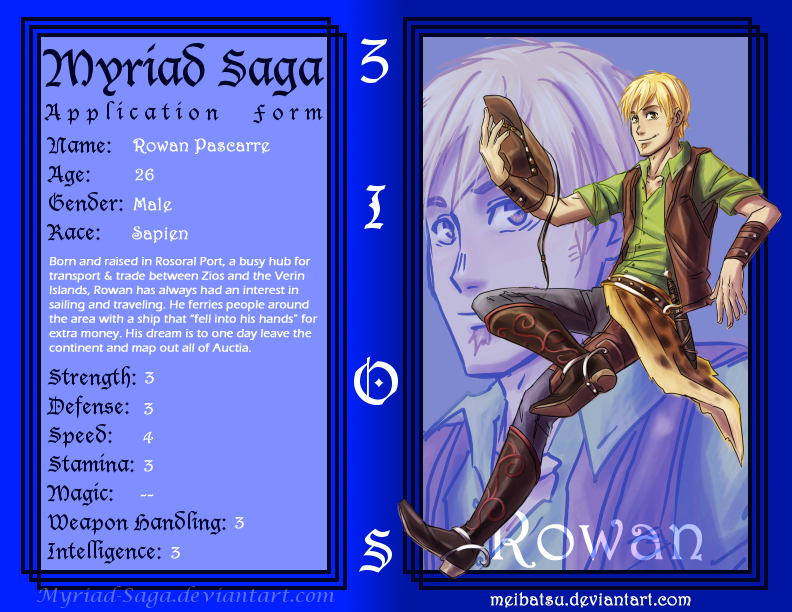 Watch
For

because I got lots of characters to go around! XD
Basic Stats:
Name: Rowan Pascarre (row-ann pass-scar-ay)
Age: 26
Gender: Male
Height: 5' 7"
Build: Lanky & Scrappy
Race: Sapien
Hair color: Straw Blond
Eye color: Brown
Skin color: Tanned peach
Region of Birth: Rosoral Port, Zios (Southeast of Ithen)
Region: Zios
Weapon(s): Brass-Hilt Dagger strapped to left side.
Magic(s): Not magically inclined. Some affinity to the Air element.
Ship: He technically has a fairly small fishing ship that is about 15 metres in hull length with a single mast for sails that can carry 10-12 crew members. It generally requires 3 crew members to operate safely, but Rowan likes to operate it alone since everyone's such a complainer. It's very much like a Cog Ship in design, but slightly smaller:
en.wikipedia.org/wiki/Cog_%28s…
Battle Stats:
Strength: 3/5
Defense: 3/5
Speed: 4/5
Stamina: 3/5
Magic: --
Weapon Handling: 3/5
Intelligence: 3/5
Bigger image of him and his reference sheet here:
Personality:
Rowan is a weaselly sailor that likes feeling in control of things, even if things aren't quite within his power to control... He's a little on the insecure side, and tries to hide it with boasting or snap judgments or reckless actions, but it's easy to get him frazzled by picking on some of his many quirks. When he's not feeling stepped on by the world, he's rather cheery and adventurous. He just wants to be respected and allowed to do whatever he wants however he wants with no complainers breathing down his shoulders and nitpicking on every little misplaced detail. Is that so bad?
+ generally cheerful and friendly when not on the defensive
+ adventurous / open-minded
+ fun-loving
+ ambitious / opportunist
+ forgives fairly easily
- petty
- prone to poor judgment
- insecure / bad at taking criticism / gets defensive
- overcompensates for shortcomings
- ignorant / absent-minded
- somewhat detached/self-absorbed
- pretty tactless and can end up saying all sorts of things in ignorance (racist remarks & general stupidity)
Quirks:
* terrible with categorizing animals / biology in general
* likes thinking of himself as a cowboy despite.. well.. how is he a cowboy exactly? All he's got is the hat and boots..
* mumbles to himself a lot in half expectation that saying things will make them more likely to come true
* voice is kind of high-pitched and can be grating, especially when he's whining or gloating
* Why is he wearing some kind of spotted fur around his waist? He says he killed a spotted deer with his own bare hands
....suuuuureeee
!! And he's rather proud of his feat! So he wears it as a trophy, signifying his manly prowess
Likes:
sailing, traveling, celebrating, being in charge, being respected, finding ways to make money and move toward his goals, thinking himself a cowboy sailor
Dislikes:
being criticized, being made fun of, hard labour, soggy socks, losing hat, being broke, being bossed around, walking for too long.. etcetc! lol
Relationships:
Parents:
They are alive and doing fairly well. They are more interested in running a small warehouse and storage facility business in Rosoral Port, and are pretty disappointed that Rowan isn't helping them run the business. He has since moved out and is living on his own, often traveling between islands and along the Zios coastline, so they only see each other occasionally during holidays.
Friends:
He has a lot of acquaintances and people he's "friendly" with, but he hasn't gotten very close with anyone since he's always on the move and doing his own thing
Girlfriends:
Though he is a self-proclaimed ladies' man, he's not been able to hold onto any girls for very long. He loses interest quickly or they lose interest quickly, and then he just leaves for the next island anyway!
Sexual Orientation:
Straight as far as he's concerned! There have been some.. blurry moments after a drinking binge or two, but he's pretty certain that he thought they were women. >_>
Abilities:
1. Dagger Attacks - Attack Power 3/5
He stabs and attacks with a dagger fairly quickly. It's gotten him out of a lot of trouble in the past, such as bar fights and low level pirate muggings, but it's short-range and it's not like he'll be able to take on a whole gang of pirates with a knife. >_>
2. Intuitive Sense of Direction - Attack Power --/5 (4/5 effectiveness)
Some say it's dumb luck when they witness Rowan at work, but he claims he has an impeccable sense of direction! In fact, he is often very lucky with orientation and navigation, and he's always managed to find his way home or get to his destination in mostly one piece. It doesn't help him avoid storms and pirates and other life-threatening obstacles though (sometimes it seems like it more likely will take him straight THROUGH them!). His uncanny navigational abilities might be due to his affinity to the air element, but no one knows for sure!
3. Sailor - Attack Power --/5 (2/5 effectiveness)
He knows how to sail and knows the general mechanics of a ship. On the other hand.. he is actually NOT that great of a sailor! He's a little haphazard, but hey, his prices are pretty cheap! You get what you pay for, folks!
4. Shipwreck - Attack Power 4/5
His greatest weapon is actually his ship and he will ram you with it if he has to! Plenty of fish that have gotten in his way have felt its shippy wrath! Unfortunately, it only really works in the water, and he's not great at steering, and he might sink his ship doing it... But you know.. Desperate times call for desperate measures!
5. Swimming - Attack Power --/5 (3/5 effectiveness)
Self-explanatory. Rowan can swim. He's almost-drowned often enough and lived at a port city long enough to be decent at swimming and avoiding drowning. That said, he's not going to win any professional swimming competitions, racing OR synchronized. xD
+ 6. Spry Guy - Attack Power 3/5 (Dec 5, 2012)
Rowan in times of desperation is a surprisingly flexible and spry guy! He is able to quickly parry an attack with his dagger or environmental object (like furniture or rocks), counter with a quick strike of his weapon in an unpredictable direction, and tumble or twist away to relative safety (with a few scratches or bruises sometimes). It's amazing the things he can do when he thinks his life is on the line!
Background:
Rowan grew up in the Zios region, mostly Rosoral Port where his mother and father ran a storage facility business for the traders and merchants at the port city. He became fascinated with all the people coming and going constantly, and the huge hauls of supplies and wealth they they would be bringing and taking to all corners of Myriad. Hearing the stories of their adventures in the seas, fighting pirates, fighting Valorian forces, weathering storms, and gaining glory or infamy lit up his mind with all sorts of dreams and ambitions.
He was a bit of a runt growing up, but those dreams of exploring and mapping out Auctia for himself always kept him motivated against the criticism of his peers. He eventually weaseled his way into becoming a shiphand for a local fishing company, but after avoiding a path with pirates, the ship ran into rough waters and many of the men, including the captain, died when they were thrown overboard by the waves. Rowan was one of the men that managed to survive and in frantic fear for his life, took control of the ship against the wishes of the other more experienced sailors, trying to land it somewhere--anywhere! Luckily, he managed to crash on Falin shores, throwing half of the remaining men off. While the other men cursed Rowan and bailed, heading to Borril to forget the grisly endeavour through drink, Rowan laid unconscious on the ship for a day.
When Rowan came to, the tide had already come in and started carrying the ship back out to sea. He woke in the middle of watery nowhere and was heading dangerously close to Valorian shores where they were sure to sink him. He managed to steer away and find his way back home by following the Zios coastline. He decided to keep the ship for himself for all the trouble--captain's dead anyway, so finder's keepers!-- and for being everyone's savior and all. He is now using it to ferry people around Verin waters for very cheap prices! He doesn't make too much money, but he enjoys being able to travel and feel in charge of a ship.
Though he's not exactly brave or righteous, he knows he doesn't like being told he can't go where he likes.
He's grown tired of feeling "boxed in" by Valoria and is setting higher ambitions to one day be able to leave Myriad waters and travel all of Auctia and become famous for it.
Other Information:
He's a character adapted from the main universe that most of my characters come from. >__> He was made in 2010 as more of a very minor side character for fun, but I feel those are the best types to throw into AU groups to develop, so here he is!
P.S. Although in the "meta-verse" he knows Heimdl, don't be confused that and don't start mentioning meta-verse stuff to Myriad-Rowan in RPs. XD
Myriad-Saga
(c)
Vibiana
Rowan obviously (c) to
Meibatsu
The best way to get me to RP? Draw pictures of my OCs interacting with your OCs and I'll feel obligated to write a comment, fave, and have my character react. LOL

Now THAT is an attractive man. He sounds like fun xD
Reply

Atrractive? XD

Row: You heard her. Attractive! V_V Thank you! I am fun!
Reply

Hey, he's just cute. That little comment might have lost him points though xD
Reply

Row: -Hey! Wait! What! You didn't mention anything about keeping score! Redo! I want a redo!

So many minus pointssssss XD
Reply

And they continue to diminish!! xD

Gotta say, though, you do have really good character development on your characters.
Reply

Row: >:C ... *turns away angrily, mutters under breath* stupid girls and their stupid rules.. ಠ__ಠ

Thank you! That is very reassuring to hear! I really enjoy delving into the psychology of my characters and making sure they are entertaining to me.
Reply

xD

I know, I do too! I like it when they have a personality of their own, where they can act as their own individuals and it's actually fun to act as them.
Reply

Dork!

*TROLLIN ROWAN*
Reply

Row: ಠ__ಠ Lousy people and their lousy faces..
Reply

Omg.....I couldn't stop giggling while reading through his profile! XDDD;;; HE'S NOT EVEN A REAL COWBOY AND HE MIGHT SINK HIS OWN SHIP....OOPS PFFF

He's whiny in a totally awesome way hahaha~

You missed saying what race he is in the text profile haha~ c:
Reply

HE IS ALL ROUND NOT THAT GOOD AT HIS JOB AS PEOPLE ARE CONSTANTLY REMINDING HIM! XD
But desperate people use him because his fees are cheap so he stays in business! Hahaha~

Yeah. He's an entertaining mess~ <3

fiixeed~~~~!
Reply

WAHAHAH...well, with so many people drawn to his cheap fares, he'll get better eeeeventually, right? ...Right? XDDD
Wait so he has like a ship and not just a boat, right? Like with sails and everything or no? O: Does it need a big crew to steer around?
Reply

UHHHHHHHHHH.. I DUNNO. He doesn't seem to take that well to learning!
Maybe after a few more years.. LOLOL But eve if he got more skill, he'd get more overconfidenet and reckless. It's a delicate balance! xD
Yeah. I think he technically has a ship, but it was a pretty small fishing ship, so it really only has enough room for maybe 10-12 crew members? It probably needs 3 people to operate it safely.
He mostly sails it alone though. XD Hence the danger.
Reply

OOPS I accidentally repeated my question twice to you in two comments! XD I'M JUST REALLY EAGER TO LEARN EVERYTHING ABOUT ROWAN AHAHAHAA

XDDD Would Rowan ever ~allow~ anyone to team up with him to operate the boat?
Reply

HAHAHA.. he must have sailed right into you heart~~! XD

Oh yeah! He'd love to be able to boss around a crew!! You know.. as long as they know their place! In fact, he's hired people in the past, but they get fed up with him and leave.. XD
Reply

He's got some pretty fancy boots there.
He and Sailus should be buddies. You know, if he doesn't find him scary-looking. XD
Reply

Row: Thanks! I got them off a passenger in a trade!
Traded alcohol stores from the ship he was working on that was not his to trade.. LOL

Row: Sailus is a good name for a buddy of a sailor.. V__V *nods* I think i can squeeze him in my exclusive list of--what do you mean scary-looking? o___o He's not one of them.. fire-breathing cave demons, is he?
Reply

...Well good for you. XD

Sailus: I ain't a fire-breathing cave demon! >_> Maybe you're the fire-breathing cave demon. <_<
Reply

Row: Sapes don't come from caves! Arkies do! And just look at those horns! Sheesh! Can't you get rid of them or something?
Reply

Sailus: But I like my horns. Not all of us Arkana have 4 of them! It makes me special! *puffs out chest proudly and flicks his tail back and forth*

(But you are special. In more ways than 1. *shot*)
Reply

Row: Yeah, but how many have 4 horns? If like.. a quarter have 4, half have 2, and a quarter have 1.. that hardly makes you anything! V__V *proud of maths* Maybe you if had 10.. THEN we'd be talking!
Reply

Sailus: But where the heck would I put ten horns? o.o
Reply