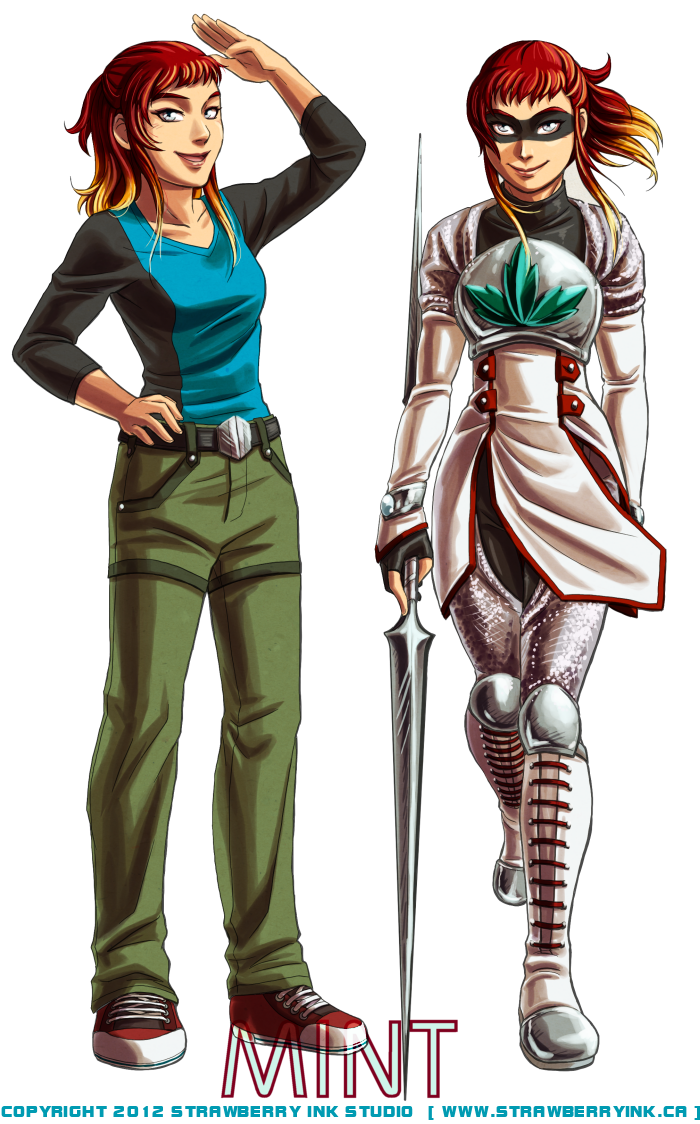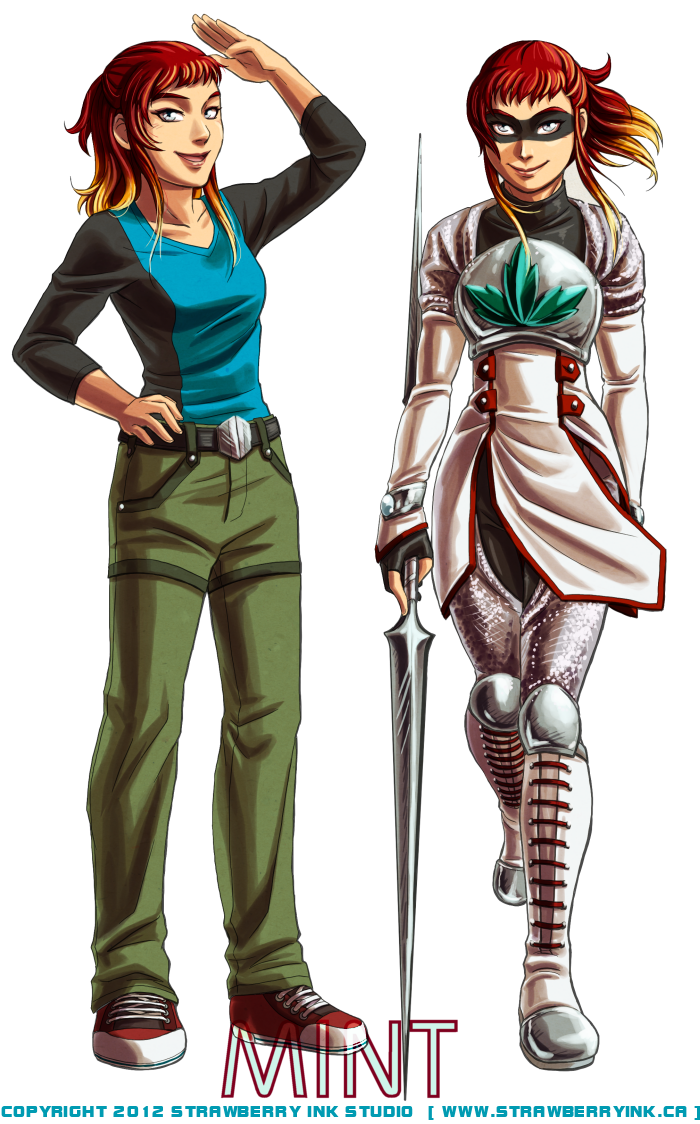 Watch
July 4, 2012
Paint Tool SAI, JASC Paint Shop Pro 7.
A character for the

group!
Elly (aka Mint) in her civilian and hero getup!
Man.. I should really stop colouring this way.. xD But I needed her and Ennes to at least match! Aaaand.. I still have things I will need to fix later, but too lazy right now! XD A least they are "done"~!
Elly is from a parallel universe and has completed her first couple of years of military service as an Aeron Knight initiate. She went and joined the military instead of completing her civilian education against her parents' wishes and despite the disillusionment and hard training, is too proud to give up and go back. She hasn't really excelled in any area, and actually lacks the grace to handle riding the flying steeds, but her tenacity and physical durability has kept her superiors from kicking her out.
She's a fairly straightforward and uncompromising person that likes dressing in athletic and durable clothing. You know.. stuff that won't necessarily rip or snag when she tumbles over. >_> She's just hoping they'll still pay her stipend for the year when she eventually gets back.
Her profile can be found here:

I can't stop looking at all of that gloriously shiny metal..... *__* I just really love how you color, hahaha!
Reply

Hahah~! You just love infinite shinies everywhere~~

And thank you! I am not exactly pro, but.. it sure took me a long time.. :C
Reply

WOOOOWEEEE THAT METAL TEXTURE... /touchtouchgaaaazzee
crinkly metal dot indentions I don't know what they're called, but I love them!

I AWAIT TO SEE HER BATTLES!
Reply

Hahaha.. metal is so difficult to make look convincing~~! xD
Yeah.. me trying to make chainmail-y look withotu drawing actual links in because so lazy. xD

Bluuhh.. and now writing their profiles.. lol
Reply

Ohh, I thought it was just textured metal which I like a lot! Maybe add a crisscross pattern for chainmail? XD I really like the textured metal look though lolol..

Ughh.. putting backstories into a few paragraphs is hard. XD
Reply

Yeah! I forget what it's called, but I like it too.. I see it on copper pots. I want to say it's called "pebbled metal" or something similar to that... --Oh, I guess it's just called hand-hammered lol
There are some crisscrosses! It's just too subtle and I forgot to do it in a darker shade. xD Will kind of fix later.. hahaha

Everything is hard and takes longer than I anticipate.. ;___;
I should have been done days agoooo. Waaah.. //toodistractedlol
Reply

Oh.. XD Huh. I guess like the meat.. Hmmmm.. it sounds better as pebbled metal though.
sometimes lots of dots look like crisscrossing stuff from a far too. XD Metal is fun/hard LOL

everything is hard to start..! x_x I just need a push! And then I kind of concentrate on getting it done.
Reply

Metal requires a lot of.. light bending knowledge. xD I didn't even add in reflections from other colours much even though I know I should.. I need to do some materials/surfaces studies.. haha

That is how I feel.. when I get started.. it's easier to get into the groove... but the initial push is hard.
Especially if you need to stop and take a break and start again. Multiple starts are the worst... I am almost done though.. maybe a couple more hours.. @__@
Reply

OHH, THE REFLECTIONS ARE SO FUN! I never know how exactly metal is supposed to work, but ah, well..!

OHG YEAH.. And the longer the break.. the harder to get back in.. >_> OHHH, I SEE THE UPDATESSS! FRESH NEW PROFILES! Why is future future time skip B3? What's the b for? XD
Reply

There is always time to learn! xD Eventually..!

B3 because it stands for "Beyond - Season 3" ! XD
Since S2 stands for "Sequel - Season 2"

And because S2 has such nice symmetry.. so I wanted the symbol for crazy future profiles to have some kind of symmetry too! And B3 kind of has that, don't you think with the 2 bubbly bumps?! *___*
And sometimes I just like making things confusing for everyone. hahaha~
Reply
(1 Reply)

Reply

Reply

Reply