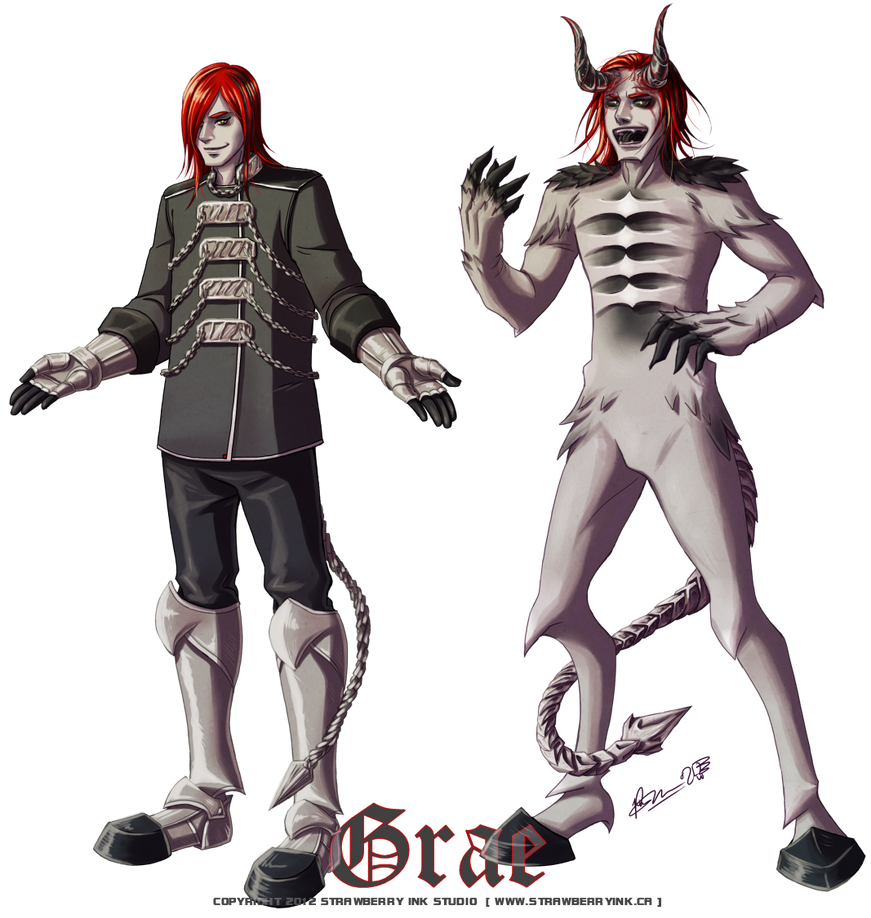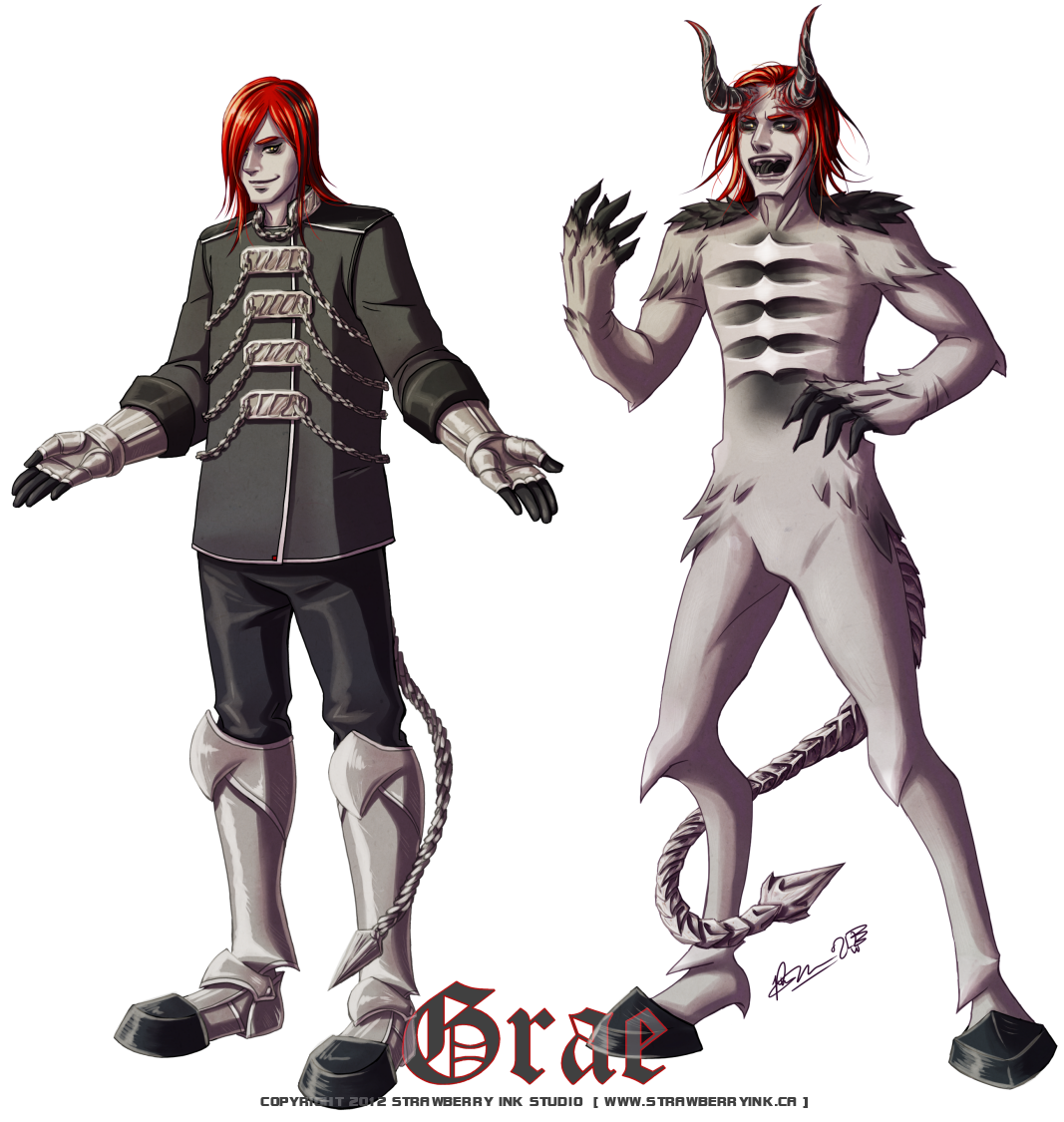 Watch
December 28, 2012.
Paint Tool SAI.
Another character for the:

EDIT: I updated the file so now it's shaded. lol Hopefully it gives a better feel for his dimensions.. most importantly, him having a pretty prominent nose (it's probably bigger than Seiren's anyway)!
If for some reason you want to see the flats for his head (for hair & eye reference or something), you can look here:
[link]
Grae in his.. "civilian" and demon form. Though honestly, he's probably in his civilian form most of the time, especially when interacting with humans since his other form creates too much of an initial shock before he can get his trolling on. He's got a bit of a.. goth jester vibe coming from him. lol
The chains lead to similar metal panels on his back and then form a braid that forms his chain tail. Are those leather pants he's wearing? I dunno man. When I first made him, I shined them up to differentiate it from his coat, so I guess it'll stick. XD All of his clothes are actually a part of his body and he just morphs his body to suit his needs image-wise. It's easiest when his demon form and disguise form are somewhat similar or analogous though.
A straight up chaotic-evil villain to stir up troubles~!
Cursed, self-indulgent, somewhat flamboyant, and proudly sinister.
Perhaps he'd be fun to hang around if he weren't so chaotically destructive and just plain evil.
You can see the first sketch I ever made of him here:
[link]
His profile can be found here:

*gleefully ogles at all the beautiful shiny metal*

You've colored his hair and horns so wonderfully~~~ *__* I like how his legs turned out as well!
Reply

impressive

Reply

NIceeee design! Very creative.

If he's a demon he's the snazziest looking demon ive seen in a while. Instant fav :3
Reply

Ah, thank you~
Yeah, his suit is pretty snazzy! xD And he has flair in his personality too, which always helps.
Reply

cool

Reply

Oh... I love his hair and his jacket and his gauntlets and I'm such a sucker for those kinds of things ;_;
Reply

Ah thank you~! Glad you like them!
I also really like the gauntlets. Something about armoured hands is so sexy. LOL
Reply

Haha I remember this guy, the red haired demon who reminds me of my dear Zatara <3 : D So he joined to the SGPA in the end! haha xD
Oh no, evil demons are taking over this group! D: I can see Grae and Etheon causing terror ;_;
Why did you decide to include him in this group?
I like his tail and all his chains on his clothes (or body) but it's going to be bothersome to draw (I know that very well <_<)
Reply

YES~~! I knew yo would~! LOL
I was just telling *
SAmaryllis
a couple of weeks ago that I was planning on adding him but I needed to figure out how to power him down a bit fist. I planned his backstory a little bit more now, so it makes more sense! lol Crippled by a goddess, no longer able to fully express his skills~
Hahaha.. that is when I will just draw scribbles and squiggles for his chains and stuff instead! XD
Reply

Oh his sexy.... gauntlets. 0.0 jk everything on him is very interesting and very handsome. XD
All your OCs are creative and very amazing!

I just wanna brush his hair. XD But he might get mad. >.>
Reply

Yeah~! The gauntlets are the best part~!
XD And thank you!! I try to make then interesting and unique from one another.. but sometimes it's hard because I have too many. >_>

He wouldn't get mad~! It's a bit rare for him to get mad, actually! But the bigger danger would be him targeting you for laughs just because you're there. >_>
Reply

lol yes! sad part about having LOTS of OCs. OTL

O_O That's scary, I would brush his hair but I don't wanna get my head chopped off in a second for no reason other than amusement. XP XD
Reply

Yes.. waayaaay too many OCs now.. but I cannot stop.. I keep making background/story characters to be flat characters, but then I develops them more and they turn into main characters and the cycle continues forever!

Grae: What, that doesn't sound like fun to you? *sly smile*
Reply