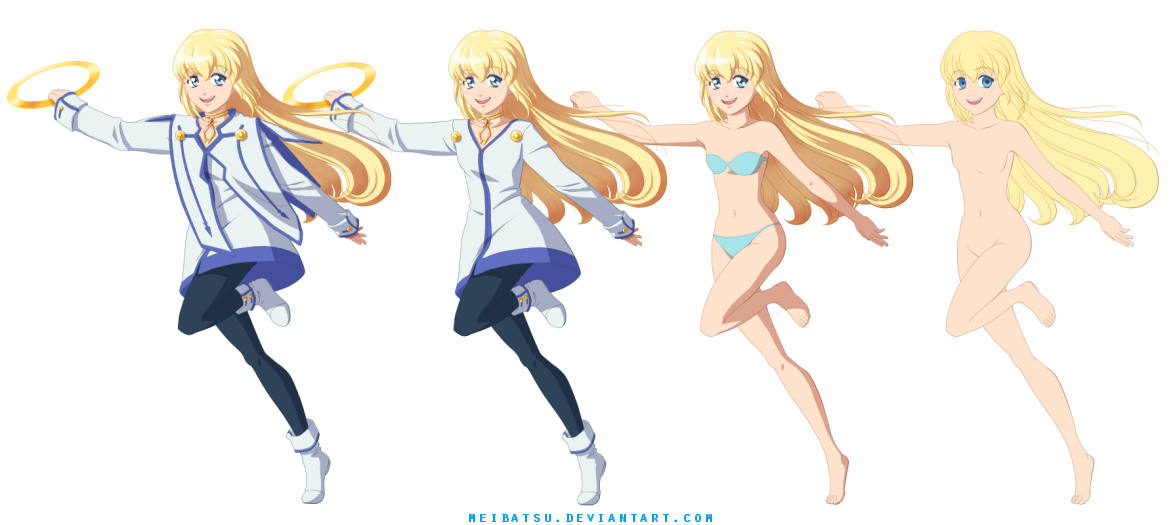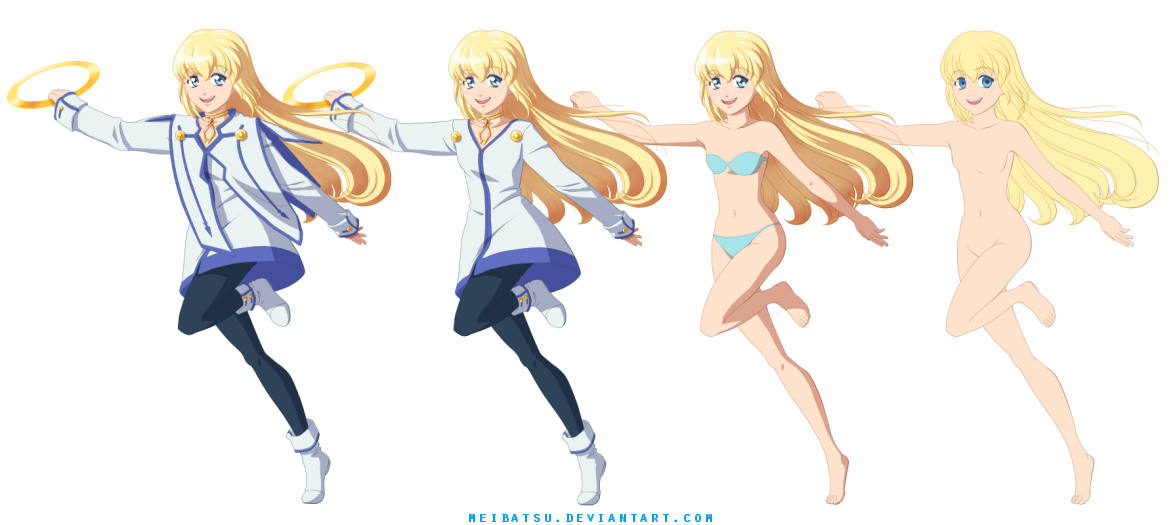 Watch
August 2, 2012.
Paint Tool SAI.
From my gift for one of my very good friends..
Colette from Tales of Symphonia in layers~!
I am not putting a mature warning on this, guys. She my look it at the very end, but I consider this not naked. <_< It's just her flats.
Anyway, I have the Art of the Tales of Symphonia book. It's a pretty crummy book, but at least it shows the character turnarounds and partially some of the costume breakdowns. I always think those are neat! The bikini/undergament is not actually part of the costume breakdown as far I know, but I decided it was better than her just being naked. And then.. her flats kind of shows her clothes-less anyway. <_<
You can see the fully completed image here:

COLETTE...............!!! ;________;
Omg it's such a pleasant surprise when I see ToS art since it's been out for so long and for some reason it's pretty difficult to find fanart of it EVEN THOUGH IT'S A TOTALLY AWESOME GAME
Oh gosh I think I have finished that game like 4 times.....THE MEMORIIIIIIIIESSS
Reply

Yeah~~! I'm not sure that there's much awesome art of Colette on DA. Though I've seen amazing things on Pixiv. I guess I'll just add mine to the huge pile. xD

Yeah.. I think I've played with my brother at least a couple of times. And then he likes hacking the game and playing it screwed up a few more times. xD
Reply

Yeah....not too much good art of her on tumblr, either. OTL All I get is PORN and I'm just like NO THIS IS NOT AT ALL WHAT I WANTED T':
Wahhh....I always want to go browsing on pixiv but I don't understand Japanese at all and Google translate can be weird sometimes. ;__;

Ahaha! Who do you like to play as most? 8D And gosh, people who are skilled enough to hack a game without completely ruining it are pretty amazing to me...LOL.
Reply

Hahaaha
PEOPLE SUE LOVE THEIR PORN!
I just let other people find things on pixiv for me. XD I have no patience for it either. Haha~

I usually played as Raine first because I liked her character. xD Though she is super slow and is mostly only good for healing... >__> And then I'd switch to Zelos because he can heal AND attack with a sword AND has magic~! My brother would usually play Genis or Colette and my sister would play Presea. We usually have beefs against main characters (Lloyd lol), so we'd usually kick him out as soon as we could.
Reply

Ahaha! But I mean jeez, if I wanted porn I would've searched for it! T:<

Oooh yeah, I like playing as Raine too! Well, when I was playing with 3 other friends. I...I think I just have trust issues, taking the healer role...otherwise I think AI Raine is pretty smart! c:
Heheh, Genis does have some awesome magic! *__* So many options....wahh.
Somehow I feel Zelos was a better fighter than Kratos.... >w>
Wahaha I sometimes have trouble connecting to main characters as well! It was too annoying in the beginning to not use Lloyd, though, since the party kept changing up, so....in the end Aegis and I were too lazy to keep switching controls. XD
Reply

Yeah, although Zelos and Kratos' stats and skills are exactly and same actually. The game made sure of that. xD

We endured.. just to keep Lloyd out. xD Though we would use him to make sure he learned his skills. lol
Reply

Well, I guess Zelos' basic attacks are more sweepy and hit more stuff than Kratos, or at least that was my impression! XD

Omg speaking of Kratos...that reminds me. One time Aegis and I tried to totally overlevel Lloyd, Colette, and Genis before we got Kratos so we could have an advantage over him at the Tower, so we grinded until we were level 10 BUT THEN ONCE HE JOINED HIS GROWTH RATE ACCELERATED TO CATCH UP TEN LEVELS REALLY FAST AND ALL THAT TIME DESTROYING WOLVES AND HAWKS WAS FOR NOTHING.....
OTL
Reply

Woot! Been awhile since I've seen something Symphonia related (I so need to replay it & finish my collector's book)
Reply

I don't think we bothered finished the collector books and stuff. xD
Did you play the sequel as well?
Reply

I'm compulsive like that. XD I was short of getting the title for that by 8 items.

I did-hate it with a passion (I only liked Tenebrae)
Reply

Hahaha.. Yeah! That game was kind of a mess. I didn't even like Tenebrae that much. xD
Reply

It's understandable. xD

They should seriously do a prequel though & show us what went on during Martel's adventures. That would probably be less of a trainwreck.
Reply

Oh god, Didn't knew you played Tales of Symphonia. Question: How far did you get? I never got past the water/Ice boss
Reply