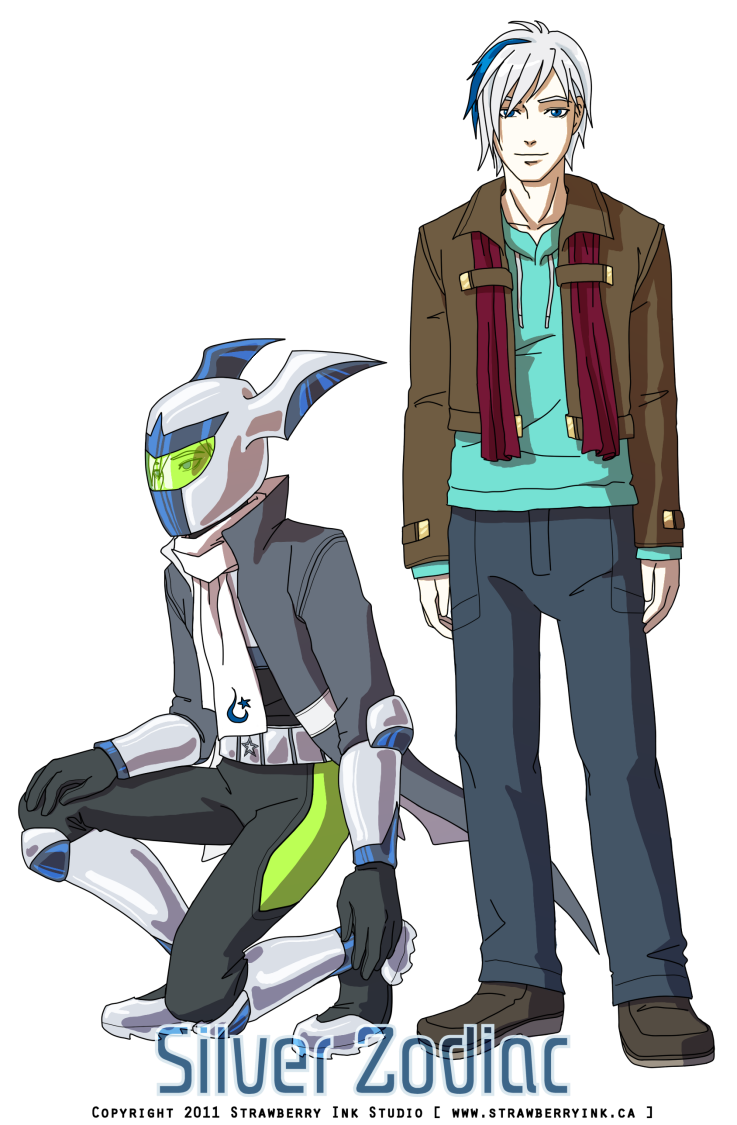 Watch
March 9, 2011.
Paint Tool SAI, PSP 7.
A character for the

group!
SAI is pretty awesome for vector-based inking! It's actually fun to use and correct! I do it all freehand though, since I am too impatient to play around with actual curve/bezier tools.
So here's Altaire both as the anti-villain Silver Zodiac (for more info on anti-villains, and to get lost in trope-mania, here's a link!
[link]
) and as the kinda hip looking 15-year-old teen, Altaire.
He is not as super pretty beautiful as Seiren, but I still think he's cute! <3 It's probably because he's a bit of an emo self-hating guy that wants to do right in the world, but circumstances force him to do otherwise. While he's not assaulting people or drowning in self-hatred, he's usually pretty passive, chill, and probably good company.

random and stupid question but does Altaire like cats?
Reply

LOL
Not a stupid question at all! XD

Alt:.. I actually like most animals. >_> .. And I guess I do like cats. SC's.. a friend. And Ezra reminds me of a cat... *nods* Cats are cool.
Reply

perfect because Im doing a rather cracked up drawing.

Liz:Its very "dis"turbed.
Reply

Alt: .__. Am I going to be the male equivalent fo a "cat lady"?
Reply

He is so cute, not gonna lie.
And also seems to have quite the affinity for scraves! I like the scarf holder, lawl. xD

Echo: But...I-...why...

FASHION, ECHO, FASHION. YOU CANNOT TALK.
Reply

What are you even complaining about, Echo?! You know you want a piece..

Scarves are HOTTE! Don't let the hipster haters tell you otherwise, Silvy!

SZ: ... *pick at scarf, sigh* I don't know. Maybe I should consider getting rid of it. I'm hated enough as is. >_>
Reply