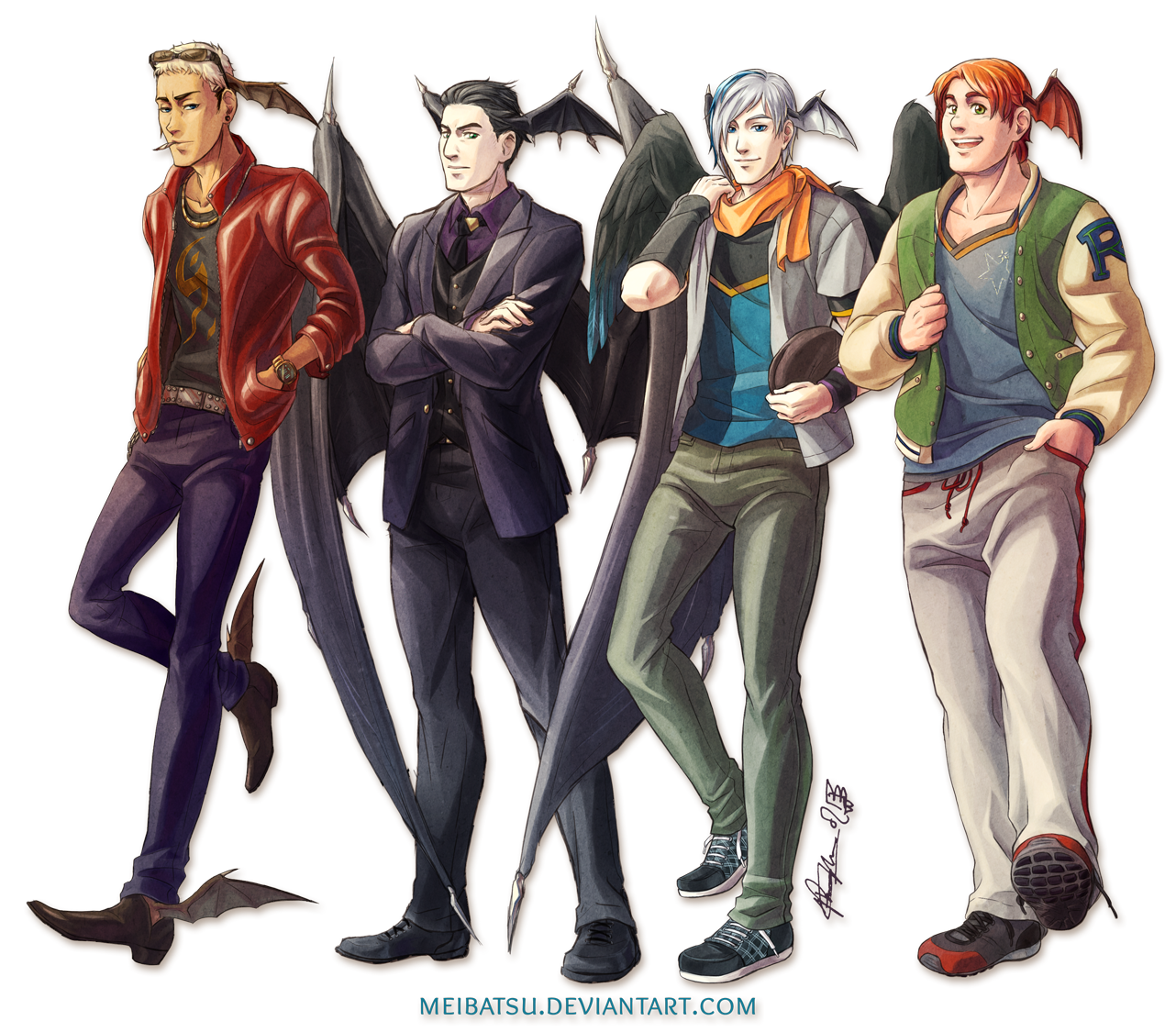 April 9, 2014.
You know I just had to put them in a lineup! I mean why else would I have tried so hard to make them proporptional in size to one another if not for this very purpose?!?! xD
Compare and contrast them! Though they are all cousins and should be highly attractive for maximum incubus effectiveness, they differ from one another in many ways, even if I haven't specifically made one obese or one height-challenged. lol I know they don't overlap properly perspective-wise due to Coman's wings and stuff, but good enough!
Some more comparison info while we're here, from left to right:
Jericho Adhir
Age: 24
Height: 6' 5"
Astrology: Gemini Sun, Aquarius Rising, probably Capricorn Moon
Elements: Air, Ice
Alignment: UNE - Utilitarian-Neutral-Evil: The Seducer (tendency to defensiveness and impartiality when Coman's taking charge, the Scholar)
Role: The apathetic one; Coman's right-hand man; cool and collected networker and informant
Coman Nader
Age: 25
Height: 6' 1"
Astrology: Aries Sun, Scorpio Rising, probably Leo Moon
Elements: Lightning, Void
Alignment: LOE - Lawful-Offensive-Evil: The Dictator (tendency to be more impartial when it comes to family, The Judge)
Role: The hardass; Group leader and elder; driven, confident, and highly skilled; enforcer and main liaison to Adhir Queen
Altaire Niryo
Age: 21
Height: 6' 2"
Astrology: Capricorn Sun, Sagittarius Rising, probably Libra Moon
Elements: Psychic, Creation
Alignment: LNI - Lawful-Neutral-Impartial: The Master (tendency to go utilitarian and good, the Philanthropist)
Role: The emotionally unstable one/traitor; "Highest-ranking" of the group as the next to succession after his mother; Unreliable but skilled; oftentimes group mediator
Rammey Amar
Age: 21
Height: 6' 3"
Astrology: Cancer Sun, Aries Rising, probably Sagittarius Moon
Elements: Fire
Alignment: UOE - Utilitarian-Offensive-Evil: The Conqueror (tendency to neutrality and impartiality when bossed around by Coman, The Advisor)
Role: The dumb brute; The "runt" of the group; energectic, enthusiastic, and strong; still in the closet
Original profile images here:

Reply

Two happy campers and two mean men, good balance.
Reply

Hahaha yup!
And then two of them die, so it's still just one mean guy and one nice guy.. so there is still balance. lol
Reply

omg...they are all so tall... they'd be able to use everyone else as an elbow rest. XD
Reply

Yeah! Tall genes~
Even Alt's mom is like 5'10"
Most girls would be up to their armpits. lol
Reply

...so. Not elbow rests, but...crutches......? Do incubi use deodorant.
Reply

I AM SURE THEY DO!
Buy maybe someone them sweat flower smell. hmmm
Reply

Look at Alt's baby bird wings~ So cute! And Rammey's the only chiseled jaw one with the baby face!! <3 and he's the only one with huge eyes. XD
Reply

Yeah! They are not very mature. xD
Rammey is actually most different because he's a second cousin to all of them!
All the other guys have mothers who are sisters, so their features, I guess eye-wise, are most similar.
Reply

Oooh okay! XD
Rammey's so cute though! Q3Q *cuddles him tightly* Don't kill him!! QnQ
Reply

Ram: 8I Yeah! Don't kill me!!! I ain't done nothing wrong!!!
You tried messing around with the wrong gal. >__> If it's any consolation, Coman avenges you.
Ram: -- Yeah! But.. I still die, right..? :T *looks at wicky* You should convince her not to let that happen! Maybe they can uh.. bring me back! q_q
Reply

*cuddles him forever* QnQ Ya! They already broke the law of Mythology by being succubi! They can go further and bring him back to life! O3O
Reply