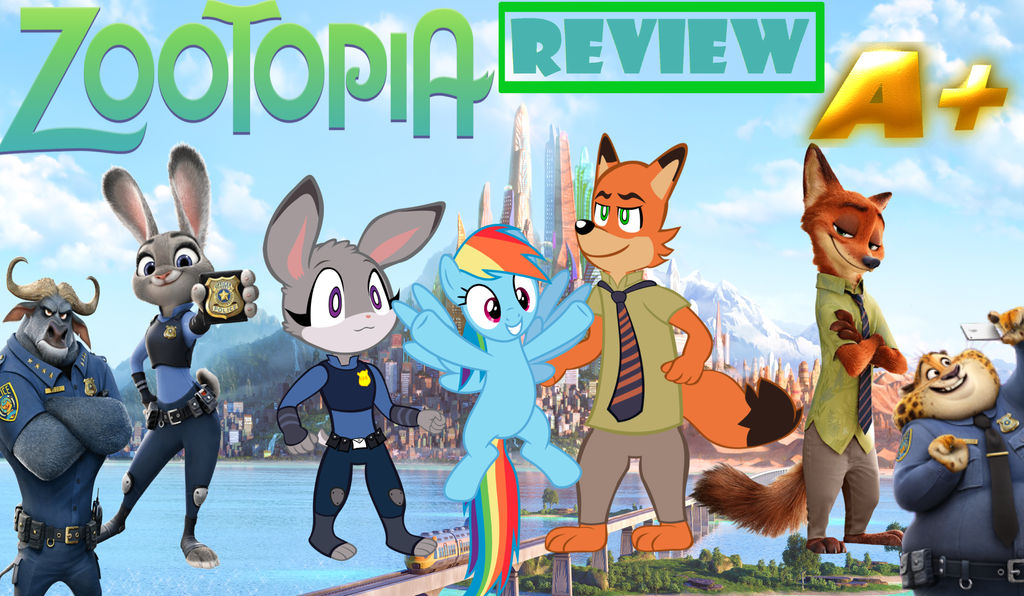 THIS FILM IS GREAT I GIVE IT 2 THUMBS UP LIKE HOW GENE SISKEL AND ROGER EBERT WOULD FOR MOVIES THEY LOVE AND I GIVE IT A 10/10 SCORE AND A 5/5 and 100%
THIS FILM IS GREAT IT DEALS WITH REALISTIC PROBLEMS AND REAL LIFE PROBLEMS AND HAS SOME GREAT LESSONS WITHIN THIS FILM
JUDY AND NICK ARE GREAT MAIN CHARACTERS JUDY IS MY #1 FAVORITE ZOOTOPIA CHARACTER SHE'S FUN AND FUNNY AND SHE'S SO ADORABLE AND SHE'S AWESOME. I ALSO LOVE NICK AND CLAWHAUZER AND CHIEF BOGO AND OFFICER MCHORN AND FINNICK.
THIS MOVIE DEALS WITH STEREOTYPING AND OTHER PROBLEMS THAT REAL LIFE WOULD HAVE. THIS FILM DEALS WITH PREJUDICE AND RACISM AND SPECIES-ISM.
ANYWAY YOU PEOPLE SHOULD WATCH THE FILM IT'S GREAT.
I PLAN TO MAKE A SPOILER REVIEW VERSION OF MY ZOOTOPIA REVIEW
I have to warn you the bottom will have spoilers of the entire plot of the film if you haven't seen the film yet then when it comes out on dvd go buy it and watch it then read the spoiler review.
WARNING SPOILERS
You've been warned about spoilers .
The Film starts out with Judy Hopps (child version of her) and her childhood friends putting on a play at the Carrot Days Fair Talent Show about how predators use to be savage and all that other stuff and Judy reveals that she wants to be a police officer when she grows up. After the play Judy is with her parents Bonnie Hopps and Stu Hopps at the Carrot Days fair and Judy's parents say that she should become a carrot farmer instead because they worry that being a cop would be too dangerous but Judy insists that she wants to make the world a better place. Judy's Parents also say that it's great to have dreams as long as you don't believe in them too much.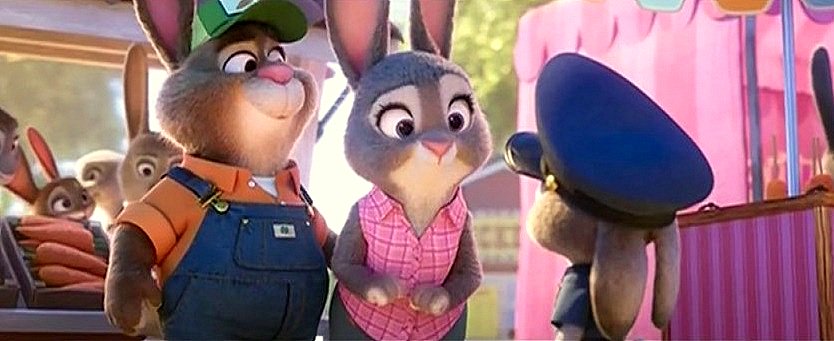 As Judy's parents were distracted from telling Judy that stuff Judy spots a bully Fox named Gideon Grey along with his ferret side kick Travis heading into an alley going after Judy's friends and Judy goes into that alley to see what's going on back there and finds that Gideon is bullying her classmates and is taking their Carrot Days fair tickets.
Judy takes a stand against Gideon and wants him to give the tickets back but he then pushes her but then she kicks Gideon in the face and then he claws her in her face and then he says that he wants her to remember that moment the next time she thinks she'll be anything more than just a stupid carrot Farming dumb bunny and leaves without knowing Judy swiped the tickets from Gideon without him knowing and gives the tickets back to her classmates. Judy stands tall and decides to go train at the police academy and prove Gideon wrong.
Years later as an adult Judy goes to the police academy to train and prove herself and become a cop. At 1st she fails at the training events there.
But she doesn't give up so she makes herself stronger and trains and then the next time she takes the training events she succeeds and gets the best grades in her class at the police academy and graduates.
She is then assigned to work in the city of Zootopia. before she heads there her parents and family and friends wish her good luck and say goodbye but not before her parents give her Fox Repellent and well Stu wanted to give her a Fox tazer but she passed on the tazer because the repellent would be enough.
Judy's Parents also say that she should be careful around predators especially foxes. Judy heads onto the subway train to Zootopia but before she does that she gives an adorable and heartfelt hug to her parents (in Europe the movie and land are called Zootropolis but in the USA and other regions we call this film Zootopia) and as Judy heads to Zootopia via subway train while playing the catchy Shakira/Gazelle song of the film Try Everything (this moment is amazing I mean really you feel like you're in the world looking at how beautiful the world of Zootopia looks and you feel like you're with Judy in Zootopia)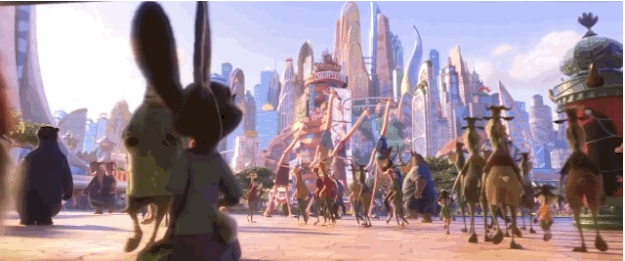 After that beautiful amazing moment with that amazing song Try everything the next scene cuts to Judy Hopps going into her apartment room for the 1st time.
After a short but funny moment with Judy's crazy neighbors who hate each other Judy heads to the Z.P.D. (Zootopia Police Department) Building. Once Judy enters the building she meets one of my favorite characters Clawhauser (my #1 favorite Zootopia character is Judy Hopps but seriously Clawhauser is so funny and so fat and adorable and adorably chubby). This scene where Judy meets Clawhauser is so funny.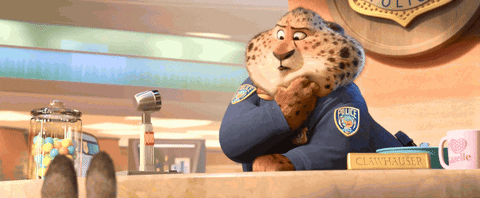 After that funny moment with Clawhauser Judy asks where the meeting room is and Clawhauser points out where the bull pin/meeting room is and then Judy heads there and as she heads there Clawhauser says that poor little bunny's gonna be eaten alive.
Judy enters the meeting room and sees big tough mammal cops as she is getting to her seat. before we get to the meeting scene Judy and Mchorn fist bump.
Chief Bogo comes in to start the meeting and acknowledges the Elephant in the room and says happy birthday to Francine the elephant much to the excitement of Francine and the other officers.
Chief Bogo then says there are new recruits but he doesn't care about introducing new recruits. Chief Bogo then tells the cops about how there are 14 missing mammals ranging from predators from a Giant Polar Bear to a teensy little Otter and City Hall is right up his tail to find them. Chief Bogo assigns most of the cops to different parts of Zootopia. Officers Grazolli, Fangmeyer and Delgato are assigned the Missing mammals of the rain forest district and Officers Mchorn, Rhinowitz and Wolfords team are assigned the missing mammals of Sahara Square and Officers Snarlof, Higgins and Trunkaby are assigned missing mammals from tundratown and Judy gets assigned parking duty and is a meter maid much to her disappointment but she's determined to prove herself so she decides to give 200 parking tickets by noon. thanks to her incredible hearing she's able to successfully put 200 parking tickets on every car that has the meter expire on the place it's parked in. Comically she also puts a parking ticket on her meter maid car due to parking near an expired meter.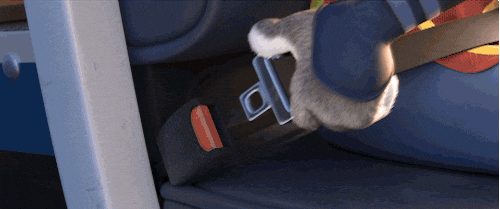 Judy sees a Fox go into Jerry Jumbeoux's Cafe. Judy follows the fox into there thinking he's up to no good and all that. Once she enters the ice cream Cafe she sees the fox with who is apparently his son.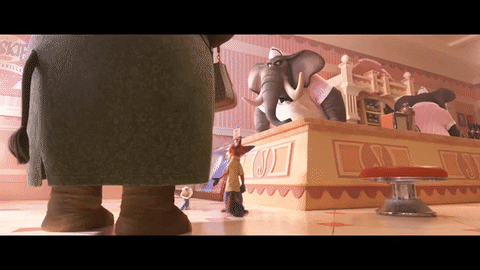 The fox wants a Giant Jumbo Pop for his little boy but at 1st Jerry Jumbeoux Jr. (voiced by John Dimaggio the voice of Bender from Futurama and Jake the Dog in Adventure Time) refuses to sell the giant jumbo Popsicle to him because of how he's a fox and the Elephant owner Jerry Jumbeoux Jr. is prejudice and racist towards foxes but then Judy stands up for the Fox and points out the health violations in the elephants ice cream Cafe and then Jerry Jumbeoux Jr. changes his mind and sells the jumbo Popsicle for $15.00 but the Fox apparently doesn't have his wallet and Judy feels so sorry for the fox and his son that she pays for the Popsicle for them.
As Judy and the fox and his son exit the Ice Cream Cafe with the giant jumbo Popsicle Judy introduces herself to the fox and the Fox introduces himself as Nick Wilde and thanks her for helping him get the Popsicle for his son.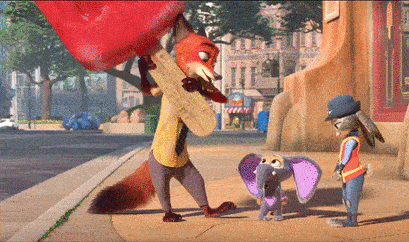 Nick and his son leave and Judy returns to her parking duty. As Judy is putting tickets on cars that are parked in places where the meters time have expired she sees Nicks son filling glass jars with the melted contents of the jumbo pop that Nick is melting by using the heat of the sun in the desert city Sahara Square.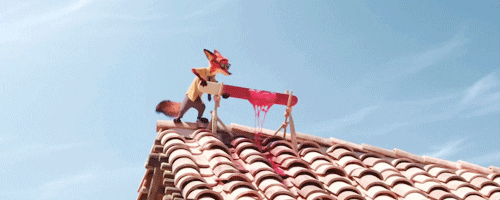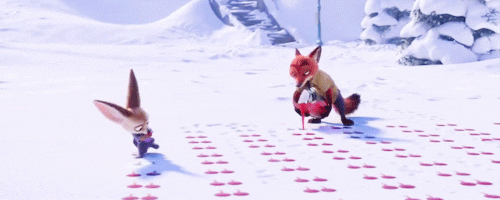 Judy then Follows Nick and his son to the icy cold Tundratown. Nick and his son put pop sickle sticks and paw prints and the melted contents from the jumbo popsicle into the snow so they can freeze them and make pawpsickles. The next half of the scene cuts to Nick selling Pawpsickles to cute lemming businessmen (this scene is hilarious and cute especially seeing the lemmings nibbling on the pawpsickles).
The next scene cuts to Nick and his son using the pawpsickle sticks that were thrown in the recycle cans as lumber delivery to the small construction worker rodents and charges extra and says the lumber is redwood when the Rodents notice red stuff on the pawpsickle sticks.
The Next scene cuts to Nick splitting the profits with his son who turns out to not be his son and is actually a friend and business partner, a low voiced Fennec fox adult named Finnick.
(that scene that has the real Finnick is so funny especially when he speaks and puts on sunglasses and listens to hiphop music in his car (Oh and did you know that Finnick is voiced by the guy who played Deebo in the hilarious New Line cinema Movie Friday seriously watch Friday it's a great film). As Finnik leaves Judy confronts Nick and reveals that she witnessed Nick and Finnicks pawpsicle scheme and she is angry that he manipulated her into helping him with a get rich quick Popsicle Scam. As Judy is going after Nick Out of anger, Judy threatens to arrest Nick, but Nick Wilde retorts by claiming he's done nothing illegal, having all of the required permits and paperwork in check to allow such schemes to take place. He subsequently berates Judy on her failure as a police officer, and giving her the "reality check" that Zootopia is not a utopia where anyone can be anything, but a dystopia where you are what preconceptions say you are. He is quick to guess her fears and insecurities, warning her that Zootopia is not a paradise and predicting her inevitable failure and return home, because no one will ever take a small-town hick bunny cop seriously.
Judy was left in shock and wet cement from what Nick said to her. Later Judy returns to her apartment and is very miserable (poor bunny I wanna hug her). she then calls her parents on her iPhone and her parents see that she's a meter maid and are relieved because meter maid job is safer than being an enforcer of the law and going on cases that involve solving crime and fighting crime. Judy reminds herself that tomorrow is another day.
The next day Judy is doing her Parking duty but the citizens that got their parking tickets are furious about getting tickets making poor Judy more depressed and Judy keeps reminding herself that she is a real cop. Judy then sees a Weasel named Duke Weaselton robbing a flower shop store. Judy takes off her meter maid vest and meter maid hat and chases after Duke Weaselton and the chase continues in Little Rodentia eventually Judy saves a girl shrews life and slams Duke Weaselton with a donut sign and puts the weasel in the donut sign and unlawfully arrests Duke Weaselton and sends him to the Zootopia Police Department.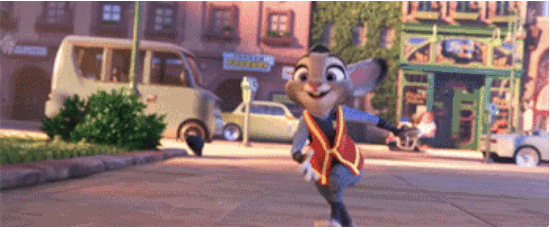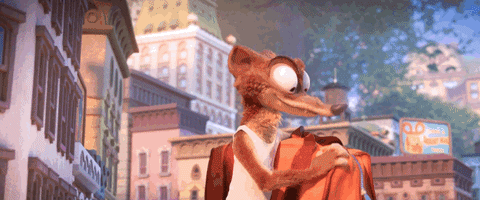 Once she gets the crook to the Z.P.D. building Bogo is furious to see that Judy abandoned her post and recklessly endangered the Rodentia citizens while chasing after Duke Weaselton and inciting a scurry so then Bogo reprimands and scolds Judy Hopps and Reminds Judy that a meter maid is all she's qualified to be (And even makes a hilarious Frozen reference and he even references musical fairy tale Disney films when he says
Life isn't some cartoon musical where you sing a little song and all your insipid dreams magically come true! So let it go
) but then Mrs.Otterton comes in and pleads for help in finding her husband Emmet Otterton who is one of the missing mammals (seriously Mrs.Otterton is so adorable I wanna hug her. I felt so sorry for that cute otter seriously poor Mrs.Otterton). Judy Hopps volunteers to find Emmet Otterton much to Chief Bogo's irritation and much to Mrs.Otterton's joy. Mrs.Otterton is so grateful that she adorably hugs Judy and Judy adorably hugs back (seriously that was so adorable and heartwarming to see Judy and Mrs.Otterton hug each other) Mrs.Otterton then hands Judy a photo of her family (a Photo that shows Mrs.Otterton herself and Emmet Otterton her husband and their children) Mrs.Otterton then begs Judy to find her husband and then Bogo kindly asks Otterton to leave the room so that he can talk with Judy in private.
Chief Bogo fires Judy for insubordination and then tells Judy to go out there and tell Mrs.Otterton that she's a former meter maid with delusions of grandeur and will not take the case. As Bogo opens the door before he can fire Judy officially he sees Assistant mayor Bellwether is out there with Mrs.Otterton and Bellwether heard that Judy is taking the case and Bellwether sends a text message to Mayor Lionheart saying that Judy's taking the case. Knowing that Mayor Lionheart would have his head Bogo reluctantly changes his mind about firing Judy and reluctantly lets Judy take the case of the missing Otter but gives her 48 hours/2 days to solve the case and if she doesn't solve the case within 48 hours she'll have to resign.
Judy accepts the deal and heads over to Clawhauser who gives Judy the case file on Emmet Otterton and it even shows a picture of where he was last seen. Judy figures out that Nick Wilde is the key witness to where Mr.Otterton was last seen.
Judy finds Nick Wilde and blackmails him into helping her solve the case by saying she'll arrest him for felony tax evasion and she even records his confession of felony tax evasion on her carrot pen recorder (which is one of the most useful items in this movie). Boy does she hustle Nick good much to Finnicks enjoyment. (LOL FINNICK IS SO FUNNY. JUDY: IT'S CALLED A HUSTLE SWEETHEART. Me: Smooth Judy Hopps. FINNICK: she hustled you....HAHAHAHAHAHA SHE HUSTLED YOU GOOD YOU A COP NOW NICK)
Nick Begrudgingly abides to help Judy find Mr.Otterton. Nick and Judy go into the Mystic Springs Oasis run by a Yak named Yax. The Mystic Springs Oasis is the last place Nick seen Emmet Otterton go into after he sold a pawpsickle to him and before Emmet disappeared. Much to Judy's horror and discomfort she finds out that Yax and the other mammals at the club are naked and the Mystic Springs oasis is a naturalist club.
Yax mentions that Emmett was last seen jumping into a limousine and provides the plate number 29THD03. Because Judy lacks the authority to run a plate Nick takes Judy to the DMV. Much to Judy's dismay all the employees including Flash are all sloths, very slow sloths. Flash is the fastest guy in there and that's not saying much. (This scene with the slow sloths working at the department of mammal vehicles is so funny. it's like the d.m.v. in real life because of how slow the employees are. The d.m.v. employees might as well be sloths) Judy gets really frustrated by the slowness of Flash and the sloths and even more frustrated by Nick telling a very funny 3 humped cammel joke about how it was pregnant to Flash. Eventually Judy and Nick obtain the plate number, identifying which company the limo belonged to. Upon stepping out of the DMV, Judy is dismayed to find that night has already fallen. (LOL THAT WAS SO FUNNY)
The pair Find where the Limo is. it's parked in a motor pool in Tundratown. Much to Judy's annoyance the motor pool's gate is locked and she lacks a warrant to search the place. Nick wants the pen believing his dept to her is paid but then Judy tosses her pen over the fence and tricks Nick into climbing over the fence and thus giving himself a trespassing violation for additional blackmail, providing Judy probable cause to search the premises. when they find the limo and get inside of it they find the back compartment is riddled with claw marks. Nick recognizes who the limo belongs to after seeing that there's polar bear fur and rat pack music and fancy cups with a B on them. He finds out that the most feared crime boss in tundra town Mr.Big owns the limo. before Nick and Judy could escape Mr.Big's Polar bear henchmen capture them and bring them with them to Mr.Big's lair. As they are being driven to that location Judy asks why Mr.Big is so mad at Nick. Nick tells Judy that he may have sold him a very expensive wool rug made from the fur of a skunks butt much to Judy's disgust (LOL THAT SCENE IS SO FUNNY).
Judy and Nick are at Mr.Big's mansion and a Big Polar Bear comes out and puts Mr.Big who's in his chair on the table and Mr.Big (voiced by Maurice LaMarche the same guy who voices Big Bob Pataki in Hey Arnold and the Brain from Pinky and the Brain) is an arctic Shrew. Mr.Big confronts Nick on the latter's audacity to arrive unannounced on the day that his daughter is to be married, and further laments his feelings of betrayal and disrespect, regarding Wilde's rug scam.When Mr. Big addresses Judy, Nick tries to prevent her from revealing that she is a cop, but she directly accuses Big of being behind Emmitt's disappearance. Scorned, Mr. Big orders the pair to be "iced", but before the polar bears can drop them into a pool of ice water, FruFru (the same Shrew that Judy saved from the donut the previous day) comes in and scolds her daddy Mr.Big for breaking the promise of no icing anyone at her wedding. FruFru then recognizes Judy as the bunny who saved her life from the donut. Once Mr.Big finds out from his daughter FruFru that Judy was the bunny who saved his daughters life he gets his polar bear henchmen to spare Judy and Nick and invites Judy and Nick to his daughters wedding and Judy has gained his respect and Mr.Big kisses Judy on both cheeks and formed an alliance with her.
During the Wedding Mr.Big explains to Judy and Nick that Emmet Otterton is his florist and that one night Emmet was headed over to Mr.Big via limo to tell Mr.Big something important but then Emmet went savage and attacked Mr. Big's chauffeur Mr.Manchas and Emmet went missing and Mr.Manchas has ran off from Emmet. Mr.Big then gives them the info of where Mr.Manchas lives so Judy and Nick can get answers from Manchas on Emmett disappearance so Judy and Nick head to Manchas's home in the rain forest district.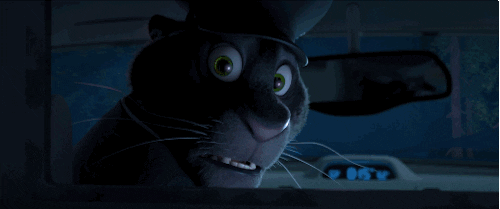 Judy and Nick then see Manchas in his home and ask him about where he last seen Emmet Otterton. Mr.Manchas mentions night howlers were responsible for the attack on him before he too goes savage and chases the pair. Judy even saves Nicks life.
Judy calls for backup and as she does that we cut to a really funny scene with Clawhauser showing a Gazelle app on his iPhone (seriously this scene is so funny).
The police backup comes right after Judy and Nick get tangled in jungle vines after a big fall. Judy leads the police force to the last place where the savage Jaguar Mr.Manchas was insisting that the case is bigger than she thought but when they got there the savage Mr.Manchas was no longer there. Bogo then demands Judy to give up her badge and resign, Judy nearly resigns but then Nick Wilde stands up for Judy and scolds Chief Bogo and the Z.P.D. for deliberately setting Judy up to fail and insisting that she still has ten hours to solve the case, forcing Bogo to stand down and allow the opportunity.
As Judy and Nick get on the gondola and leave the rain forest district, Judy thanks Nick for his support and compassion.
Nick tells Judy about his past and explains about his rough childhood, his sympathy towards the oppressed, and the reasoning behind his conning lifestyle. He once wanted to join the Jr. Ranger Scouts as a kid so he could fit in. his mother bought him a scout uniform and then young Nick heads to some building to get initiated into the scout troop and become apart of the scouts. (At 1st it seemed like they wanted Nick to join and they seemed nice at 1st but after the lights turn off and the Woodchuck leader of that scout troop get's out a flashlight and grins in an evil way I felt suspicious about what was gonna happen next I mean really I knew there was something fishy about those prey scouts I mean really Nick was the only predator and only fox in the group and the scouts had an evil grin on their faces while the initiation was happening and the room was dark while the Woodchuck was holding a flash light up to where Nick was. I seriously was thinking they wanted to do something disturbing to him and or something that collage robe wearing colts of the dark hallways in collage would do or would want to try and destroy him or do something a terrorist would do) As young Nick is doing the pledge thing pledging he'll be trustworthy and all that soon the prey kids tackle him and muzzle him and who know's what else they were gonna do they looked like the racist terrorist versions of bullies the way they did that stuff and they looked like they wanted to interrogate and murder the poor fox besides muzzle and bully him. (the prey scouts looked like they were gonna grow up to be terrorists with how disturbing and brutal their bullying was) Well anyway the prey scouts ganged and muzzled nick and torment him because of how they are racist towards Foxes and Nick escapes his tormentors and leaves the building and gets the muzzle off his face that was pretty sad when young Nick cried and was traumatized from that moment in his life.
After that flashback Nick continues, confessing that he resolved to live out the "sly fox" stereotype as he felt there was no point in trying to fight the preconceived notions that society had established. Judy expresses her belief that Nick is more than what society labels him as, and her attitude towards him softens significantly.
Their tender moment is cut short due to Nick's discomfort in having opened up to someone, and he tries to change the subject by jokingly talking about traffic. This leads Nick to the revelation that the city's traffic cameras may have captured how Manchas disappeared. An impressed Judy commends Nick on his cleverness, and in order to access the camera data, they consult Assistant Mayor Bellwether at City Hall. (the scene with Nick touching and petting Dawn Bellwethers wool is so funny)
Reviewing the footage, they learn that a pair of wolves, whom Judy assumes to be the "night howlers", captured Manchas and trace their truck to the Cliff side Asylum.
As they infiltrate the facility after distracting the guards with a howl, (that scene where the wolf guards get distracted with howling is so funny) they find all the missing predators, all having gone savage. The duo then discover Mayor Lionheart to be keeping the savage predators imprisoned and their existence concealed from Bogo to prevent public panic. Judy uses her phone camera to record Lionheart's admission, but their presence is given away by an inconvenient call from her parents. As the wolf guards are summoned, Judy uses a toilet to flush herself and Nick to the outside. With her evidence intact, Judy calls the ZPD, who raid the asylum and arrest Lionheart. Judy reads Lionheart his rights, and is unsympathetic when he claims to have simply been trying to keep the city safe, ignoring his warnings concerning the danger that the mysterious savage outbreak holds over the city.
A press conference is held centering the events of Judy's success. While preparing for her interview, Judy offers Nick a chance to join the ZPD, stating that she would like to have him as a partner. Nick is notably touched by this,
but when it comes time for Judy to speak, she falls under pressure and describes the savaged mammals' condition a case of "biology", claiming they may be reverting to their natural instincts.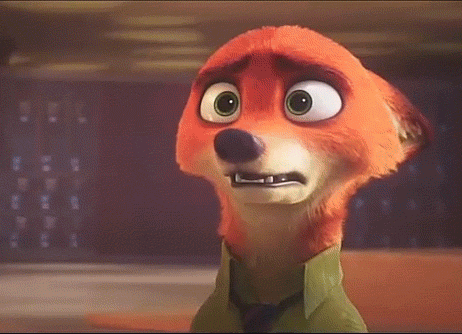 As the crowd goes into a confused panic, Bellwether assists Judy off the stage, where she is confronted by an offended Nick. Judy tries to justify her words by declaring that predators
are
naturally savage, unlike prey such as bunnies, deeming Nick the exception, as he wasn't like "them"; however, this only furthers Nick's anger. As the confrontation heats,
Judy starts to feel threatened, instinctively reaching for her canister of fox repellent and confirming her bigotry against foxes. Nick returns the fully filled ZPD application and storms off. Judy tries to chase after him to reconcile, but a crowd of press blocks her path.
(this scene that is gonna be under this sentence is in my opinion the saddest moment in Zootopia I felt so sorry for Judy and Clawhauser and Mrs.Otterton and Gazelle in that scene and it was also sad to see Judy so guilt ridden)
As time goes on, more cases of predators going savage begin sprouting across Zootopia with no known cause or cure, resulting in fear and discrimination against predators from the prey population. Judy watches, firsthand, the controversial consequences of her actions unfold, and in response to this, she and Bogo are summoned by Mayor Bellwether at City Hall. Bellwether and Bogo request that Judy become the public face of the ZPD, as prey citizens look to her for guidance and view her as a hero. Judy declines, feeling she's failed at her mission to make the world a better place by instead provoking chaos and fear amongst the city. Downheartedly, Judy inflicts penalty upon herself by resigning from the force.
Judy returns home to Bunnyburrow and rejoins the family business as a carrot farmer, just as Nick had predicted when they first met. Bonnie and Stu comfort the visibly depressed Judy, celebrating her will to try new things, despite her actions having caused so much trouble. (seriously I felt so sorry for Judy when she was depressed in this scene) Just as Judy openly feels she's failed countless predators, she meets an adult, and much more mature Gideon. Her parents reveal their will to establish a partnership with Gideon, a fox, based on Judy's progressive influence.
Gideon apologizes to Judy for his past behavior, explaining his actions to have been due to self-doubt and unchecked aggression, rather than "predatory instinct", like he claimed as a child. Gideon while apologizing also admits that he was a major jerk but Judy forgives Gideon Grey and says she knows a thing or 2 about being a jerk. (seriously I loved seeing Gideon change for the better and apologize to Judy and Judy forgiving him. That was so heartfelt) Subsequently, Judy notices a plant her parents had been growing to protect their crops, but which neither of her parents wants any of their children to come into contact with. As Stu explains that the plants cause severe psychotropic effects on mammals, including prey, such as rabbits like her maternal uncle Terry, Gideon also reveals that the plants are colloquially called "night howlers". This gives Judy the realization that predators are not the only ones who can be turned savage. Realizing that these plants must be the cause of the savage outbreaks, Judy hastily takes her father's truck and returns to Zootopia to set things right.
(seriously this scene is one of my most favorite scenes in the film it was both emotional and sad and heartwarming)
With help from Finnick, Judy tracks down Nick and reveals this new information, but Nick rebuffs her. As Judy becomes visibly upset, tearfully apologizing and condemning herself as "just a dumb bunny" for her words and actions, Nick opens up and forgives and comforts her, playfully playing back her apology on the carrot pen, which he held onto. With a hug, their friendship is reconciled and their investigation is renewed.
Recalling that Duke Weaselton had been stealing a bunch of night howler bulbs when she first arrested him, Judy and Nick confront him, demanding to know who he was stealing for. When he refuses to cooperate, they take him to Mr. Big, who threatens to ice him unless he told them what they wanted to know. During the interrogation, Mr. Big designates Judy the godmother of his future grandchild, whom Fru Fru was planning on naming Judy in her honor.
(the breaking bad reference is hilarious in this scene)
Using Weaselton's information, the pair track down a sheep named
Doug
, who is cultivating and weaponizing night howlers in an abandoned subway car. They eavesdrop on Doug, who mentions on the phone that he was responsible for Emmitt and Manchas going savage by shooting them with a dart gun. As two more sheep arrive, Judy takes the opportunity to steal the subway car, hoping to get the evidence to ZPD. As the rams give chase, they spot an oncoming train about to collide with them, so Judy knocks a sheep onto a track switch, diverting the car onto a different track. Unfortunately, the car is going too fast, forcing the pair to abandon ship, resulting in it crashing and bursting into flames. However, Nick reveals that he stole the case containing the dart gun and the night howler toxin.
As they cut through the Natural History Museum to get to the ZPD, the pair run into Bellwether, who insists on taking the evidence. Realizing she is the mastermind of the conspiracy, Judy and Nick try to flee, but Judy accidentally cuts her leg on a tusk display
(prompting Nick to do first aid). (boy was it a huge twist for me to find out that bellwether was the one behind everything she was the last character I would expect to be the villain I mean really earlier in the film she seemed so nice and helped Judy in her investigation of the missing mammals but it makes since that Bellwether was the mastermind behind making the predators go savage because Bellwether was underestimated and unappreciated and it drove her to want power and prey supremacy) As Bellwether and her ram henchmen close in, the pair use a stuffed bunny as a decoy as they run for the exit, only to be knocked into a pit by a ram.
Bellwether then shoots the dart gun at Nick, causing him to apparently go savage, and frames a call for help to the ZPD.
While trying to evade Nick, Judy asks Bellwether why she is doing this. Bellwether elaborates on her plan to divide predator and prey so the latter, the majority, can take over Zootopia, enabling Bellwether to remain in power. When it seems like Nick is about to eat Judy,
it turns out it was all an act;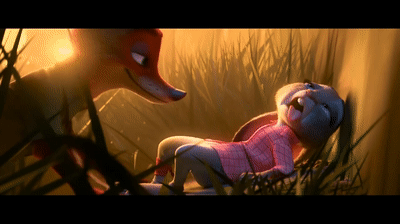 they had secretly swapped the dart gun's ammo with blueberries from Judy's farm. With Bellwether's monologue recorded on Judy's carrot pen, the ZPD arrive and arrest Dawn Bellwether and her accomplices.
(boy was that a twist when I found out that Nick switched the night howler dart with blue berries and that he was pretending to be savage and he recorded Bellwethers monologue and boy did Judy and Nick hustle Bellwether good.)
Months later, the savaged predators have been successfully cured thanks to Judy, who is present at a hospital witnessing the reunion between Mr. and Mrs. Otterton, the latter thanking Judy for her help.
(that was so heartwarming when Mrs.Otterton was reunited with her husband who's been cured and Mrs.Otterton thanked Judy Hopps) Meanwhile, Judy is reinstated into the ZPD, and is present at Nick's police graduation ceremony, where she gives a rousing speech reflecting her experiences and matured viewpoints.
She also takes the honor of badging Nick, exchanges salutes with him to officially welcome him into the force as the first fox officer, and later takes him on as her partner. During their first muster together, Bogo seemingly relegates them to parking duty as a jest referencing their past history, before assigning the pair to hunt down a street racer zipping through Savanna Central. As they roll out on their first assignment, Judy admits to Nick that she loves him. Just then, they find and apprehend the racer and, to Judy's shock, discover he is none other than Flash.
During the credits Judy and Nick, along with most the Zootopia populace, dance at a concert performance of the song Try Everything by the popstar gazelle
seriously this film is amazing when it comes out on dvd go buy it and watch it