Frequently Asked Questions. If you have a question you can ask it here. Read these questions first before you ask me something, maybe it's already answered here.
---
Stock rules
Gallery folder can be found here:
lieveheersbeestje.deviantart.c…

Non-commercial use only.

You are not allowed to use my stock images outside DeviantART.

If you use a picture as reference I would appreciate a link back to my website or my DeviantART.

I do make exceptions, just send me a note (to get permission).
---
What camera and lenses do you have?
Canon Eos 500D

Canon EF 50mm F/1.4 lens
Canon EF 18-55mm lens
---
What program do you use to edit your pictures?
I use Adobe Photoshop CS2 + CS6.
Lightroom 4.3 since 04/2013
---
Who created your da icon?
Zagittorch
---
Can I use your photos?
No, you're not allowed to use any of my work without my permission.
---
How do you create the light rounds(bokeh) in your photos like in 'Starry night' and 'Falling stars'?
I used christmas lights for this effect. I've made a tutorial about that and you can find the tutorial here:
lieveheersbeestje.deviantart.c…
More tutorials here:
lieveheersbeestje.deviantart.c…
---
I see you made a lot of photoshops actions, but what are photoshop actions?
Photoshop Actions are the recordings of commands that can be applied to one or multiple images in Photoshop. When you press play, it applies these recorded commands. Using an action can actually help you save a lot of time.
All my photoshop actions:
lieveheersbeestje.deviantart.c…
---
How do I download and use your photoshop actions?
I made a tutorial about it here:
How do I install and use a photoshop action
---
Where do you find al those ladybugs?
I live in the Netherlands and you have many ladybugs here in my garden, neigbourhood, especially in spring. I think I'm just lucky! (because I love ladybugs)
---
Where did you bought those little bottles you used in your photographs?
1. Craft shops
2. Second-hand shops
3. Etsy.com
etsy.com
4. Claires
claires.com
---
What's the liquid made of inside the bottles?
Most of the time it is food dye mixed with water, this makes the mixture clear. I also use paint mixed with water, this makes it turbid.
---
What about the ceramic mugs with the smiley faces and rosy cheeks? Where do you get those?
I bought the cups without faces at a Dutch shop. Drew the faces on it myself with a black erasable pencil. (brand: stabilo) I added the cheeks with a red erasable pencil (stabilo) and blurred it a bit with my finger.
---
How do you get your guinea pigs to sit still?
My guinea pigs are very calm animals, especially Booboo. They just don't move a lot in front of the camera, I guess I am lucky with that!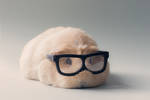 ---
Thank you for reading. For other questions you can send me a note.