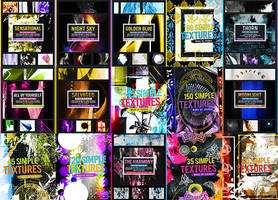 All Premium Content
Buy this to gain an ALL-TIME (not monthly) access to all premium resources packs I create (through Google Drive). As a subscriber you can also suggest what kind of resources you would like me to upload. Once you purchase, DM me for further info. NOTE: Reuploading and sharing premium content with others is strictly prohibited!
---

Description
i 69 free actions !

Now all V9 versions in one .ATN file !
With all my actions it's easy to adjust it to your picture! You can easily set the opacity of each adjustment layer or just remove a particular layer.

Faq
What are Photoshop Actions?
Photoshop
Actions are the recordings of commands that can be applied to one or
multiple images in Photoshop. When you press play, it applies these
recorded commands. Using an action can actually help you save a lot of
time.
Which versions of Photoshop are lieveheersbeestje's actions compatible with?
All Photoshop CS versions, CS2 to CS6 Extended. My actions are not compatible with Photoshop Elements or other programs.
Actions gallery folder:
lieveheersbeestje.deviantart.c…
Photoshop actions journal:
lieveheersbeestje.deviantart.c…
Comments have been disabled for this deviation