[Long Story Short]
Follow the steps below for at least $10 discount at Tokyo Otaku Mode. [edit] Things have changed; I'm not sure exactly what. Apologizes for any outdated info. [/edit] (Long story at bottom of journal.)
[How to Get $10]
Sign up using an invite link -- otakumode.com/invite/531d46 -- to immediately get $5 TOM points. (Every so often there's a promo to receive $10 TOM points instead of $5.)

A $5 welcome coupon should also be available after confirmation email. (Check TOM points and active coupons here: otakumode.com/home/point ) [edit Nov 2016] It looks like it's been changed to 5% off coupon? [/edit]

---
[Additional Coupons]
Unless a date is specified, the coupons expires 3 days after clicking/activating. Only one coupon can be applied per order, but can be combined with TOM points. Even if the order is completely free, payment info is still required. If any of the coupons are expired, please let me know. [edit] The coupons have been getting worse and worse due to restrictions, so scoring easy freebies are unlikely compared to 2014's coupons. [/edit] [edit2] Recent changes in how coupons and TOM points are applied have made it just about impossible for orders to be completely free. [/edit2] [/edit3] Along with previous shipping changes and how TOM points are applied, it seems certain items can't be paid with TOM point now. (Clearance not-to-be-restocked items I think.) [/edit]
Enter raffle (cost $1 TOM points) for 15% off Fate/Grand Order Shielder/Mash Kyrielight 1/7 Scale Figure Coupon

[
Expired Coupons ]
Expired TOM Coupons (List 2)
Expired(?) TOM Coupons
[Some might still work...but I can't confirm what I already used.]

TOM Premium Membership (I signed up for the first 90 days for FREE!)
Check your email for special invitation offers, like better intro perks.
Note: Auto renewal can only be canceled with 60 days or less remains.
$5 off (A Birthday Coupon)

-or-
10% off (A Premium Birthday Coupon)
An emailed coupon link sent during your birthday month.
Do not know if this requires being subscribed to their newsletters or not.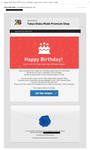 Expires: Exactly 30 days (or 90 days for premium) after clicking/activating
$5 Off:
($5 Off Welcoming Gift) [edit] Think it's 5% off now. [/edit]
From joining and confirming email.
Expires 1 week after clicking confirming link.
Free Shipping
:
- Orders that subtotal
$200 $100
$150+ qualify for standard shipping *
- Items over $150:
otakumode.com/shop/free_shippi…
and qualify for standard shipping *
- Pre-order: Sometimes free shipping is offered on select pre-order items under $150.
- After placing first order: Read that after new members place their first order, free shipping is automatically offered in the next 2 hours. (It happened to me with my first two orders that were placed within like 5 minutes of each other, but not later.) [edit] Don't know if this offer still exists. Might have been replaced with the following offer: [/edit]
- Free Shipping for First-Time Purchasers: Each item that is $30+ in very first order will be given free shipping.
otakumode.com/shop/pickup/free…
- Free Shipping
on select products weekly
otakumode.com/shop/pickup/week…
[NOTE] TOM has
changed free shipping option for over $100 to the cheapest/slowest
. Meaning no more free EMS unless that is the only option available for that particular order. More info:
otakumode.com/shop/pickup/air-…
[NOTE] Changes in EMS shipping price:
otakumode.com/shop/pickup/ems-…
[edit]
Ouch!
I think with this change, TOM also changed the checkout process. Before I would reach $100+ and apply coupon discount plus use TOM points to pay for most of order, and shipping would be free. Now, when I apply coupon and end up under $100 in effect...no free shipping. Same with applying TOM points and ending up under $100...no free shipping.
[NOTE] July 12, 2016:
TOM Points will no longer be usable on shipping fees
. More info:
otakumode.com/shop/pickup/ab02…
*
[UPDATE Aug 10, 2016] Free shipping available for standard shipping only now:
otakumode.com/shop/pickup/free…
---
[May 20, 2016]
Bad news for me: I'm almost at the $1000 referral credit limit.
Good news for my bro: I'll switch over to his invite link.
Maybe good news for you: Received email from TOM about their affiliate program. Tempted to apply to share special coupons with you guys, but I'm not a social media star. (Lucky to get more than 0 notes on my tumblr posts...) So I think chances are very low of me getting approved. Any suggestions on where to "officially" blog? (Or I can just forget about it and continue hunting around for coupons.) [edit] After adding some more relevant(?) posts to my tumblr, I'll apply anyway. [/edit] [edit2] Assume my application got denied. [/edit]

[May 31, 2016]
Last one still pending but... I have miraculously reached the $1000 friend invite limit! THANK YOU!!! In the beginning, only expected like 5 at max...if luck was on my side. (I guess I should thank google search hits? Really, where did all you people come from?!) After surpassing the halfway point, decided to hold some kind of raffle at the end, but still haven't decided what I'm willing to offer. (This entire post should clearly hint what a greedy cheapskate I am.) So that is delayed till I know what prize to offer. History suggests my art isn't desirable so... (FYI: The invite link in this post has been replaced with my brother's link.)

[July 24, 2016]
Er, I guess $1000 isn't the limit? I magically earned another $5 and the bar now says $1005. >_< Sticking my invite link back in, and here's my bro's-- otakumode.com/invite/a1e4b3 --in case you'd rather help him. And uh, still haven't decide what kind of raffle to do. (More accurately completely forgot. *sweatdrop* )

[Nov 21, 2016]
I admit I completely forgot about the raffle/giveaway I intended. Anyway, it looks like the friend invite system has been altered. No clue what the changes are, if any, for new customers. But for old customers, instead of receiving a flat $5 TOM points, it's 5% of friend's first order.
---
[Long Story]
[

August 28, 2014]

Five evenings ago, I came across a post on how to get Alpacasso Cubic Block Mini Cleaners for free. Never heard of this shop before, so I blindly followed the instructions. After placing the order, I realize I could have used the $5 welcome coupon instead of TOM points. So I made another order using the coupon (before a free shipping offer expired) so that it didn't go to waste.
Today, both orders arrived. I must say I'm impressed with the packaging and presentation of the order inside the box. But I digress.
So now that I know Tokyo Otaku Mode is legit, I took another look at it. Well, I feel like an idiot blindly following that post. I mean, maybe I could have tried combining both the TOM points and coupon together and get something else for free. So anyway, by chance I came across a different coupon code that offers $5 discount and free shipping (for one Amuse/Alpacasso item.)
Well, now I want more TOM points. So if you're not already registered and interested, I would appreciated it if you use my referral link. ^^
---
Thanks in advance if you sign up using my referral link and place an order! ^^