My Easter pic for this year, and it took quite a while to draw, from start to finish!
We have bunnygirls Lorelei "Lori" Parker, Violet Davis, and
Akitaka Tsukimi's character Shana
. I really like how I drew Lorelei here, she looks a lot less "cutesy" and more "focused". Violet's trying to feel up Shana, and I think she likes it!

By the way, Lorelei's look here is (somewhat) based on this sketch of her that

did for me way way back: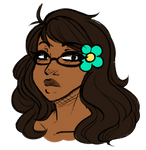 I like how she drew her, and she comes off as... well, more "focused" and less "cutesy". And if I were to draw Lorelei again, I wanted to try and incorporate this look in some way, so here we are

I hope you enjoyed your Easter, and I'm sure you found a way to celebrate, given what's going on currently

Image details
Image size
1022x1280px 640.69 KB