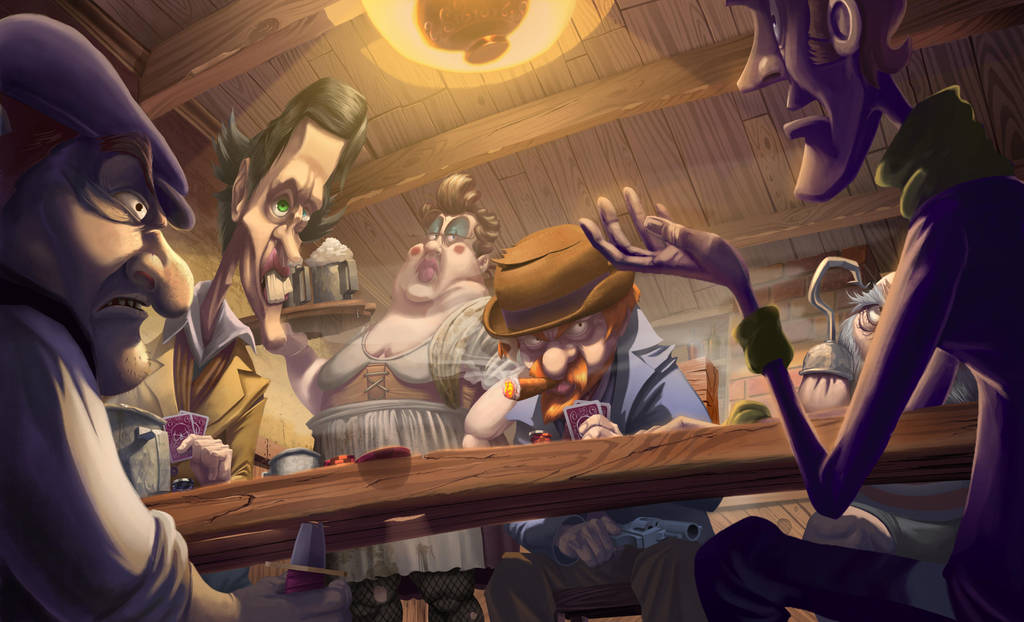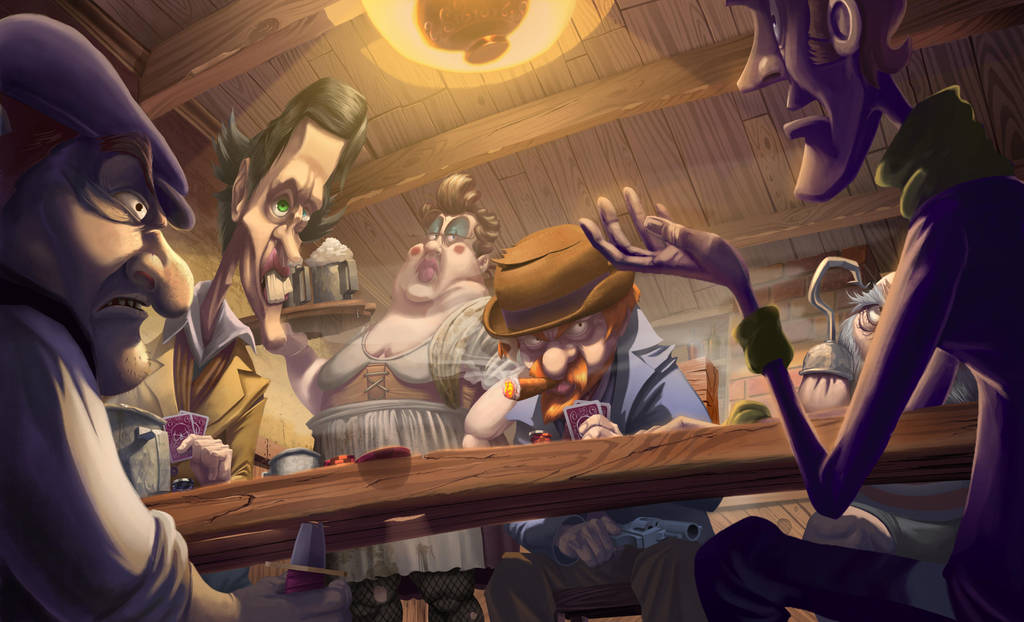 Watch
A "friendly" card game turns dangerous, as the gangly stranger at the end of the table pries a little too much for his own good and outstays his welcome.
These characters are from an ongoing (as in, 'going to get to it someday') personal project, as I try to develop the look of my characters, as well as stretch my ability to visually tell a story, and update and fill out my portfolio. I hope you like it! God Bless!

Follow me!
Official: mcgillustrator.com
Facebook: www.facebook.com/garrettmcgill…
Twitter: twitter.com/McGillustrator
Tumblr: mcgillustrator.tumblr.com/


Very cool and interesting illustration! I love the composition and the angle. Great color choice too!
Reply

Hey Alex! I wrestled with the colors for a loooooong time and in the end they came out fairly close to what I wanted. Thanks so much for dropping a line!
Reply

Thanks for faving my drawing tutorial. I'm honored that someone at your skill level thinks it's worth having on hand.
Reply

You flatter me

I liked how you conveyed the importance of maintaining a strong grounding in the fundamentals.
I feel like a lot of artists--particularly young ones--are in a rush to 'get good' that in an age where phones can pick up internet anywhere in the world at 4G speeds, they think there must be some kind of life hack cheat code to becoming a master. Following this (stupid) analogy, mastery doesn't go at 4G speeds; mastery is a 54k dialup modem with an agonizingly slow load time for even a single image. Your tutorial hit on that theme, and I always appreciate seeing that sort of thing.
It's like Matt Khor from Ctrl+Paint says: You *never* outgrow fundamentals.
Reply

Two things motivated it. One was the number of times you see the 'how do I improve?" question asked in the forums.

The other was the absolute wasteland that is the tutorials section on DA when it comes to helping others draw/design the human form. It's all the same ball/egg skeleton construction 'shortcuts' and drawing lessons straight out of the comics page in print comics pages. They're as pernicious as a bad meme and I see them all the time in the 'favorites' section of the very people asking the question as to why they've hit a plateau.

I hear you. A good chunk of the time when they ask 'the question' in the forums on getting better, and the answer is given, the only response tends to be: Oh. OK...

You can almost feel the discouragement through the monitor.

In fairness, ten or fifteen years ago I was one of those people, thinking life drawing was boring and unnecessary for the kind of 'art' I wanted to do, so if technology is skewing our expectations, it's probably only exacerbating a tendency that has existed for ages before.

Sometimes you just need to have someone present it the right way to make it palatable. I have my mentors, and whatever wisdom I have from them I want others to benefit from as well.

Hoping to put up some other similar tutorials for character design and traditional animation eventually.
Reply

I really like the angle and lighting on this scene. Nice work!
Reply

I love it! I'm now curious about this project you have going on

The characters are all uniquely expressive. I like the way you cast light across the characters' facial features. There's a ton of detail to appreciate in this piece as well. Congrats on another job well done!
Reply