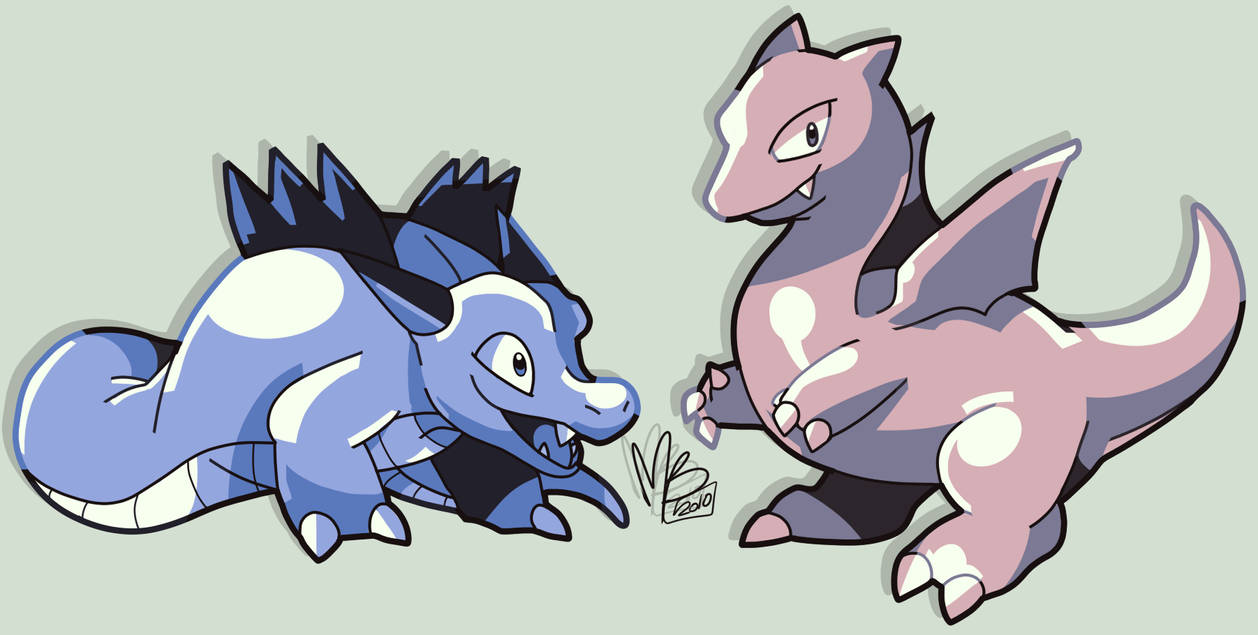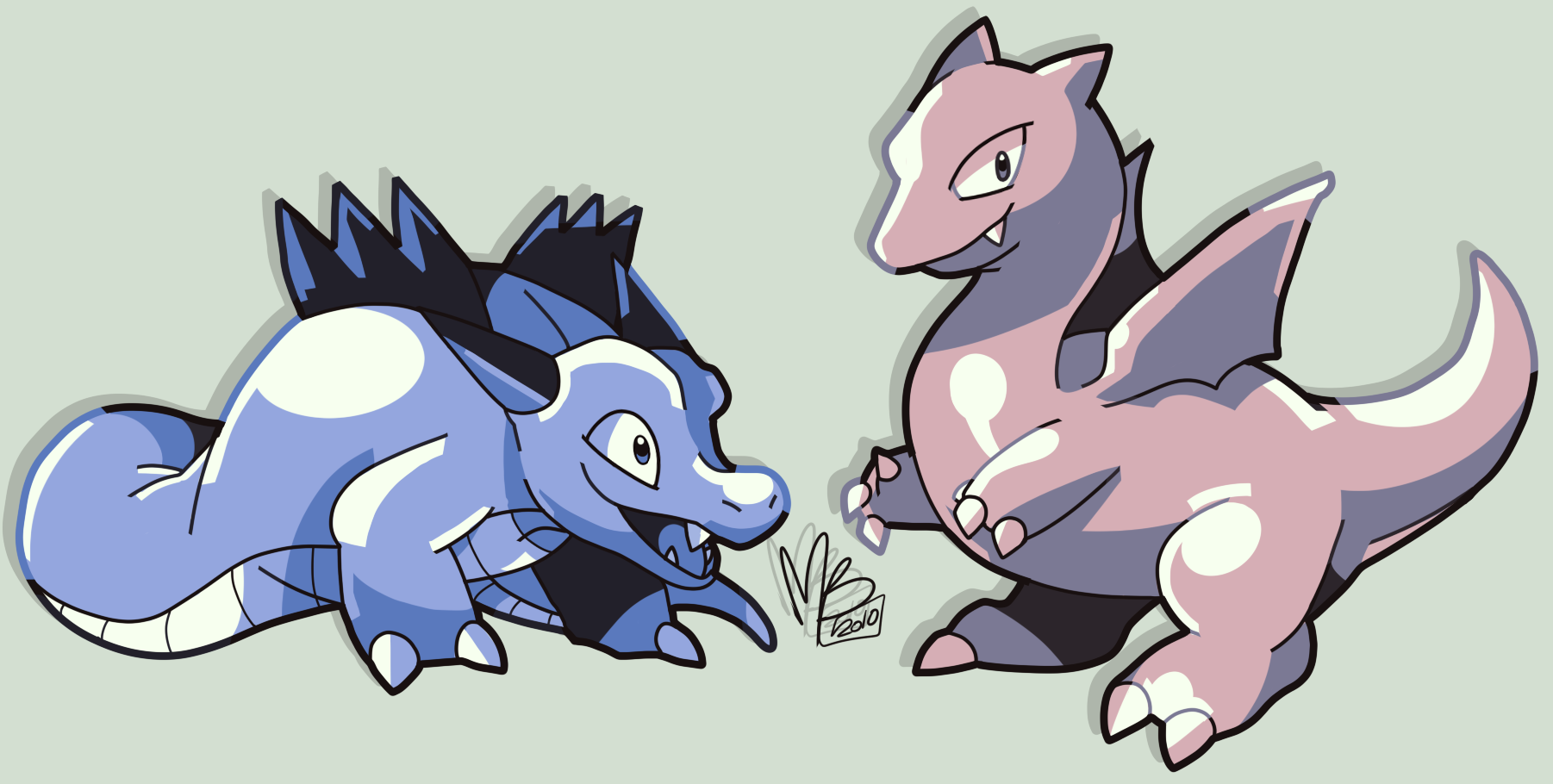 Watch
Two artworks of unnamed Capsule Monsters, made in the old school Pokémon sprites style. Their colour scheme is just an interpretation, since the real colours have never leaked.
Finally, these "Capsumons" were leaked out the famous folder that GameFreak made in 1990 about Capsule Monsters.
The Capsumon at the left is seen only once, on a drawing that made the folder's presentation page. It is shown attacking a Capsumon (Who is obviously a very early design of Tyranitar) in the same manner as the Nidorino and the Gengar did on the introduction scene of Pokémon Green. He is a bulk, short on front leg dragon-looking creature with a very long tail. Note, he only have two legs, no arms or back legs. He have a thick back, with ridges running down on the shoulders. He's quite reminiscent of Feraligatr and share some anatomies similarities with the Dogondos from Zelda. This is probably a creature that never made it, not even in a other design, in the final game. (Though maybe this was a very early Feraligatr design?)
The Capsumon at the right is also seen only once in a drawing, in the very same folder of 1990. It is shown in a sketch of the design for the creature infos page. (The one showing the name, LV, stats etc.) But it's unknown if the creature within the exemple is a real one or the design of a real Capsumon. It's a dragon like creature, it stand on his powerful yet short back legs. He have short arms, with claws and a long neck. He's got quite a short tail, small un-detailed wings and two small horns behind his head. On the page, it's shown having the number #124 (Jinx?) and quite a good attack stat and great special stat, but a awful speed stat. On a other side, note the incredible amount of HP this little fella has: 900!! And then the TP? What does that mean... Training Point maybe? Maybe they wanted at first, like most of the RPG, having the characters a lot of life points, like in Mother/Earthbound. But then the damage calculation would have been quite hard and painful, I guess, for such a limited memory space. He's quite reminiscent of Charizard and Aerodactyl, but this creature was probably more a dragon prototype... or just a poorly draw Capsumon by an guy who didn't took references for it.
---
Capsule Monsters = Pokémon (Pocket Monsters)!
The franchise started with a manga made by Satoshi Tajiri back in 1975, but the manga was a commercial failure and finally was discontinued. He then asked Ken Sugimori to draw his "Capsumon" and follow him in founding GameFreak. After many years and some games, the project came back to the spotlight: In 1990, GameFreak made a huge folder of all their ideas for Capsule Monsters, including several creatures designs, map, scenes, battle system and even pages detailing the creatures data page. Apparently, Tajiri had trouble to trademarking (Copyright issues) the name so he changed it first to "CapuMon" and then later "Pocket Monsters" or "Pokémon". Green/Red/Blue finally came out in 1996, 6 years after the folder was done. Several Pokémons were designed as soon as in the late 1975, as Nidorino, Gengar, Slowbro and Rhydon and made it to the final game (G/R/B) in 1996. We can deduce this: Designing most of the original planned (190?) Pokémons for generation 1 probably took about 20 years OR MORE. (Note for myself: Ah that's why Pokémon looked awesome back in the days!! I should get my ass on some designs soon or I won't be able to post anytime near, ROLF)
Reference:
[link]