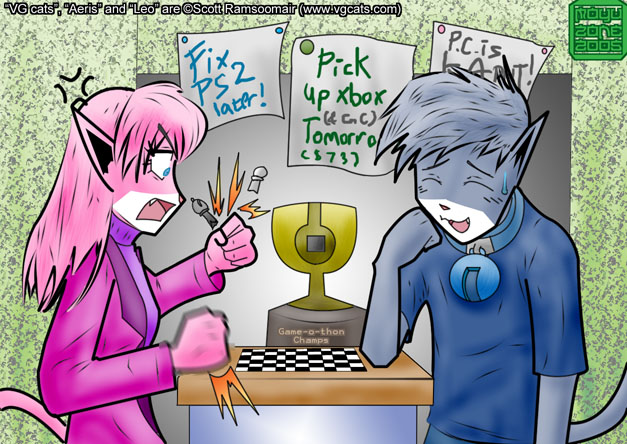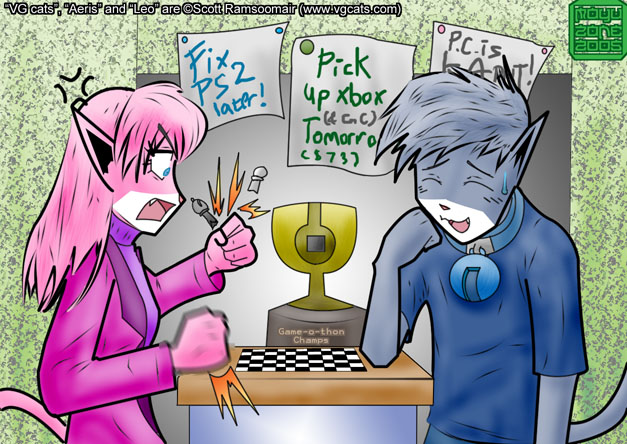 Watch
My 5th illustration for the CREST group's 2005 contest. Please read my journal for details on the contest as well as my progress.
About the pic:
Recognize these two? Aeris and Leo, the videogame-loving cats from the VG cats webcomic have just won the Game-O-Thon competition. However, they paid the price to win this coveted trophy: All their gaming platforms are broken!
With no other 'game' to pass the time with, they now play chess... unfortunately, Aeris lost her temper when she lost to Leo and proceed to break every chess piece with her bare hand XD The white pawn and black bishop are all that's left in this pic XD
Life without videogames is torture for VG Cats

Check out the comic here:
[link]
Also, there's a VG cats club here on DA (unfortunately it doesn't update much):
Miscellaneous information:
Inked with a mouse, colored with combination of using tablet and mouse.
Software: Adobe Photoshop Ver. 7.0
Total Time Taken: 3 hours, from sketch to finish
"VG cats" webcomic, and characters "Leo" and "Aeris" are ęScott Ramsoomair