The random winner is...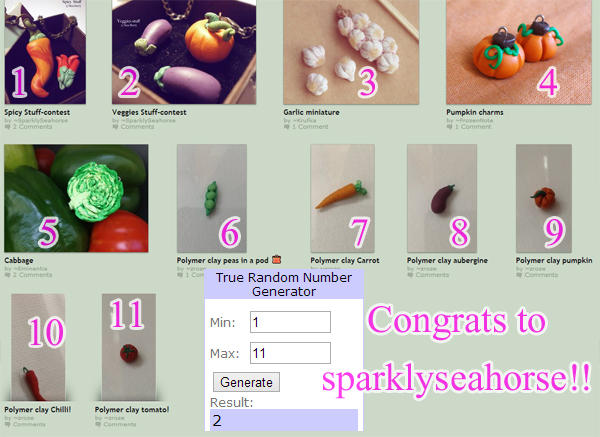 The random winner should receive the 3 month premium membership within a few days. :bademoticon:
---
Monthly Food Challenge

A three month premium membership will be randomly drawn from the members that participate in the challenge.

Theme of the month: Veggies

Eat your veggies! No, not really but the goal this month is to make them with clay, please don't eat those.




Rules

**If any of these rules are ignored, you will be disqualified from winning the prize**
Participants have to be members of #semi-sweeties
Submissions must be entirely made by you (no bought canes or molds).

Only new work is accepted
Items must be primarily made of clay
Unlimited submissions as long as it fits the theme
You must write somewhere in the artist comment box that this is an entry for #semi-sweeties' monthly challenge + add a link to this journal.
Submit entries into the "Monthly Food Challenge" folder.
Helpful Tutorials
Here is a list of tutorials that might help you to achieve this project.
Deadline
The challenge closes on September 30t
h
2013 and the 3 month sub winner will be drawn randomly from the members that have participated in the challenge.
---
Previous challenges and winners
---

the team at
semi-sweeties