I welcome all my newest watchers (or anyone in general) to my art gallery! I appreciate greatly all your love 4 art (especially mine ;3) Feel more than free to ask me any questions about my art! I will be glad to answer! Since the majority of my watchers are either from America, the UK or other English speaking countries, my page in mainly in English. But I do love having a good conversation in my German tongue anytime.

(Also if I tried to explain everything about my manga on here, it would take more than 2 hours to type all that crap, and I need the time for producing pages.) You understand. So here it is in an eggshell:
My
retcon
manga is a trilogy: Ascending, Descending, and Fallen Angel. They were inspired by James Patterson's Maximum Ride series as well as events from Post World War 2 and other things.
Synopsis: (Ascending) Everyone knows about Maximum Ride and her Flock, but what most people don't know is that there was a second Flock of Human-avian hybrids. This is their story: Mutated children (Human-avain hybrids) created in a hellish place called the School, decide one day to escape. (Sept. 11 2001) However, while trying to help his younger brother to escape, Za'roc Adler, the oldest of the escapees (15) falls victim to the Secret Police sent out on an immediate recapture of the experiments. Nyroc Adler (11) now has to take on the responsibility of being the newly formed flock's leader.
(4 years later) The 6 bird kids are recaptured and kept in The Institute for Higher Living, beneath the bustling streets of New York city. There, a winged girl--with blonde hair, brown eyes and kick butt attitude--and her Flock help the 6 to escape. Then they mysteriously disappear. A year has passed since Nyroc and his gang were helped by Max's Flock to escape from the Institute for Higher Living, NY. But the chances of Nyroc Adler(16), his beta Halo Byrd(15), Ice(17), Dagger(12), and the twins, Pyro and Nixie(both 9) living a peaceful, nondramatic, not-on-the-run life style may as well be called a fool's dream. The Other Flock has a huge issue on their wings. When they were in the Institute of Higher Living, Halo discovered an amazing, powerful device. It could transform the universe, possibly even the future: The Code. Now they must find a solution to keep the world safe and from letting The Code fall into evil hands. But who's hands are evil?
Halo Byrd: genetically designed and specially trained to be the Ultimate Human Weapon of war. Born of war, sustained by it. She can start wars and end them. Those who know of her existence fear her....the perfect biological killing machine. Her fate was decided long ago by her handlers, until a young recombinant by the name of Nyroc Adler changed everything. Now unrestrained and out in the world, will Halo Byrd fulfill her initial duty as a weapon of mass destruction or will she help her new-found "family" to stay out of Death's reach?
Fly with the Other Flock as they endure public school, life on the run, ripping betrayal, love/hate relationships, and brushes with death, all leading up to the final battle in their search to destroy The Code. It's a real war out there!
Meet new faces and discover what would happen if each Flock member's lives had remained human and who they were back at the School.
For young adults/teenagers (or anyone Otaku enough to read)
Gernre: Sci-fi, Militarism, Graphic Action, Mystery, Shounen, Adventure, slight Historical fiction
Ascending: a
retcon
manga inspired by James Patterson's Maximum Ride series, as well as real events from Post WW2 (and other things). Story and art by Maxim Wolf. ;3 Plot and characters are original. Comic completely hand drawn.
Repeat: Ascending is a retcon inspired by James Patterson's Maximum Ride. NOT a fan fiction.
There you have it! Enjoy and Howl back! ;3 Also feel free to check out what I have released thus far for the following 2 books: Descending and Fallen Angel (located in my gallery; just go to Pages of Manga; they have their individual folders).
How it all started: an Excerpt from Maximum Ride: The Angel Experiment pg399:
"Start popping latches," I whispered to Iggy, who whispered to the Gasman, and so on.
I opened a cage and gently shook the creature inside awake. "Get ready to run," I whispered. "We're getting you out of here." The poor baby looked back at me uncomprehendingly.
Several creatures were awake and pressing against their cage bars, making weird noises I'd never heard before. We moved as fast as we could, opening doors. Finally most of the prisoners were free, standing around, looking at the entrance to the lab with confusion or fear.
*One cage held a large child who was gripping the bars. Fine features said this was probably a female. She had wings--I could see them tucked tightly against her sides. She was older than the other winged children we'd seen.
I quickly unlatched the door to her cage. I jumped back when I heard a voice.
"Who are you? Why are you doing this?" she whispered.
"Kids don't belong in cages," I said to her. Then I called out in a large voice, "Okay, everybody. Let's blow this joint."*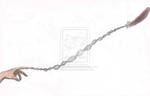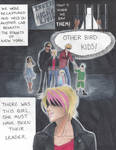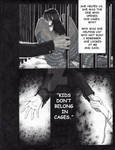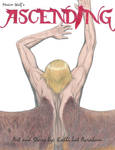 Where else to follow me for art?