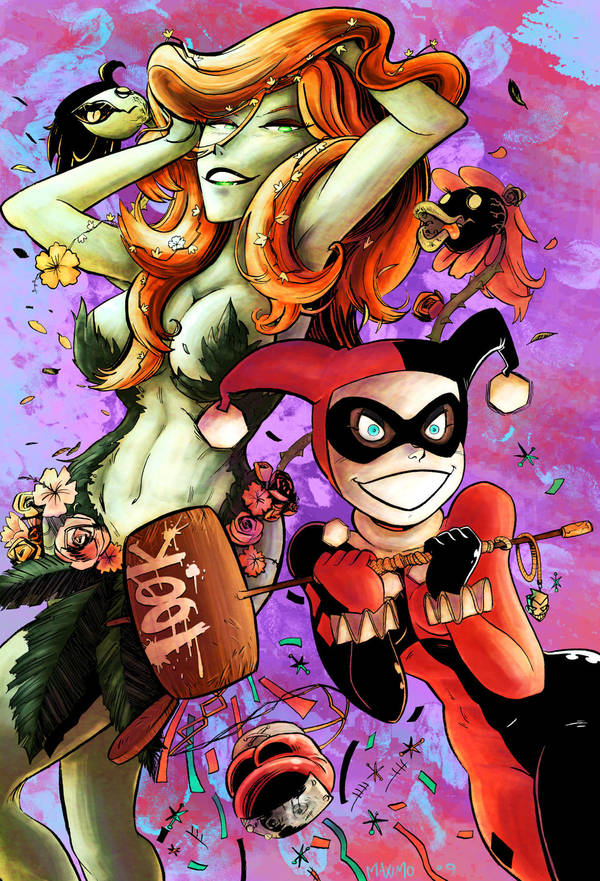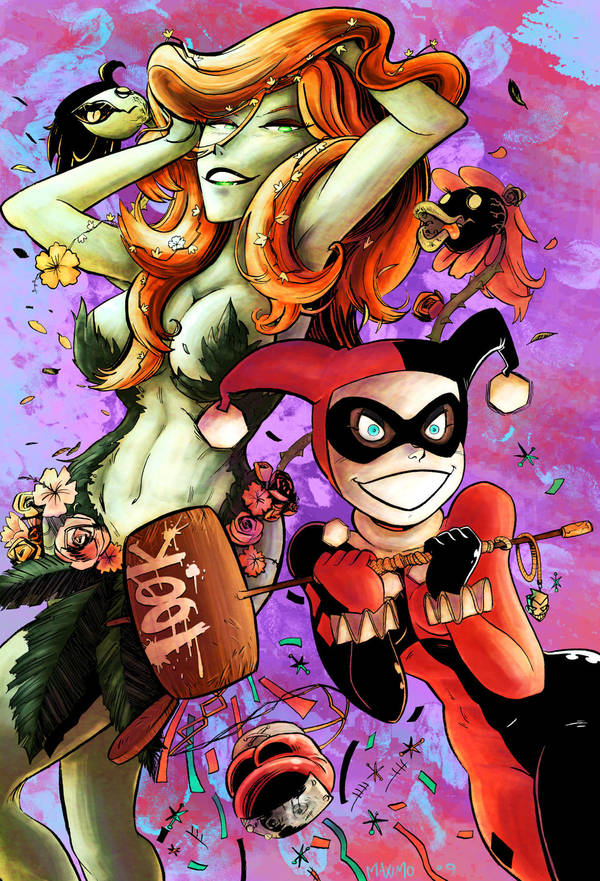 Watch
"Two of a Kind"

Phew*

This took me a little extra effort than usual, I was trying a few new techniques. Harley Quinn and Poison Ivy, two hottest girls in the DC universe. BUT! not my favorite villian, that honor goes to animated series Mr. Freeze.

I kinda want Harley's mallet, it explodes with confetti, and jumping jacks to mask an extendo plated boxing glove! What a badass mallet. I gave Ivy some funky venus flytraps as compainions for fun.

Made with my own thumbprints, Gpen nibs, Brush and Sumie ink.

-April 10 2010 Edit- Tweeked colors!
Wow! First off, I would like to say that the colors of this piece work beautifully together and add a great mood and effect.
Your drawing style is perfect for this kind of pictures, they have the "comic-girl" bodies and faces, not to mention great expressions. (On the girls, and Ivy's fly traps!

)
Also, the attention to detail is amazing! From the petals and confetti in the background, to the texture of ivy's leaves, the joker charm on Harley's mallet, the fact that theres a boxing glove popping out of it, and the little petals in her hair, its all spot on.
So overall, this is an amazing piece! Great work!

The Artist thought this was FAIR
33 out of 39 deviants thought this was fair.
This is really old. I don't know how I missed it the first time you uploaded it, but ANYWAY if you updated the colors, you must still feel good about this picture.
[link]
Here. Have a redline on Ivy there. To be honest, her torso is quite short and to really get it right, you'd have to redraw it, maybe exaggerating off an actual ref. I dunno dude. Even my redline is anatomically incorrect because I attempted to stick somewhat to the proportions you've used in this picture. It's important to remember that body parts AREN'T symbols. When we're kids, we all start with symbols and try to get better at those, and then some of us start trying to break out of that box when we're old enough to realize that there are other ways to draw.
And some of us do that, and go right back to symbols. Drawing in symbols is fine for what you usually do, but when you're trying to do something that relies somewhat on the perception of acceptably correct anatomy, you gotta take a hint from the people who NORMALLY draw 'proper anatomy' and start from the opposite end. REAL BODY FIRST, symbols SECOND. That way, you can improve the way you depict women, because the anatomy of a woman is very important to the viewer!
Nice colors though, brah.
The Artist thought this was FAIR
60 out of 67 deviants thought this was fair.
The owner of this deviation has disabled comments.