Hello I'm Davis - I'm open for commissions.
Since my major income client broke their connections with me I'm in a need of clients and supporters. I draw both: NSFW and SFW illustrations. So guys - please don't bother to ask me to draw for free.
My current preferences are with the SFW works, but I will not turn down NSFW works as well.
My pricing is as follows : /prices are for illustrations and pinups only/
Samples of works :
I'm okay to draw portraits of real people as superheroes or whatever.
I'm not okay to draw real people with normal life having sex.
I'm not drawing children.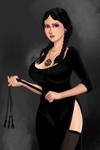 Galaxy Hearts
by
mavruda
Happy New Year
by
mavruda
Ryuko
by
mavruda
For obvious reasons I cannot show any NSFW samples so you will just have to visit my website and look from there - navigate with arrows - whatever - copy paste name of my NSFW page in case you wish to see the stuff in there - mydirtydrawings.com
Aside from doing commissions - I'm "specializing" in drawing popular characters from comics, games, and movies. The people who would choose to become my patrons at www.patreon.com/mavis - are able to commission me with my better pricing - but that will be valid if they want a commission that fits into those three categories mentioned.
www.patreon.com/mavis - I am working on my own original comic strips in there.
PM me/mail me for inquiries about commissions only.