EDIT:
I would like to congratulate,
tsand106
! I can't wait to see how Silas and Pappillon's relationship grows. :]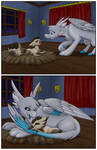 I hope to do a little something for everyone who was kind enough to enter, so be on the look out for that. If you didn't finish your entry in time, feel free to post it and I'll try to include you as well (depending on the effort.) You all have been wonderful, thanks again!
Closed! Thank you for the interest!
Happy New Year's everyone!
There is more than just the day for me to celebrate, however, and that is my new character's birth. Silas, the Imp Wyngro, was born today. He hatched early this morning and is in need of some nurturing! I'm going to be holding a little contest of sorts to find a parent 'gro for my new wyngling.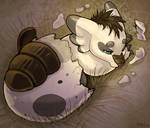 A mini bio can be found on the template to further help you decide if your Wyngro is capable!
Conditions:
- Your Wyngro must be an adult.
- Preferably an established 'gro, but not necessary.
- Active in the community.
- Must be willing to care for a Wyngling for a while; Silas is in no rush to grow!
The Contest:
Your 'gro has heard the buzz around town that a new Imp egg has hatched at the Nook. (More information about Imps here :
www.wyngro.com/imps
) While Alma is more than willing and capable of doing this herself, she knows that there will be others interested in rearing this child. But, with this Imp wyngling being so rare, she needs to be certain the parents have the child's interests at heart, so it's time to let this little wyngling meet some of his potential parents and see how they meld as a family.
---
This will be an art contest of sorts.
Quality will not be a determining factor
. I mainly want to see how your Wyngro interacts with Silas and how they feel about taking on this responsibility. You can put as much or little effort into the image(s) and writing as you personally want. What sort of parent or guardian would they be? Firm but fair? Fun and playful? Show a little of what life would be like for little Silas if he were placed with your 'gro. I'm hoping there will be enough interest that I can find the perfect home for this little Imp.
There is no current deadline but I love him to find a guardian within the next month if possible.
After getting more interested than I anticipated, I've decided to go ahead and add a deadline. Please aim to have your "adoption papers" in by
January 14
! Feel free to ask any questions here or by note.

I had really planned to try to get something in for this. Part of me actually feels bad XD. Unfortunately though my stylus for my tablet is still missing and while I did draw a couple things traditionally my only camera broke before I could take a picture. Guess it just wasn't in the cards for me. Either way though congratz to Pappillon!