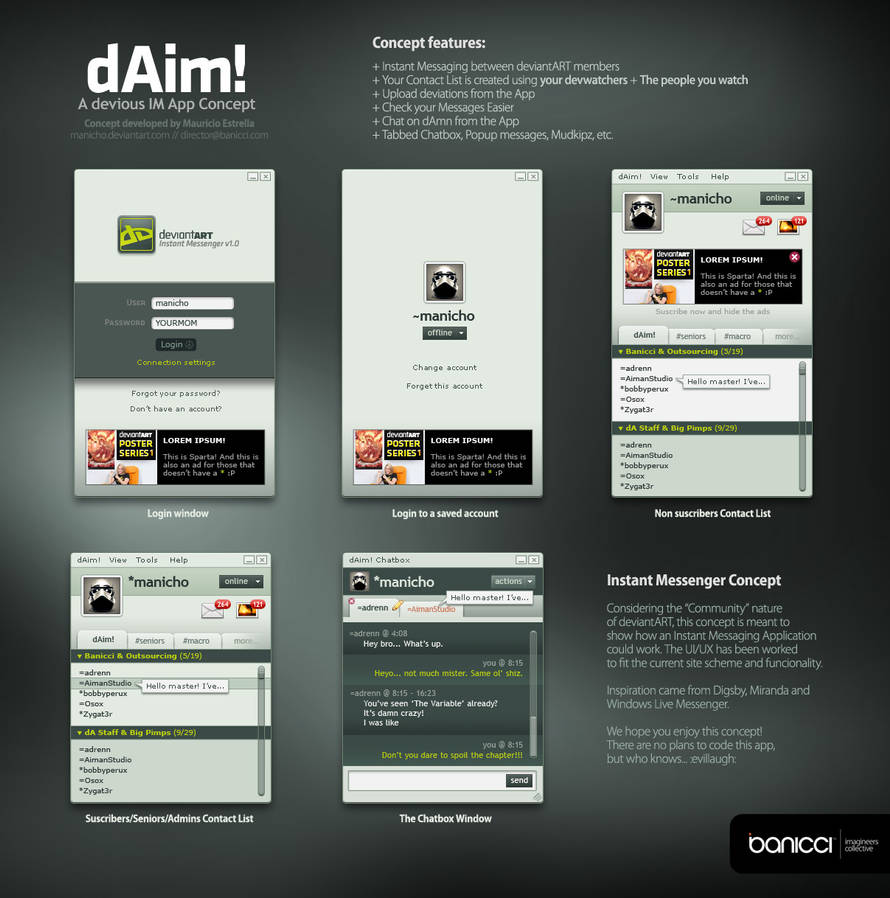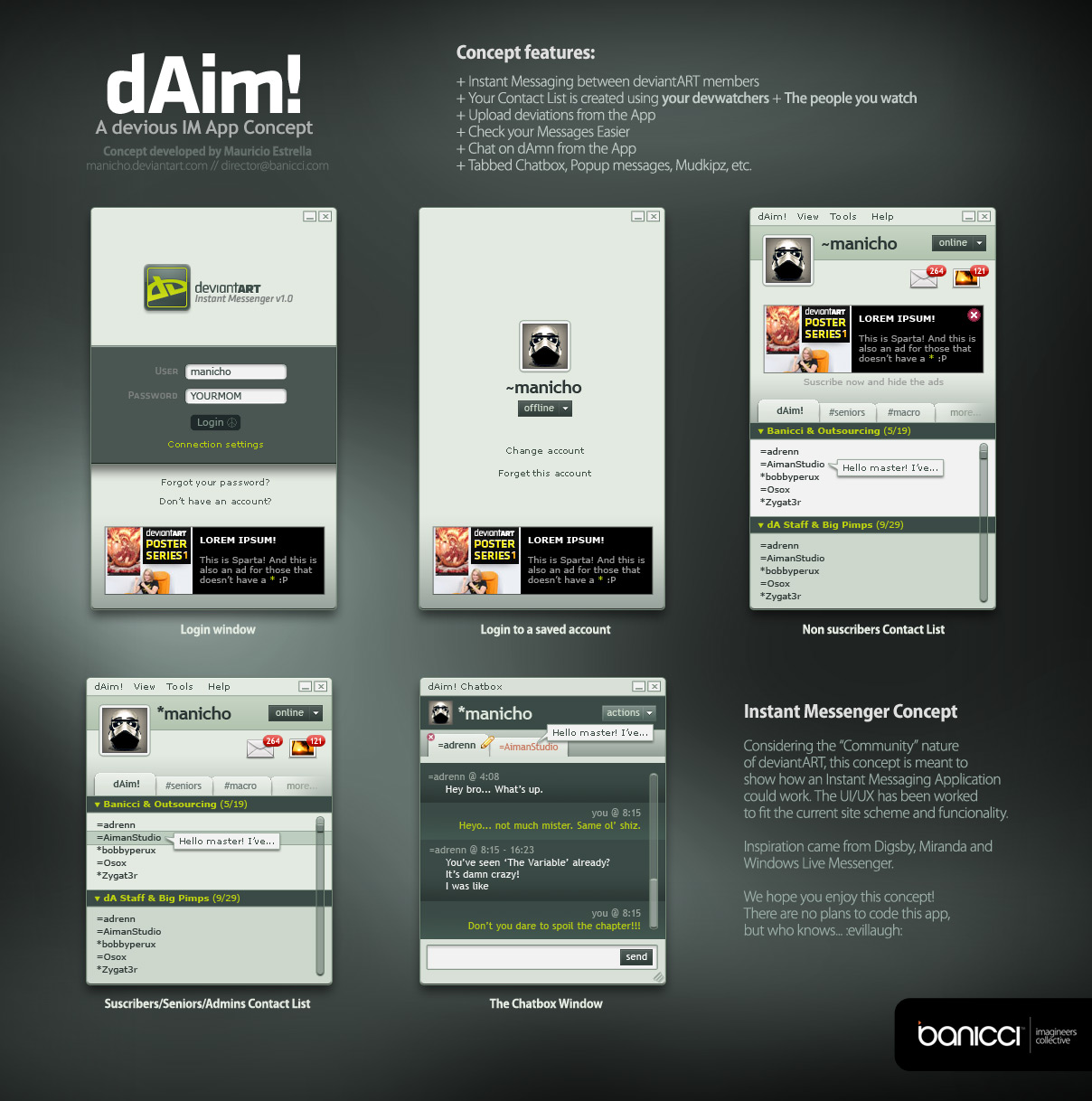 Hello everyone!
This is a concept that I had on my PC for a while. I didn't have time to finish it, but somehow I felt a little creativity boost tonight, and I finished the UI design.
Please note that this is just a concept, and the chances of getting this app built is really small.
In case you want to take part of the forum discussion, here is the
[link]
Myself and my studio [link] are not affiliated or part of deviantART Inc. and this concept is for demostrative purposes only.
Thanks for your feedback/ideas/thoughts

Good work !
It would be really great it there was such possibility to view new messages and deviants done by people in your deviantWatch.

But i think this will draw out some pageviews for deviantArt itself. So your idea with banner is also great. You can get a subscription and remove this banner or you can watch it and after 3 sec. (for example) press this little cross to close it. Great idea !

As a proposal to improve this interface - i think there should be visible indication of their status - offline/online, etc.
We can also show small avatars of favorite friends (like in profile here) . For example 8-10 avatars with names below and then list of all the rest users.
Some small icons to show if user in your list are just lurkers or mutual friends.

I also suggest to align messages to the left in chatbox window. It looks good when we have one-line message. But when there is a whole "novel" it could look strange.

Right now, for me, application looks like compact mode. You can add avatars on tabs. Or even better - you can position avatars vertically and align to the left. So we will have more space to select active tab and we can always define who we are talking right now. BTW, only noticed - active tab is not different from all the rest. And you can highlight tab with incoming message with color too. So we will have:
- active tab
- inactive tabs
- and tabs with incoming messages.

Nevertheless - great concept. Clean and sharp !
The Artist thought this was FAIR
138 out of 146 deviants thought this was fair.
Absolutely outstanding concept. In reality, the creation of an instant messaging client is very tricky and can take a huge amount of time in terms of writing, rewriting, corrections, testing, server coordination, etc. One would be more fit writing just a protocol plugin for a client that already exists, such as Pidgin or Trillian or Miranda.

The layout is sleek and the colours are solid. This has all the workings of a genuine and/or official deviantArt operation. Maybe in this day of iPhone apps and vast amounts of home-cooked instant messaging clients, this concept can see light. I for one would surely be excited to see something like this in the wild.

Keep up the professionalism, Manicho!
The Artist thought this was FAIR
150 out of 154 deviants thought this was fair.