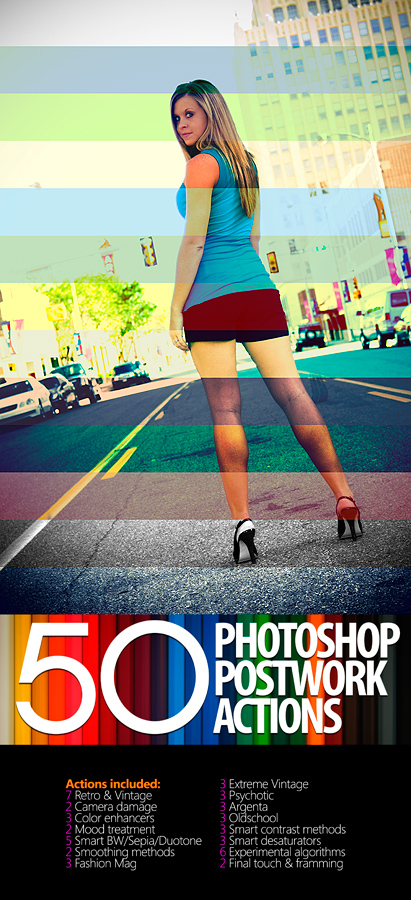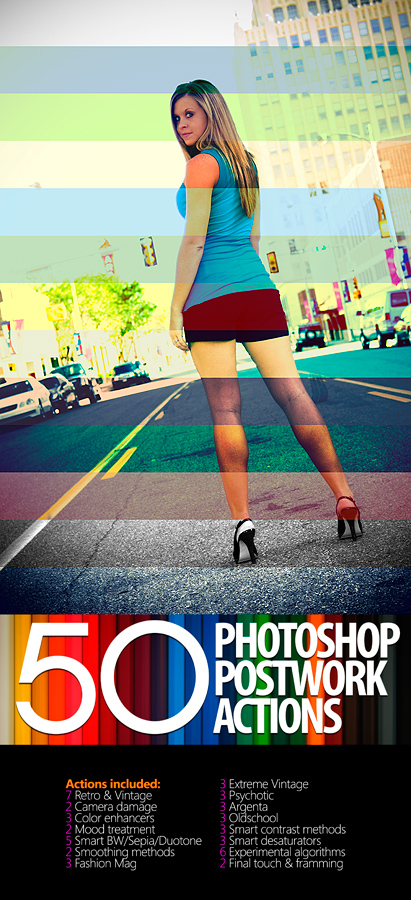 Watch
Introducing a new pack of actions for Color Postwork

A massive pack of FIFTY actions packed for Photoshop CS/CS2/CS3/CS4.
This massive update fixes some minor artifacts on the latest version and includes several new actions with awesome color/tone/contrast processing.
Professional results!
Check out some samples here:
img7.imageshack.us/img7/6593/s…


To install: Download the file, and load it from the actions pallete in Photoshop. Done! Just click "play" on any of the 50 actions.

Terms of use: None. Feel free to be wild and use them, you don't need to credit me However, if you use this, at least drop me a comment or a favourite to help me spread these free actions around DA

I hope you like these!

Preview stock from www.sxc.hu
For me this is just brilliant. I always wanted to know how to achieve those vintage effects. I use this resource since `
manicho
released it and learnt a lot from the pre-made actions including how to make my own actions.
I gave the Technique only 4.5 stars because there´s sometimes an alert message that tolds that Photoshop isn´t able to find the Background layer but I think it´s only I´m using a german version.
Impact and Vision is five star rated because it has a great impact for me and hope it was `
manicho
s vision to help beginners on the right path to becoming successful Photoshoppers

The Artist thought this was FAIR
181 out of 194 deviants thought this was fair.
There's a lot to be said for this. Not only are there a variety of actions for a potential to use here, but each one creates a fun, new, or overall helpful effect if used. The preview image is also very well thought out, giving both a visual sampling of the effects and a list of general classifications of the effects. It's very clear that you put forth a great deal of thought and effort. This is a very useful deviation to both new and veteran photo-manipulators alike. You're being both generous and informative with this deviation. Keep up all the good work.
The Artist thought this was FAIR
230 out of 234 deviants thought this was fair.