Dear DeviantArt admins,
just in case you wonder why almost all serious photographers vanished from your site, take a look at the front page for the photography section and scroll down a bit...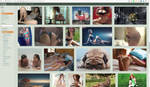 Remember - this is the front page. This is what is displayed to me every time I come to the site. I cannot switch Daily Deviantions permanently, it always gets back to "Whats hot". What a literal coincidence.
Porn industry infiltrated your site. This didn't happen over night, it was a process of years. And you didn't to anything about it.
Why am I writing this instead of just switching to another art community? Because DeviantArt means something to me. It was the place that got me interested in art, in photography and helped me getting inspired and connecting with other artists. It hurts to see a site that was top-notch years ago to fall like it does.
Matthias