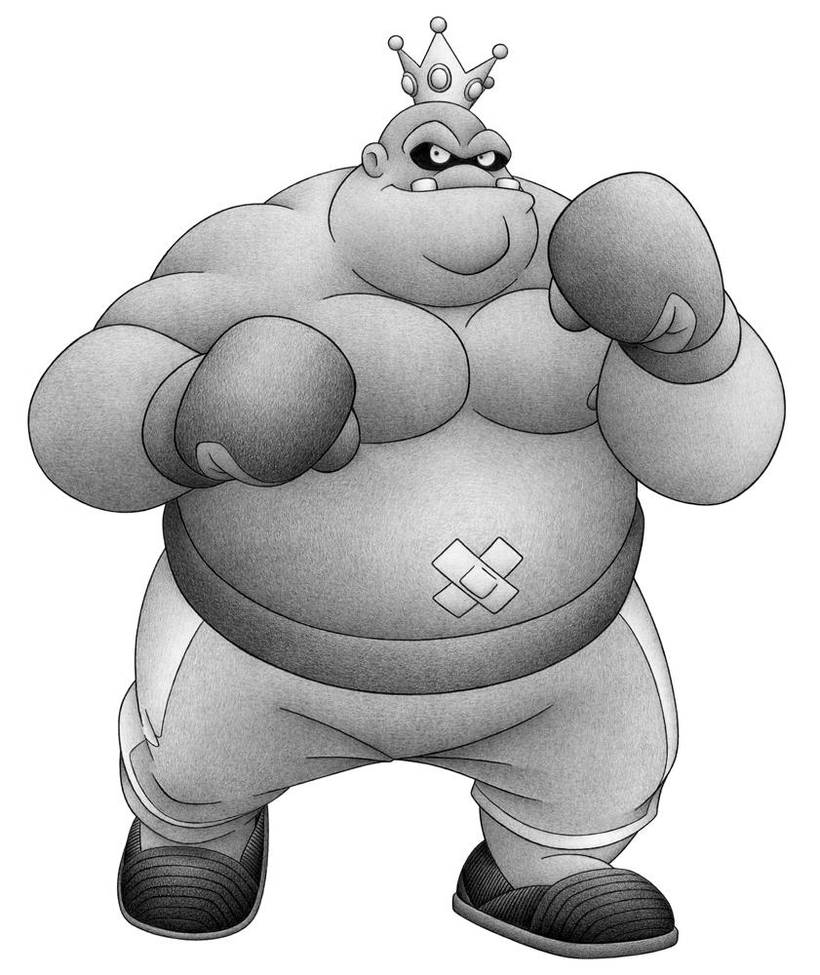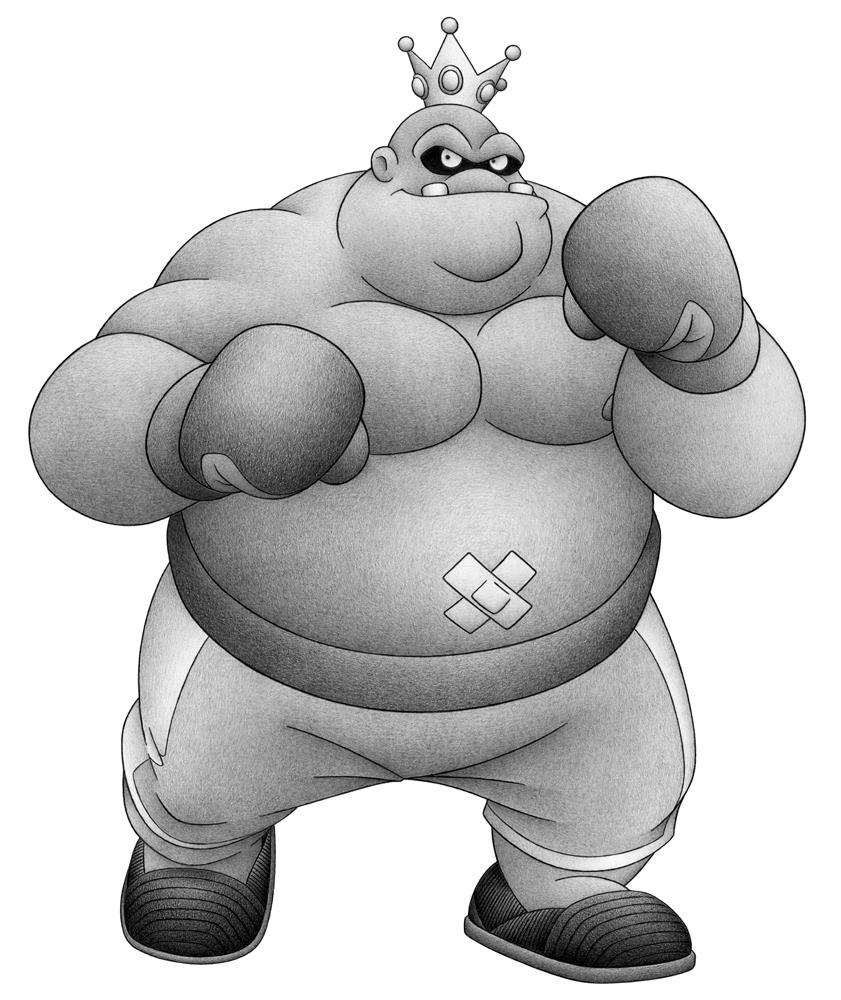 Watch
Following on from the design of
this bloke
, it became necessary for me to turn my hand to rendering perhaps the best-known Punch-Out! character of all – the one and only
King Hippo.
For the longest time this was just a simple line drawing (I did it purely to get a better handle on his construction), but I was so pleased with it that I ultimately decided to give it the full greyscale shading treatment, and here we are.
The mauling monarch of Hippo Island (who is absolutely the property of Nintendo, litigation fans) is greatly entertaining to draw, and I remain intrigued as to exactly which species he belongs to, since he's clearly and unambiguously not human (the naturally-occurring jet black eyemask and lack of any sort of nasal arrangements are a dead giveaway, as are they noises he makes instead of talking in the most recent Punch-Out! game. He sounds like a tyrannosaur with bronchitis). My money's on some sort of giant irritable hyper-evolved extraterrestrial pumpkin man.

Reply

Col, he looks so awesome! King Hippo has always been my fav.

Reply

Thank you very much indeed! I must admit, he's probably my favourite from the Punch-Out! roster as well, especially in his Wii incarnation. I really hope we get another game in the series before too long, and that the big lug gets to put in another memorable appearance.
Reply

My brain just pictured Soda Popinski and him in a bar fight.
Reply

That would be quite a spectacle, especially if Hippo had been eating his usual bar snacks and Mr Popinski had indulged in one too many pints of "soda" again. There'd be roast gazelle carcasses all over the shop and no small amount of lumbering crunchingly into furniture.
Reply

Hail to the King, baby!

Love how clean, shaped and well designed he came out lookin'!

We need more characters like him in our lives...!
Reply

Agreed! I'm doing my best to increase their numbers to some extent; there are definitely a few more king-sized pugilists in the pipeline for a certain Apeman and Moneyboy story, but that's a little way off just at the moment. I may be able to post a few sketches in the interim, though...

Pleased you like the piccy!
Reply

Reply

I love that texture effect. Awesome!
Reply

Ta muchly, sir! I must confess, I've always liked the grainy, speckly texture that you get with pencil shading too. It takes me a while to do it, but the end results are generally quite pleasing.
Reply

I've always thought of him as a cartoony human personally. XD
Reply

I gather he's generally accepted as being human, but it amuses me nonetheless to imagine him as a member of an alien race. Planet of the Hippo People!
Reply

Very weak in the gut this one is XD Great job

Reply

He does suffer somewhat from tummy trouble, and also from the unfortunate consequences of purchasing shorts with insufficiently grippy elastic. Naturally we couldn't resist including that in the final piccy.
Reply